The Socialist 9 February 2011
Big Society? Big Con!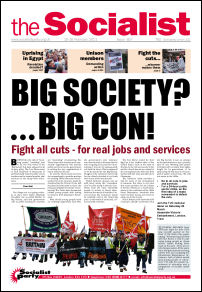 ---
Fight the cuts - whoever makes them
Campaigners reject maternity unit cuts
Billy Bragg helps raise Exeter Anti-Cuts funds
Institute of Directors, bosses' organisation, bares its teeth at unions
Solidarity with the Egyptian masses
Uprising in Egypt - Socialist Party public meetings
---
National education shutdown needed
PCS young members' network conference
Yorkshire: organising the student movement
Demonstrating against cuts in Grimsby
Volunteering 'plaster' for unemployment
---
Egypt: Is revolution derailed?
Economic crisis in Greece: Immigrants made scapegoats
Solidarity messages needed for US prison reform activist
---
Southampton campaigners march in defence of jobs and services
Striking against health job cuts
Scottish Unison members oppose leadership's sell-out
Leicester Unison members rally against all cuts
March against the job losses in Greenwich
---
---
PDFs for this issue

Page1 pdf

Page2 pdf

Page3 pdf

Page4 pdf

Page5 pdf

Centre pages pdf

Page8 pdf

Page9 pdf

Page10 pdf

Page11 pdf

Page12 pdf
PO Box 24697, London, E11 1YD
020 8988 8777
editors@socialistparty.org.uk
Socialist Party news and analysis

Big society? ... big con!

Fight the cuts - whoever makes them

Ditch the library cuts

Hands off our forests!

Campaigners reject maternity unit cuts

Billy Bragg helps raise Exeter Anti-Cuts funds

Institute of Directors, bosses' organisation, bares its teeth at unions

Solidarity with the Egyptian masses

Uprising in Egypt - Socialist Party public meetings

EDL racists terrorise Luton

Fast news

National education shutdown needed

PCS young members' network conference

Yorkshire: organising the student movement

Demonstrating against cuts in Grimsby

Volunteering 'plaster' for unemployment

Southampton campaigners march in defence of jobs and services

Jobs massacre at Pfizer

Striking against health job cuts

Scottish Unison members oppose leadership's sell-out

Leicester Unison members rally against all cuts

March against the job losses in Greenwich

Unite anti-cuts conference

Woody Sez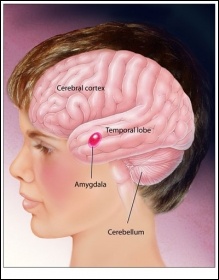 Autism, from the Society for Neuroscience brain briefings May 2006, copyright Society for Neuroscience

Life on the autistic spectrum