The Socialist 6 April 2011
Cuts wreck people's lives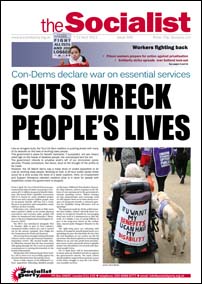 ---
Bosses prepare for war on public sector workers
Labour Link won't save jobs and services
Housing benefit cuts start to bite
Bristol meeting - The battle of our lives has begun
On the move in London to fight the cuts
Fight the cuts with TUSC: more than just a 'protest vote'
Austerity measures take away the basics
Labour 'campaigning' - casework style
---
---
Ireland's economy on the brink
Jordan: 'Reforms' fail to halt growing opposition
---
Saltend lock-out - Solidarity strike spreads
Call for strikes to stop Ford attack on pensions
Birmingham prison officers determined to fight privatisation
Prison officers fight prison privatisation: Interview with POA assistant secretary, Joe Simpson
Teachers and council workers strike together in Tower Hamlets
Leeds Unison - fighting the cuts
---
School students stage anti-cuts strike in Dundee
Leicester: still angry with Clegg
PDFs for this issue

Page1 pdf

Page2 pdf

Page3 pdf

Page4 pdf

Page5 pdf

Centre pages pdf

Page8 pdf

Page9 pdf

Page10 pdf

Page11 pdf

Page12 pdf
PO Box 24697, London, E11 1YD
020 8988 8777
editors@socialistparty.org.uk

Link to this page: http://www.socialistparty.org.uk/issue/665/11723
Home | The Socialist 6 April 2011 | Join the Socialist Party
Leicester: still angry with Clegg
Suraj Shah, Trade Unionist and Socialist Coalition candidate for Rushey Mead ward, Leicester
On Friday 1 April, Nick Clegg came to Leicester to hold a question and answer session at Showcase Cinema in the Highcross shopping mall. It was the first time he held such an event in the East Midlands without his 'partner in crime' David Cameron.
Showing Clegg's cowardice, people had to give their details to the police before being allowed inside to ask questions.
Youth Fight for Jobs helped organise a protest of up to 100 people outside.
The fact that so many came out shows that working people and students are still outraged by the tuition fees increase and attacks on our right to a decent education. Voices chanting "Nick Clegg shame on you!" echoed through the area around the protest.
We found support from passers by and some even joined the protest. This shows the anger that exists at the Liberal Democrats for caring more about power than the working people who put them into their positions.
Some of the young people on the protest had voted Lib Dem, and were furious at the way Clegg betrayed them.
Many of the protesters realised the need for an alternative to the three main parties - a party that opposes all cuts and puts ordinary people before the profits of big business.
---
In this issue
---
Anti-cuts campaign

Cuts wreck people's lives

Tory health plans are sick

Bosses prepare for war on public sector workers

Labour Link won't save jobs and services

Housing benefit cuts start to bite

Bristol meeting - The battle of our lives has begun

On the move in London to fight the cuts

Fight the cuts with TUSC: more than just a 'protest vote'

Austerity measures take away the basics

Labour 'campaigning' - casework style

Fast news
---
Socialist history

1981 Brixton riots
---
International socialist news and analysis

Ireland's economy on the brink

Jordan: 'Reforms' fail to halt growing opposition
---
Socialist Party workplace news

Saltend lock-out - Solidarity strike spreads

Call for strikes to stop Ford attack on pensions

Birmingham prison officers determined to fight privatisation

Prison officers fight prison privatisation: Interview with POA assistant secretary, Joe Simpson

Teachers and council workers strike together in Tower Hamlets

Leeds Unison - fighting the cuts

Pay cuts provoke strike
---
Socialist Party youth and students

School students stage anti-cuts strike in Dundee

Leicester: still angry with Clegg

Save Hackney youth services!

Youth fast news
---
Home | The Socialist 6 April 2011 | Join the Socialist Party