The Socialist 13 April 2011
NHS in the firing line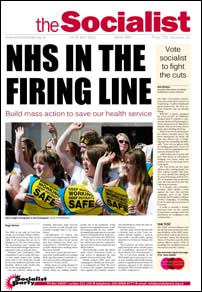 ---
Vote socialist to fight the cuts
Fight the cuts by supporting TUSC
Fighting the cuts after 26 March demo
Hands off our services - Westminster
Hands off our Services - Leeds
---
---
Con-Dems' economic policy... austerity, austerity, austerity!
---
Jobcentre Plus call centre strike
NUJ conference calls for general strike
Striking against a Coventry academy
---
Portugal:'We won't pay their debt!'
'Unions and socialism to blame for deficit' - rants Glenn Beck
---
Jarrow jobs march gains momentum
---
Coordinated strike action to defeat the cuts
Banking giants avoid punishment
No to nuclear power - nationalise the environment-unfriendly energy giants
Chauvinist 'thoughts' from David Willetts
PDFs for this issue

Page1 pdf

Page2 pdf

Page3 pdf

Page4 pdf

Page5 pdf

Centre pages pdf

Page8 pdf

Page9 pdf

Page10 pdf

Page11 pdf

Page12 pdf
PO Box 24697, London, E11 1YD
020 8988 8777
editors@socialistparty.org.uk

Link to this page: http://www.socialistparty.org.uk/issue/666/11768
Home | The Socialist 13 April 2011 | Join the Socialist Party
Chauvinist 'thoughts' from David Willetts
Claire Laker-Mansfield
Universities minister David Willetts, a prime architect of this government's slash-and-burn higher education policies, recently revealed his thoughts on social mobility in Britain today.
You might assume that the disadvantages working class people face in education have something to do with sky high tuition fees, the squeeze on university places or the systematic underfunding of state schools and education. Oh no, Willetts explains, what really holds back working class men in education is feminism!
According to the Guardian, Willetts says the problem is that "women who would otherwise have been housewives have taken university places and well-paid jobs that could have gone to ambitious working class men". The small detail that 50% of working class people are female seems to escape David 'two brains' Willetts.
Perhaps Willetts' privileged background, educated at the prestigious £10,000 a year King Edward's School, contributed to his ridiculous position on the issue.
There are deeply entrenched inequalities within education. At least 45% of students attending Willetts' old Oxford University were educated privately (compared to 7% of the general population). Shockingly, in 2009, out of over 11,000 Oxford undergraduates, only one British black Caribbean student gained admission!
Looking more broadly, young people getting free school meals are around 20% less likely to attend university than their peers who do not receive them. Clearly, the enormous inequality in society is expressed, and often reinforced, by the education system as it stands.
As was the case with all working class people, women won the right to an education and to attend university through mass struggle. These crucial steps forward must be defended. But today working class and even middle class women and men face huge attacks on their ability to gain an education from David Willetts and his Tory and Lib Dem cronies.
Willetts' comments show that they will try to divide our movement, to weaken it. Youth Fight for Education is building a movement to defend education which, unlike Willetts, we believe is a right and not a privilege.
But as the student movement and the 26 March TUC demonstration show, education is a right which men and women are prepared to fight for.
---
In this issue
---
Anti-cuts campaigning

NHS IN THE FIRING LINE

Vote socialist to fight the cuts

Fight the cuts by supporting TUSC

Fighting the cuts after 26 March demo

Hands off our services - Westminster

Hands off our Services - Leeds
---
Socialist Party editorial

Middle East and North Africa
---
Socialist Party feature

Con-Dems' economic policy... austerity, austerity, austerity!
---
Socialist Party workplace news

Jobcentre Plus call centre strike

Saltend lock-out

Unison health conference

NUJ conference calls for general strike

Striking against a Coventry academy

NSSN conference
---
International socialist news and analysis

Portugal:'We won't pay their debt!'

'Unions and socialism to blame for deficit' - rants Glenn Beck
---
Youth Fight for Jobs

Jarrow jobs march gains momentum
---
Socialist Party news and analysis

Coordinated strike action to defeat the cuts

Banking giants avoid punishment

No to nuclear power - nationalise the environment-unfriendly energy giants

News of the World admits it

Chauvinist 'thoughts' from David Willetts
---
Home | The Socialist 13 April 2011 | Join the Socialist Party