The Socialist 15 June 2011
Strike 30 June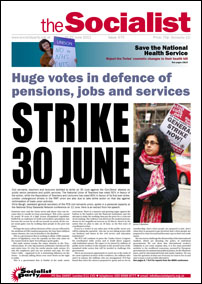 ---
Workers turn up the heat in Southampton
Customs & Revenue staff strike against attendance management policy
No cuts to English language classes!
Carmarthenshire council day club closure lobby
---
Tories make token changes - save the NHS
Con-Dem health plans ignore patients and staff
NHS "listening events" - Flip chart 'democracy'
---
NSSN conference - serious and inspiring preparation for battles to come
---
Fighting anti-cuts meeting in Scotland hears socialist alternative
Child poverty increasing under the Con-Dems
Say no to government's slave labour programme
Winterbourne View - fight privatisation, end abuses
London 'Slutwalk' protest: Fight sexism, discrimination and cuts
To hell with for-profit education
---
---
Tube drivers prepare to strike
Sheffield university strikers more determined
Unison conference - No to pension attacks
Unison NEC elections - left retakes lost ground
---
PDFs for this issue

Page1 pdf

Page2 pdf

Page3 pdf

Page4 pdf

Page5 pdf

Centre pages pdf

Page8 pdf

Page9 pdf

Page10 pdf

Page11 pdf

Page12 pdf
PO Box 24697, London, E11 1YD
020 8988 8777
editors@socialistparty.org.uk

Link to this page: http://www.socialistparty.org.uk/issue/675/12218
Home | The Socialist 15 June 2011 | Join the Socialist Party
Review - 'Poor Kids' TV documentary
Child poverty increasing under the Con-Dems
Georgina Webb
Three and a half million children in Britain live in poverty. The gap between rich and poor has never been greater. BBC One's "Poor Kids" filmed children in their homes and neighbourhoods and let them talk. What a sad, sickening picture of life in one of the richest countries in the world.
We're told we all have to tighten our belts; that we've all been profligate and now wasteful public spending has to be reined in.
We saw a boy who was bullied for wearing hand-me-down school clothes from his older sister, and a girl who had never had a holiday apart from a school trip to Scarborough. All the children filmed occasionally went without meals, and all of them were cold in the winter because their parents couldn't afford to properly heat their homes.
I normally hate programmes like this. I am very aware that my own children and many of their friends are in the poverty statistics, and I dread programmes that claim to show what it's really like. Aside from the fact that inevitably editorial decisions distort what we see, they also lift people out of their context. With very little commentary we are largely left to draw our own conclusions, and it would be very easy for some viewers to see these children's lives as the product of individual problem parents.
But that is clearly not the case. The statistics injected at various points in the programme showed that these children simply illustrate general conditions. When children talked about their asthma and eczema problems, we were told that poor children are two and a half times more likely to suffer chronic illnesses and 85% of children living in damp conditions suffer breathing problems.
What linked all the families shown was long-term unemployment. One was a single father, struggling to find work that would fit around childcare, while in his city five people chase every job. Officially, the poverty line for a family his size is £1,000 a month after housing costs. This family lived on £420 a month. The father explained that when he was in work their income was that amount a week.
Massive public sector cuts are going to make these conditions far worse. If the government realises its plans, job prospects are going to get much worse, benefits will fall, housing conditions worsen and access to decent children's services, limited as it already is, will be slashed. The happy ending for one child in the programme, when her damp block of flats was knocked down and her family was rehoused, is unlikely to be repeated for many children in this age of austerity.
In fact the people in the programme are the target of Con-Dem attacks. These are the 'scroungers' allegedly living in luxury at the expense of hard-working taxpayers.
The final statistics in the programme were probably the most devastating. On measures of child poverty, Britain comes 18 out of 22 European countries, with only Slovenia, Poland, Hungary and Italy worse. And child poverty is set to rise 11% over the next three years.
Of course the programme offered no solutions. It is up to the Socialist to provide that - to end the horrors of child poverty we must organise to defeat the cuts, and fight for a programme of full employment, and investment in decent housing and public services.
---
In this issue
---
Fighting the cuts

Strike 30 June

Workers turn up the heat in Southampton

Customs & Revenue staff strike against attendance management policy

No cuts to English language classes!

Hands off our pensions!

Carmarthenshire council day club closure lobby
---
NHS news & campaigning

Tories make token changes - save the NHS

Con-Dem health plans ignore patients and staff

NHS "listening events" - Flip chart 'democracy'
---
National Shop Stewards Network

NSSN conference - serious and inspiring preparation for battles to come
---
Socialist Party news and analysis

Fighting anti-cuts meeting in Scotland hears socialist alternative

Child poverty increasing under the Con-Dems

Say no to government's slave labour programme

Winterbourne View - fight privatisation, end abuses

London 'Slutwalk' protest: Fight sexism, discrimination and cuts

News in brief

Dewsbury rejects racist EDL

To hell with for-profit education
---
Socialist Party feature

The growing housing scandal
---
Socialist Party workplace news

Tube drivers prepare to strike

Sheffield university strikers more determined

Unison conference - No to pension attacks

Unison NEC elections - left retakes lost ground
---
International socialist news and analysis

Austerity and anger in Greece
---
Home | The Socialist 15 June 2011 | Join the Socialist Party