The Socialist 15 June 2011
Strike 30 June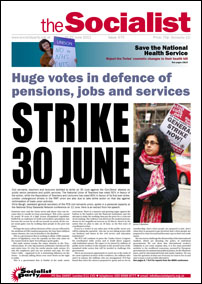 ---
Workers turn up the heat in Southampton
Customs & Revenue staff strike against attendance management policy
No cuts to English language classes!
Carmarthenshire council day club closure lobby
---
Tories make token changes - save the NHS
Con-Dem health plans ignore patients and staff
NHS "listening events" - Flip chart 'democracy'
---
NSSN conference - serious and inspiring preparation for battles to come
---
Fighting anti-cuts meeting in Scotland hears socialist alternative
Child poverty increasing under the Con-Dems
Say no to government's slave labour programme
Winterbourne View - fight privatisation, end abuses
London 'Slutwalk' protest: Fight sexism, discrimination and cuts
To hell with for-profit education
---
---
Tube drivers prepare to strike
Sheffield university strikers more determined
Unison conference - No to pension attacks
Unison NEC elections - left retakes lost ground
---
PDFs for this issue

Page1 pdf

Page2 pdf

Page3 pdf

Page4 pdf

Page5 pdf

Centre pages pdf

Page8 pdf

Page9 pdf

Page10 pdf

Page11 pdf

Page12 pdf
PO Box 1398, Enfield EN1 9GT
020 8988 8777
editors@socialistparty.org.uk

Link to this page: http://www.socialistparty.org.uk/issue/675/12221
Home | The Socialist 15 June 2011 | Join the Socialist Party
London 'Slutwalk' protest: Fight sexism, discrimination and cuts
Claire Laker-Mansfield
"Whatever we wear, wherever we go, yes means yes and no means no!" That was the call that rang out throughout London's 'Slutwalk' demonstration on 11 June. Angry chanting, homemade placards and lots of singing made this a vibrant display of opposition to the sexism recently displayed by police chiefs and politicians alike.
Around 5,000 women (and a significant number of men) joined the march with a clear message: Rape and assault are never the victim's fault - women should have the right to live their lives as they choose without fear of attack.
The demonstration was called as part of a wave of protests sparked by the remarks of a Canadian police officer, who, in a talk at a Toronto university, told female students that they should "stop dressing like sluts" in order to avoid being raped. The remarks ignited anger in women across continents with 'Slutwalks' organised in several countries.
On the demonstration there was massive anger at the Con-Dem government. Calls for justice minister Ken Clarke to resign - he infamously implied that some forms of rape are "less serious" - echoed throughout the crowds.
With the cuts affecting everything from women's refuges to public sector jobs, with women making up about two-thirds of public sector workers, and with anti-abortion groups invited to advise the government on sexual health, is it any wonder that the government is seen as bigoted and anti-women's rights?
In order to take this movement against sexism forward, a mass campaign is needed. This campaign must encompass the material issues women and all working class people are facing if it is to successfully challenge these attitudes. Most of the biggest gains that women won in the past have been made with the crucial involvement of trade unions and the labour movement.
As the government carries out unprecedented attacks on our living standards, with cuts which will disproportionately affect women, the most effective defence ordinary people have is the ability of workers to strike. On 30 June 750,000 public sector workers are expected to strike to defend pensions and against cuts. This will be a vital step in building the fightback against the Con-Dems.
Socialists recognise that sexism has its roots in class society and the demands of the capitalist system. We fight for a different kind of society - one without divisions on the grounds of class, race or gender, one run in the interests of the majority, not the tiny rich minority.
---
In this issue
---
Fighting the cuts

Strike 30 June

Workers turn up the heat in Southampton

Customs & Revenue staff strike against attendance management policy

No cuts to English language classes!

Hands off our pensions!

Carmarthenshire council day club closure lobby
---
NHS news & campaigning

Tories make token changes - save the NHS

Con-Dem health plans ignore patients and staff

NHS "listening events" - Flip chart 'democracy'
---
National Shop Stewards Network

NSSN conference - serious and inspiring preparation for battles to come
---
Socialist Party news and analysis

Fighting anti-cuts meeting in Scotland hears socialist alternative

Child poverty increasing under the Con-Dems

Say no to government's slave labour programme

Winterbourne View - fight privatisation, end abuses

London 'Slutwalk' protest: Fight sexism, discrimination and cuts

News in brief

Dewsbury rejects racist EDL

To hell with for-profit education
---
Socialist Party feature

The growing housing scandal
---
Socialist Party workplace news

Tube drivers prepare to strike

Sheffield university strikers more determined

Unison conference - No to pension attacks

Unison NEC elections - left retakes lost ground
---
International socialist news and analysis

Austerity and anger in Greece
---
Home | The Socialist 15 June 2011 | Join the Socialist Party