The Socialist 15 June 2011
Strike 30 June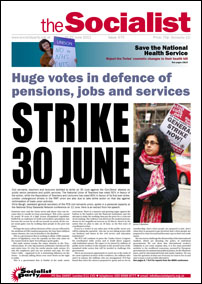 ---
Workers turn up the heat in Southampton
Customs & Revenue staff strike against attendance management policy
No cuts to English language classes!
Carmarthenshire council day club closure lobby
---
Tories make token changes - save the NHS
Con-Dem health plans ignore patients and staff
NHS "listening events" - Flip chart 'democracy'
---
NSSN conference - serious and inspiring preparation for battles to come
---
Fighting anti-cuts meeting in Scotland hears socialist alternative
Child poverty increasing under the Con-Dems
Say no to government's slave labour programme
Winterbourne View - fight privatisation, end abuses
London 'Slutwalk' protest: Fight sexism, discrimination and cuts
To hell with for-profit education
---
---
Tube drivers prepare to strike
Sheffield university strikers more determined
Unison conference - No to pension attacks
Unison NEC elections - left retakes lost ground
---
PDFs for this issue

Page1 pdf

Page2 pdf

Page3 pdf

Page4 pdf

Page5 pdf

Centre pages pdf

Page8 pdf

Page9 pdf

Page10 pdf

Page11 pdf

Page12 pdf
PO Box 24697, London, E11 1YD
020 8988 8777
editors@socialistparty.org.uk

Link to this page: http://www.socialistparty.org.uk/issue/675/12223
Home | The Socialist 15 June 2011 | Join the Socialist Party
Workers turn up the heat in Southampton
Nick Chaffey
Over 1,000 council workers, striking Medirest cleaners and their supporters marched through Southampton on 13 June, in a powerful show of solidarity against vicious council cuts and the scandalous consequence of the private sector in the NHS.
Strikers were out picketing from early in the morning. For Medirest cleaners this is their sixth strike and, with action over seven days, their longest to date. Reports are circulating of Medirest using unemployed workers on benefits from the government's new slave labour initiative. If true, this is a major warning to the trade unions of the need to link up with the unemployed to fight this new legislation.
Council workers have made it clear they will fight measures to impose pay cuts. Ian Woodland, Unite regional organiser, made it clear to the rally: "We will not walk into talks until the council removes the threat to sack workers." Local polls in the press give the current public support to the strikers at 66%. The heat is on the council as the rubbish piles up across the city.
Southampton Socialist Party received positive support for our leaflet calling for council-wide strike action on 30 June alongside other public sector workers if the council has not backed down by then.
Text messages of support to Medirest Unison steward Jo Spear 07899 087957.
---
In this issue
---
Fighting the cuts

Strike 30 June

Workers turn up the heat in Southampton

Customs & Revenue staff strike against attendance management policy

No cuts to English language classes!

Hands off our pensions!

Carmarthenshire council day club closure lobby
---
NHS news & campaigning

Tories make token changes - save the NHS

Con-Dem health plans ignore patients and staff

NHS "listening events" - Flip chart 'democracy'
---
National Shop Stewards Network

NSSN conference - serious and inspiring preparation for battles to come
---
Socialist Party news and analysis

Fighting anti-cuts meeting in Scotland hears socialist alternative

Child poverty increasing under the Con-Dems

Say no to government's slave labour programme

Winterbourne View - fight privatisation, end abuses

London 'Slutwalk' protest: Fight sexism, discrimination and cuts

News in brief

Dewsbury rejects racist EDL

To hell with for-profit education
---
Socialist Party feature

The growing housing scandal
---
Socialist Party workplace news

Tube drivers prepare to strike

Sheffield university strikers more determined

Unison conference - No to pension attacks

Unison NEC elections - left retakes lost ground
---
International socialist news and analysis

Austerity and anger in Greece
---
Home | The Socialist 15 June 2011 | Join the Socialist Party