The Socialist 15 June 2011
Strike 30 June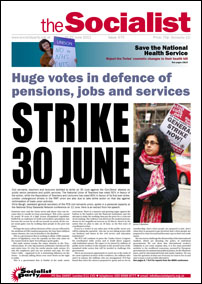 ---
Workers turn up the heat in Southampton
Customs & Revenue staff strike against attendance management policy
No cuts to English language classes!
Carmarthenshire council day club closure lobby
---
Tories make token changes - save the NHS
Con-Dem health plans ignore patients and staff
NHS "listening events" - Flip chart 'democracy'
---
NSSN conference - serious and inspiring preparation for battles to come
---
Fighting anti-cuts meeting in Scotland hears socialist alternative
Child poverty increasing under the Con-Dems
Say no to government's slave labour programme
Winterbourne View - fight privatisation, end abuses
London 'Slutwalk' protest: Fight sexism, discrimination and cuts
To hell with for-profit education
---
---
Tube drivers prepare to strike
Sheffield university strikers more determined
Unison conference - No to pension attacks
Unison NEC elections - left retakes lost ground
---
PDFs for this issue

Page1 pdf

Page2 pdf

Page3 pdf

Page4 pdf

Page5 pdf

Centre pages pdf

Page8 pdf

Page9 pdf

Page10 pdf

Page11 pdf

Page12 pdf
PO Box 24697, London, E11 1YD
020 8988 8777
editors@socialistparty.org.uk

Link to this page: http://www.socialistparty.org.uk/issue/675/12226
Home | The Socialist 15 June 2011 | Join the Socialist Party
Unison NEC elections - left retakes lost ground
The results of Unison's national executive council (NEC) elections give the left 17 seats. Socialist Party members in Unison fought these elections in an electoral alliance with the United Left.
Unison's largest region, the North West, showed the most dramatic swing. All the contested seats went to left wingers, and Socialist Party member Roger Bannister topped the poll with 7,561 votes.
One shock result in this region was the defeat of key right winger Bob Oram, whose initial election to the NEC was swiftly followed by his election to the influential position of chair of the staffing committee.
But the shadowy world of Unison's ruling clique means little to ordinary members facing attacks on jobs, and pay.
They voted Oram out by a thumping majority of 950 votes!
The leadership of the North West region acts as organiser for the national leadership, rallying support for their policies at conferences etc.
But these elections make it clear that there is no support for these activities at the base of the union in the region.
Socialist Party members Jean Thorpe and Vicky Perrin topped the polls in their respective regions, (East Midlands and Yorkshire and Humberside), and April Ashley's 37,827 votes in the Female Black Members seat was the top vote in that section.
Even where socialists were not elected, it was often by slim majorities, such as Angela Waller who missed election in Yorkshire and Humberside by only 161 votes.
Unfortunately Hannah Walter was unsuccessful in retaining her Northern region seat, after the bureaucracy responded to her victory two years ago by transferring members out of the region in order to reduce the number of NEC seats available!
The four Socialist Party members on the NEC will work with other left NEC members wherever possible to promote fighting policies to defend members from the Con-Dem attacks, and will argue for an end to wasting members' money on Labour MPs and councillors who are not prepared to oppose cuts.
A Unison member
---
In this issue
---
Fighting the cuts

Strike 30 June

Workers turn up the heat in Southampton

Customs & Revenue staff strike against attendance management policy

No cuts to English language classes!

Hands off our pensions!

Carmarthenshire council day club closure lobby
---
NHS news & campaigning

Tories make token changes - save the NHS

Con-Dem health plans ignore patients and staff

NHS "listening events" - Flip chart 'democracy'
---
National Shop Stewards Network

NSSN conference - serious and inspiring preparation for battles to come
---
Socialist Party news and analysis

Fighting anti-cuts meeting in Scotland hears socialist alternative

Child poverty increasing under the Con-Dems

Say no to government's slave labour programme

Winterbourne View - fight privatisation, end abuses

London 'Slutwalk' protest: Fight sexism, discrimination and cuts

News in brief

Dewsbury rejects racist EDL

To hell with for-profit education
---
Socialist Party feature

The growing housing scandal
---
Socialist Party workplace news

Tube drivers prepare to strike

Sheffield university strikers more determined

Unison conference - No to pension attacks

Unison NEC elections - left retakes lost ground
---
International socialist news and analysis

Austerity and anger in Greece
---
Home | The Socialist 15 June 2011 | Join the Socialist Party