The Socialist 12 October 2011
689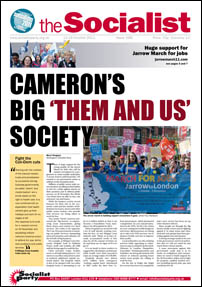 ---
Interview with a Jarrow marcher
Marching in the footsteps of history
---
US: Occupy Wall Street - Demanding jobs not cuts
---
Strike on 30 November - no secret talks
'We have not gone away' say Southampton council workers
60 printers sacked as bosses make a million
---
Sovereign debt crisis, recession... No way out under capitalism
Cameron's big 'them and us' society
Fox takes cronyism to new level
Wales Assembly budget: Labour piles on the misery
Con-Dems' policies increase poverty
---
NHS protesters occupy Westminster Bridge
Health campaigners take Ascot by storm
Coventry by-election helps build socialist alternative to cuts
London elections - more support for TU/anti-cuts stand
---
---
Battle of Cable Street 1936 - When workers stopped the fascists
---
Portrait of a pension pilferer
PDFs for this issue

Page1 pdf

Page2 pdf

Page3 pdf

Page4 pdf

Page5 pdf

Centre pages pdf

Page8 pdf

Page9 pdf

Page10 pdf

Page11 pdf

Page12 pdf
PO Box 24697, London, E11 1YD
020 8988 8777
editors@socialistparty.org.uk

Link to this page: http://www.socialistparty.org.uk/issue/689/12966
Home | The Socialist 12 October 2011 | Join the Socialist Party
Protest, demonstrate, occupy
Students should support 30 November strikes
Helen Pattison
On 8 September this year 283 out of 420 Greek higher education institutions were under occupation. This will remind many in this country of when over 50 universities in the UK were occupied in the weeks surrounding 24 November 2010 against the trebling of university fees to up to £9,000 and the abolition of EMA payments.
Students in the UK did this to defend the education system - for themselves and for future generations. The occupations showed how politically aware young people were and that they understood the need to defend education for all. Many trade unions and workers came to their aid with solidarity and donations of food.
Students occupied and demonstrated despite the lack of organisation among them before this date.
Today, the unemployed and those in secondary schools up and down the country have no union and the National Union of Students refuses to listen to its members' cries for another national demonstration.
The Tory government is now attacking pensions and so it is time for students to stand by workers who need their support and coordinated action. By organising though our schools, colleges, universities and youth groups and linking up with unions wherever possible we can create a movement capable of stopping the government in its tracks.
In Greece, the most recent protests were initiated by the education unions taking strike action. For the first time, this happened before term even started but it still didn't stop the Greek youth mobilising huge support and solidarity.
On 30 November students and young people should be on picket lines in solidarity with striking teachers and lecturers, to defend the pensions of their friends, families and future colleagues.
---
In this issue
---
Socialist Party youth and students

Interview with a Jarrow marcher

Marching in the footsteps of history

Low pay, no way!

Protest, demonstrate, occupy
---
International socialist news and analysis

US: Occupy Wall Street - Demanding jobs not cuts
---
Socialist Party workplace news

Strike on 30 November - no secret talks

'We have not gone away' say Southampton council workers

Construction electricians

60 printers sacked as bosses make a million

Workplace news in brief
---
Socialist Party news and analysis

Sovereign debt crisis, recession... No way out under capitalism

Cameron's big 'them and us' society

Fox takes cronyism to new level

Wales Assembly budget: Labour piles on the misery

Kinnock's bigotry

Con-Dems' policies increase poverty

Fast news
---
Socialist Party reports and campaigns

NHS protesters occupy Westminster Bridge

Health campaigners take Ascot by storm

Coventry by-election helps build socialist alternative to cuts

London elections - more support for TU/anti-cuts stand
---
Socialist Party fundraising

Socialism 2011 finance appeal
---
Socialist history

Battle of Cable Street 1936 - When workers stopped the fascists
---
The Socialist - readers' comments

Portrait of a pension pilferer
---
Home | The Socialist 12 October 2011 | Join the Socialist Party