The Socialist 12 October 2011
689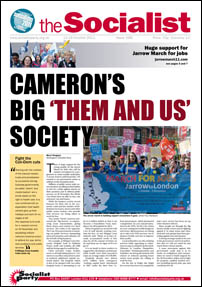 ---
Interview with a Jarrow marcher
Marching in the footsteps of history
---
US: Occupy Wall Street - Demanding jobs not cuts
---
Strike on 30 November - no secret talks
'We have not gone away' say Southampton council workers
60 printers sacked as bosses make a million
---
Sovereign debt crisis, recession... No way out under capitalism
Cameron's big 'them and us' society
Fox takes cronyism to new level
Wales Assembly budget: Labour piles on the misery
Con-Dems' policies increase poverty
---
NHS protesters occupy Westminster Bridge
Health campaigners take Ascot by storm
Coventry by-election helps build socialist alternative to cuts
London elections - more support for TU/anti-cuts stand
---
---
Battle of Cable Street 1936 - When workers stopped the fascists
---
Portrait of a pension pilferer
PDFs for this issue

Page1 pdf

Page2 pdf

Page3 pdf

Page4 pdf

Page5 pdf

Centre pages pdf

Page8 pdf

Page9 pdf

Page10 pdf

Page11 pdf

Page12 pdf
PO Box 24697, London, E11 1YD
020 8988 8777
editors@socialistparty.org.uk

Link to this page: http://www.socialistparty.org.uk/issue/689/12967
Home | The Socialist 12 October 2011 | Join the Socialist Party
Marching in the footsteps of history
Dan Fahey
When the Jarrow March for Jobs leaves Leicester, not only will it be following in the footsteps of the 1936 Jarrow Crusade, but also Leicester's 1905 Unemployed March.
There were three leaders of the march. Amos Sheriff, who would become the city's Lord Mayor in 1922; the Reverend FL Donaldson, of St Marks' Church, who gained the nickname 'vicar of the unemployed'; and George 'Sticky' White, secretary of the Unemployed Committee, who as his nickname suggests, used a walking stick yet still marched to London and back.
On 4 June 1905, 470 unemployed shoemakers set off from Leicester Market Place to London. The news of the protest captured the hearts and minds of the public. As recalled by Sticky's son, George, who was 12 at the time, the crowd was "the biggest that had ever been seen in the market".
From the top of the steps of the Corn Exchange the leaders rallied the men to march to London to protest the conditions of the unemployed and to lobby the government in to passing the Unemployed Workmen Act. A plaque now lies in front of the steps to commemorate the event.
On the march, George joined his father, who like many of the unemployed men had been sacked for his involvement in the Boot and Shoe Workers' Union. He remembers singing songs and the marchers playing harmonicas on the route. The marchers spent their first night on straw in Market Harborough's cattle market. George was (un)fortunately caught truanting and sent back by train.
Arriving in Trafalgar Square, another great crowd greeted the marchers but the authorities, including the King and the Archbishop of Canterbury, refused to see them.
Yet when they came home on 18 June, they were greeted by 140,000 people and the news that the Unemployed Workmen Act had been passed.
---
>
Raffle! Win a framed photo of the original Jarrow march
Large framed photo of original Jarrow march as it came through Northamptonshire. This picture has its own history! In the 1960s it hung in the Whitehall office of a Labour government minister, then it was presented to a Labour activist of 50 years party membership who subsequently left Labour and joined the Socialist Party. £1 a ticket. Raffle drawn at Socialism 2011 on 6 November.
Contact Becci Heagney to reserve tickets:
07751044309 becciheagney1@yahoo.co.uk
---
In this issue
---
Socialist Party youth and students

Interview with a Jarrow marcher

Marching in the footsteps of history

Low pay, no way!

Protest, demonstrate, occupy
---
International socialist news and analysis

US: Occupy Wall Street - Demanding jobs not cuts
---
Socialist Party workplace news

Strike on 30 November - no secret talks

'We have not gone away' say Southampton council workers

Construction electricians

60 printers sacked as bosses make a million

Workplace news in brief
---
Socialist Party news and analysis

Sovereign debt crisis, recession... No way out under capitalism

Cameron's big 'them and us' society

Fox takes cronyism to new level

Wales Assembly budget: Labour piles on the misery

Kinnock's bigotry

Con-Dems' policies increase poverty

Fast news
---
Socialist Party reports and campaigns

NHS protesters occupy Westminster Bridge

Health campaigners take Ascot by storm

Coventry by-election helps build socialist alternative to cuts

London elections - more support for TU/anti-cuts stand
---
Socialist Party fundraising

Socialism 2011 finance appeal
---
Socialist history

Battle of Cable Street 1936 - When workers stopped the fascists
---
The Socialist - readers' comments

Portrait of a pension pilferer
---
Home | The Socialist 12 October 2011 | Join the Socialist Party
Related links:

Big political strike against Finnish government's attack on unemployed

PCS protest

Food banks and the real Daniel Blakes

Jarrow March: an inspiring show of solidarity between workers and youth

Socialist nationalisation: what it is and why we need it

May's EU speech kicks the can down the road

The Socialist inbox

Closure of Nottingham unit shows dismantling of NHS

The Socialist inbox

Youth Fight Austerity

What they really think

Sheffield Labour council "happy" to jail trees protesters

Them & us