The Socialist 11 January 2012
We say: NO WAY! Strike to defend pensions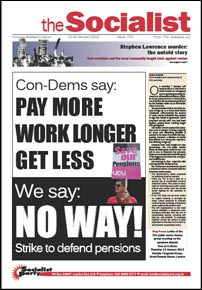 ---
We say: NO WAY! Strike to defend pensions
Pensions dispute: Everything is still to fight for
Workers need an electoral alternative that fights for them
Unison member: no pensions sell-out
---
Fighting the pensions battle: An interview with Mark Serwotka
---
Fat cat pay: empty words from Cameron
---
Reject slave labour for young unemployed
---
1,200 jobs threatened by DVLA closures
---
Stephen Lawrence murder - the untold story
Heseltine continued Liverpool's decline
---
Nigeria shut down at start of indefinite general strike
---
Socialist Women: At the frontline of the resistance
---
Socialist Party 2011 fighting fund target smashed!
---
Film review :The Iron Lady in meltdown
Reader's comment: The right wing media and Diane Abbott
PDFs for this issue

Page1 pdf

Page2 pdf

Page3 pdf

Page4 pdf

Page5 pdf

Centre pages pdf

Page8 pdf

Page9 pdf

Page10 pdf

Page11 pdf

Page12 pdf
PO Box 24697, London, E11 1YD
020 8988 8777
editors@socialistparty.org.uk

Link to this page: http://www.socialistparty.org.uk/issue/700/13469
Home | The Socialist 11 January 2012 | Join the Socialist Party
Cuts councillors dishonoured
Bob Severn
Waltham Forest workers and campaigners will lobby the north east London borough's first 2012 council cabinet meeting on 12 January in support of sacked library and Waltham Forest Direct workers.
In response to one cabinet member, Liaquat Ali, being presented with an MBE for "tireless service to the people of Waltham Forest", campaigners will reward all the cabinet members CBEs - Cuts Brutally Executed awards.
The lobby, organised by Waltham Forest Anti-Cuts Union (WFACU), will be followed by protests at cabinet members' surgeries.
Waltham Forest Unison chair and libraries convenor Nancy Taaffe, who has a fighting record of trade union campaigning, is one of the sacked workers. It looks like the Labour council is attempting to get rid of Nancy to make it easier to drive though cuts.
WFACU calls for all of the sacked workers to be reinstated and for the council to set and fight for a 'needs budget', rather than spinelessly implementing Con-Dem cuts.
Nursery nurses protest
Waltham Forest Nursery Nurses protested outside the town hall on 10 January before the council's joint consultative committee meeting.
Over half of the nursery nurses working in schools are being forced to accept new part time, term time only contracts under threat of dismissal.
Waltham Forest Unison members are also being balloted over changes to terms and conditions, including cuts to overtime pay, travel allowances and emergency call out allowances.
---
In this issue
---
Pensions battle

We say: NO WAY! Strike to defend pensions

Pensions dispute: Everything is still to fight for

Workers need an electoral alternative that fights for them

Unison member: no pensions sell-out
---
Socialist Party Interview

Fighting the pensions battle: An interview with Mark Serwotka
---
Them and Us

Fat cat pay: empty words from Cameron

Clock turned back on housing

Them & Us
---
Youth fight for jobs

Reject slave labour for young unemployed
---
Socialist Party workplace news

1,200 jobs threatened by DVLA closures

We need more railway jobs

Cuts councillors dishonoured

Workplace news in brief
---
Socialist Party features

Stephen Lawrence murder - the untold story

Heseltine continued Liverpool's decline
---
International socialist news and analysis

Nigeria shut down at start of indefinite general strike
---
Socialist Party women

Socialist Women: At the frontline of the resistance
---
Socialist Party news

Socialist Party 2011 fighting fund target smashed!

Raffle - Ken Loach at the BBC
---
Socialist Party reviews and comments

Film review :The Iron Lady in meltdown

Reader's comment: The right wing media and Diane Abbott
---
Home | The Socialist 11 January 2012 | Join the Socialist Party