The Socialist 11 January 2012
We say: NO WAY! Strike to defend pensions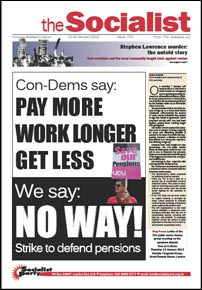 ---
We say: NO WAY! Strike to defend pensions
Pensions dispute: Everything is still to fight for
Workers need an electoral alternative that fights for them
Unison member: no pensions sell-out
---
Fighting the pensions battle: An interview with Mark Serwotka
---
Fat cat pay: empty words from Cameron
---
Reject slave labour for young unemployed
---
1,200 jobs threatened by DVLA closures
---
Stephen Lawrence murder - the untold story
Heseltine continued Liverpool's decline
---
Nigeria shut down at start of indefinite general strike
---
Socialist Women: At the frontline of the resistance
---
Socialist Party 2011 fighting fund target smashed!
---
Film review :The Iron Lady in meltdown
Reader's comment: The right wing media and Diane Abbott
PDFs for this issue

Page1 pdf

Page2 pdf

Page3 pdf

Page4 pdf

Page5 pdf

Centre pages pdf

Page8 pdf

Page9 pdf

Page10 pdf

Page11 pdf

Page12 pdf
PO Box 24697, London, E11 1YD
020 8988 8777
editors@socialistparty.org.uk

Link to this page: http://www.socialistparty.org.uk/issue/700/13478
Home | The Socialist 11 January 2012 | Join the Socialist Party
Socialist Party 2011 fighting fund target smashed!
Help support the fightback in 2012
Ken Douglas Socialist Party national treasurer
Socialist Party members raised a magnificent £33,322 fighting fund in the last three months of 2011, surpassing the target of £25,000 for the quarter and reaching 133%.
This money was raised on streets and around shopping centres in towns and cities all over England and Wales, and in the donations to the Socialism 2011 finance appeal. The fighting fund is essential to enable the Socialist Party to produce the campaign material - the hundreds of thousands of leaflets, posters and placards - as well as the flags, gazebos and sound systems, that mark out our participation in every protest, lobby and demonstration.
The Socialist Party relies solely on ordinary working class people for this support - there are no bankers or con-men bankrolling our party, unlike the Tories and Lib Dems.
Hedge fund owner Paul Ruddock, who made £100 million betting on the collapse of Northern Rock, donated £500,000 to the Tories and got a knighthood! Convicted fraudster Michael Brown, arrested a few days ago in the Dominican Republic, donated £2.4 million, part of the proceeds of a £34 million scam, to the Lib Dems - which they won't pay back!
Contrast these scoundrels with the ordinary people who are being hit hard by the policies of these Tory and Lib Dem millionaires and support our call for a fightback. Wherever Socialist Party members are out campaigning we get a great response. For example, in Wales where every branch reached their target, and in the North West and South West regions which also smashed their targets.
The Socialist Party aims to raise £100,000 every year in fighting fund and 2011 was one of the best since the millennium with a fantastic £114,315 raised. Congratulations to all the branches that reached their targets in 2011 but we can't stop there!
2012 already raises the possibility of further strike action over pensions both in the private and public sector, as well as more job losses with local government services taking an even bigger hit than last year. Socialist Party members will be out there on every strike and demo, campaigning to fight every cut and to organise a political alternative to the three 'bankster' parties.
Everybody can play their part - can you raise some money to help our campaign or can you make a donation (see form below)? We can guarantee that every penny will be used to build an alternative to the miserable future that the likes of Cameron, Osborne and Clegg, and the millionaires and billionaires that they represent, want to force on us.
---
In this issue
---
Pensions battle

We say: NO WAY! Strike to defend pensions

Pensions dispute: Everything is still to fight for

Workers need an electoral alternative that fights for them

Unison member: no pensions sell-out
---
Socialist Party Interview

Fighting the pensions battle: An interview with Mark Serwotka
---
Them and Us

Fat cat pay: empty words from Cameron

Clock turned back on housing

Them & Us
---
Youth fight for jobs

Reject slave labour for young unemployed
---
Socialist Party workplace news

1,200 jobs threatened by DVLA closures

We need more railway jobs

Cuts councillors dishonoured

Workplace news in brief
---
Socialist Party features

Stephen Lawrence murder - the untold story

Heseltine continued Liverpool's decline
---
International socialist news and analysis

Nigeria shut down at start of indefinite general strike
---
Socialist Party women

Socialist Women: At the frontline of the resistance
---
Socialist Party news

Socialist Party 2011 fighting fund target smashed!

Raffle - Ken Loach at the BBC
---
Socialist Party reviews and comments

Film review :The Iron Lady in meltdown

Reader's comment: The right wing media and Diane Abbott
---
Home | The Socialist 11 January 2012 | Join the Socialist Party
Related links:

Caerphilly & RCT Socialist Party: Stop Israeli state terror

Threat to unity of PCS left

Brighton: Socialist Party PCS conference fringe meeting

Chesterfield May Day: march turnout great

Thousands on TUC demo

Antisemitism, Israel-Palestine, & the left

Sweden: Socialist elected leader of 77,000-strong tenants' union

The Socialist Inbox

Southampton Socialist Party: Fight all cuts in Southampton

Keith Pattenden

Usdaw conference 2018

Obituary: Roy Corke 1945-2018

May 1968: Revolutionary explosion as two thirds of workforce join strike

Spain: Student general strike against sexist, capitalist 'justice' system