Home | The Socialist 1 February 2012 | Join the Socialist Party
Disabled protesters demand scrapping of 'welfare' bill
The Welfare Reform Bill (WRB) returns to parliament on Wednesday 1 February. The Saturday before, 28 January, as Frank Fields proposed yet more vicious attacks, up to 200 protesters occupied Regent Street for nearly two hours, causing a huge tailback of traffic.
Wheelchair users chained themselves in between traffic lights, stopping the police from forcing the protest onto the pavement.
When the police attempted to make announcements, they were shouted down by requests for a sign interpreter.
The protest had such an impact that the Department for Work and Pensions was forced to apologise 'to anyone delayed by disabled protesters in London today'!
There was huge support from the passing public, especially as individuals explained how they would be affected by the removal of allowances, new assessment regimes and the cap on benefits.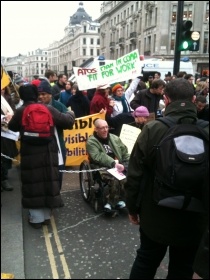 Anti-cuts and disabled activists protesting against Welfare Reform Bill, London 28.1.12, photo by Ben Robinson (Click to enlarge)
But the acclaim was not universal. Basildon Tory councillor Luke Mackenzie caused huge outrage by stating on Twitter: "I hear there are a bunch of unwashed people at Oxford and Regent Street, if you don't like capitalism move to North Korea".
This disgusting remark said a lot about the Conservatives' attitude to protesters and the disabled. Mackenzie is not only a councillor, he works for Basildon MP Stephen Metcalfe, is assistant to the council leader and is on the Essex County Council NHS overview and scrutiny committee.
His dislike of protests can be judged by his record; he voted to evict the travellers at Dale Farm at an estimated cost of £18 million.
This money would go a long way towards reducing the impact of some of the cuts, especially in London and the South East where they will hit hardest and Mackenzie is a councillor.
One of Saturday's protesters replied: "I washed today, but when PIP replaces DLA [under the WRB] it will not acknowledge needing help to wash below the waist.
"What then?" The fact that Mackenzie is not aware of the impact of the bill, or of what his words could mean, shows the kind of people put into power by the Conservatives, especially over local NHS provision!
But it's not only the Conservatives who are backing the WRB. The Liberal Democrats do too, and Miliband 'in principle' supports the £26,000 benefits cap per household, only quibbling over minor details.
Unbelievably, shadow work and pensions minister Liam Byrne wrote to Nick Clegg to propose that, for most, the cap should be lower! Currently 54% of those households who will lose out are in London because of the high rents there.
Inspired by Frank Field, the Labour Party is arguing for a benefits cap which is lower in other areas because the cost of living is lower.
Feckless Frank goes even further however, arguing that households with one person or a childless couple should have an even lower cap.
For all the main parties, the cap on benefits is an attempt to demonise the poorest in society. Eric Pickles' permanent secretary wrote a letter that was leaked, which stated that in itself the cap is likely to lead to an increase in government spending, as any savings will be outweighed by the costs of families pushed into homelessness.
Labour thinks the benefits cap is popular and is attacking the coalition from the right in an attempt to steal the limelight. But this posturing, if successful, will devastate even more lives.
Saturday's demonstration showed the anger that exists amongst those who understand the impact the WRB is going to have.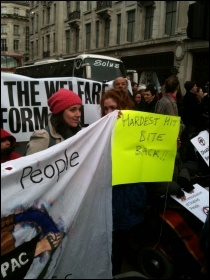 Anti-cuts and disabled activists protesting against Welfare Reform Bill, London 28.1.12, photo by Ben Robinson (Click to enlarge)
As more people realise what it means for them, their friends and their communities this vicious attack will be further exposed.
But the battle isn't over yet. Disabled People Against Cuts, who organised the protest together with UKUncut and others, calls for the complete scrapping of the Welfare Reform Bill.
Even if it passes through parliament, the pressure must be kept on. A national demonstration showing outright opposition would help to further publicise the impact of the WRB and add confidence to all those who will be affected.
The Socialist Party leaflet raising this demand went down well on Saturday and we will be campaigning for it to happen within the movement.
Ben Robinson
---
This version of this article was first posted on the Socialist Party website on 30 January 2012 and may vary slightly from the version subsequently printed in The Socialist.
---
In this issue
---
Socialist Party news and analysis

Bankers bonus scandal - Fight this profit-mad system

Trade unionists and socialists prepare for May elections

What is the point of Labour MPs?

Dead end in Davos

Them & Us
---
Socialist Party reports and campaigns

Don't let the racist EDL divide us

Disabled protesters demand scrapping of 'welfare' bill

Haringey takes action against academies

Coventry: Re-elect Dave Nellist
---
Socialist Party youth and students

NUS: name the day for student walkout

Save Derbyshire youth services!

Only one in six 'vacancies' real

Tough conditions for agency workers

South East Wales youth plan new campaigns
---
International socialist news and analysis

EU summit - no capitalist solutions to the spiralling eurozone crisis

Interview: the Tunisian revolution one year on
---
Socialist Party workplace news

Pensions battle: Unions must campaign for coordinated strike action in March

London Docklands transport workers win Olympics deal

Unison pensions cowardice

Remploy workers fight privatisation

Jet tanker drivers continue strike action

Workplace news in brief
---
The Socialist - readers' comments

Debate: Should socialists support the HS2 rail line?

Are the Greens a real alternative?

Smacking not the answer

Obituary: Gwenda Beishon
---
Home | The Socialist 1 February 2012 | Join the Socialist Party