The Socialist 22 February 2012
For real jobs - not workfare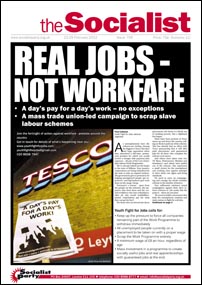 ---
Main parties have no solution to youth unemployment
Defend education - Join the student walkout
---
---
Romania: Protest movement topples the government
Kazakhstan: Defend workers' leaders
---
Sparks defeat Balfours - now for total victory over BESNA!
Support the workers at MMP packaging
Organising against the cuts in Greenwich
---
800 celebrate life of Rob Windsor, a socialist champion of Coventry's people
Wales: A tale of two conferences
'Capitalism fails the poor' agree Oxford University students!
Portsmouth: Anti-cuts activists present an alternative budget
Gateshead: Children's healthcare under threat
---
Fans not financiers should run football
Should socialists support the proposed HS2 rail link?
PO Box 1398, Enfield EN1 9GT
020 8988 8777
editors@socialistparty.org.uk

For real jobs - not workfare

Main parties have no solution to youth unemployment

Defend education - Join the student walkout

What's wrong with capitalism?
Reviews and readers' comments