The Socialist 15 March 2012
Resist Cameron's cold cruelty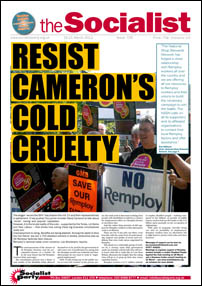 ---
Fight the cuts - for a workers' alternative
Fight back against attacks on pensions
---
---
Widespread fraud alleged as Putin wins presidential poll
Kazakhstan: Oilworkers' lawyer freed from prison
---
National demo needed to save our NHS
Liberals' 'democratic' conference
Fighting Con-Dem attacks on education
14 March - Socialist Students get a response
Library cash goes to supermarket bosses
Coventry: Fight for a socialist alternative
---
Socialist Party Congress 10-12 March 2012
World developments show - capitalism is crisis
Britain: working class begins to 'rise like lions'
Building the Socialist Party: 'year of the branch'
Young, socialist and proud to be!
---
'Westenders' - omnibus edition
The best of 'literary fiction'
PO Box 24697, London, E11 1YD
020 8988 8777
editors@socialistparty.org.uk

Link to this page: http://www.socialistparty.org.uk/issue/709/14132
Home | The Socialist 15 March 2012 | Join the Socialist Party
Them & Us
---
>
A4e's champagne lifestyle
Conferences in Monaco, £200-a-head nights out, £800 meals - that's the lifestyle afforded by top executives at disgraced workfare company A4e. Former managers have come forward to reveal the 'champagne culture' in light of the resignation of former chair, Emma Harrison, a fraud investigation and several arrests. On one occasion in April 2011 Harrison travelled to New York on a trip that cost the company £20,000. This included her and her husband flying business class. Don't worry though, there were some limits to the spending - Harrison's personal assistant was made to fly economy.
---
>
Energy Diddlers' Fine
EDF Energy has been forced to repay £4.5 million for misleading customers. 70,000 vulnerable households will receive about £50 each from the company. It's always nice to see Us get something from Them for a change. But we can't help but feel they've been let off the hook just a little - despite the money being reported by some as a 'fine', actually the company is only being fined £1! The rest is compensation to people they've ripped off. Funny how the courts didn't offer giving the stuff back as an optional punishment instead of jail time for people who stole bottles of water and the like during the riots last year.
---
>
Olympic let down
Since the successful London 2012 bid in 2005, the east London boroughs have been promised that the Olympics will bring jobs, homes and investment to some of the most deprived areas in the country. Well, with a few months to go, we're still waiting. Once the games are over the Olympic Village will become the East Village consisting of 2,818 homes. Great, you might think. But in Newham, where the majority of the games will take place, the council looks set to receive only 348 homes. And Barking and Dagenham, Hackney, Havering, Redbridge, Tower Hamlets and Waltham Forest will only receive 107 between them!
---
>
1,226!
That's how many billionaires there are in the world - more than ever before. Collectively they are worth $4.6 trillion. Apparently the gap between these 1,226 is narrowing. But that's certainly not the case between them and the rest of us - from 2010 to 2011 there was a 49% increase in the annual pay of company directors in the UK.
---
In this issue
---
Socialist Party news and analysis

Resist Cameron's cold cruelty

Fight the cuts - for a workers' alternative

Fight back against attacks on pensions

Those fracking Tories

Them & Us
---
Socialist Party workplace news

Construction workers fight on

Workplace news in brief
---
International socialist news and analysis

Widespread fraud alleged as Putin wins presidential poll

Kazakhstan: Oilworkers' lawyer freed from prison
---
Socialist Party reports and campaigns

National demo needed to save our NHS

Liberals' 'democratic' conference

Fighting Con-Dem attacks on education

14 March - Socialist Students get a response

Housing crisis in London

Library cash goes to supermarket bosses

Coventry: Fight for a socialist alternative

May Day greetings
---
Socialist Party congress

Socialist Party Congress 10-12 March 2012

World developments show - capitalism is crisis

Trade unions and workplaces

Britain: working class begins to 'rise like lions'

Building the Socialist Party: 'year of the branch'

Young, socialist and proud to be!
---
Reviews & readers' comments

'Westenders' - omnibus edition

The best of 'literary fiction'
---
Home | The Socialist 15 March 2012 | Join the Socialist Party