The Socialist 15 March 2012
Resist Cameron's cold cruelty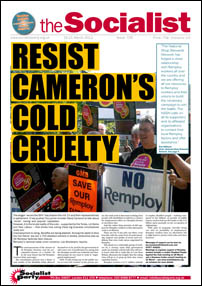 ---
Fight the cuts - for a workers' alternative
Fight back against attacks on pensions
---
---
Widespread fraud alleged as Putin wins presidential poll
Kazakhstan: Oilworkers' lawyer freed from prison
---
National demo needed to save our NHS
Liberals' 'democratic' conference
Fighting Con-Dem attacks on education
14 March - Socialist Students get a response
Library cash goes to supermarket bosses
Coventry: Fight for a socialist alternative
---
Socialist Party Congress 10-12 March 2012
World developments show - capitalism is crisis
Britain: working class begins to 'rise like lions'
Building the Socialist Party: 'year of the branch'
Young, socialist and proud to be!
---
'Westenders' - omnibus edition
The best of 'literary fiction'
PO Box 24697, London, E11 1YD
020 8988 8777
editors@socialistparty.org.uk

Link to this page: http://www.socialistparty.org.uk/issue/709/14137
Home | The Socialist 15 March 2012 | Join the Socialist Party
Fighting Con-Dem attacks on education
Southampton's Tory hypocrite brought to book
Josh Asker, Southampton University Socialist Students
Education activists in Southampton confronted universities minister David Willetts on Friday 9 March over his plans to privatise education and the introduction of £9,000 fees.
After an event to publicise his book - The Pinch: How the Baby-Boomers Stole Their Children's Future - the Tory Havant MP was met by 60 activists.
Members of Southampton Students for Education were joined by Socialist Students, Youth Fight for Jobs and UCU union members to highlight the hypocrisy of his book and the full extent of his government's cuts. UCU representative and university professor Catherine Pope decried cuts of over 400 staff at the university last year and 100% removal of public funding to Arts and Humanity departments.
As frustrations grew over the ministers' refusal to answer questions or justify his policies, the MP for Havant was ushered away to the cries of "No ifs, not buts, no education cuts!"
Meanwhile protesters were left wondering who he will try to blame next. It was made clear by socialists at the event that we don't blame 'baby-boomers' for the economic crisis but the banks and big business who continue to rake in record profits while making young and working class people pay.
---
>
Royal excuses from De Montfort student 'leader'
Lucy Stokes, Leicester
I had sent an email to De Montfort University (DMU) student union president Liam Davis regarding the NUS walkout.
His response said he had concerns that a second round of missed lectures wouldn't gain wider student support as lessons were already cancelled for the royal visit at DMU!
This shows how spineless he and the student union leaders are.
We need a fighting student union that takes action against fees and cuts, for a living grant for all, decent, affordable housing and decent jobs with decent pay guaranteed when students graduate from university.
---
In this issue
---
Socialist Party news and analysis

Resist Cameron's cold cruelty

Fight the cuts - for a workers' alternative

Fight back against attacks on pensions

Those fracking Tories

Them & Us
---
Socialist Party workplace news

Construction workers fight on

Workplace news in brief
---
International socialist news and analysis

Widespread fraud alleged as Putin wins presidential poll

Kazakhstan: Oilworkers' lawyer freed from prison
---
Socialist Party reports and campaigns

National demo needed to save our NHS

Liberals' 'democratic' conference

Fighting Con-Dem attacks on education

14 March - Socialist Students get a response

Housing crisis in London

Library cash goes to supermarket bosses

Coventry: Fight for a socialist alternative

May Day greetings
---
Socialist Party congress

Socialist Party Congress 10-12 March 2012

World developments show - capitalism is crisis

Trade unions and workplaces

Britain: working class begins to 'rise like lions'

Building the Socialist Party: 'year of the branch'

Young, socialist and proud to be!
---
Reviews & readers' comments

'Westenders' - omnibus edition

The best of 'literary fiction'
---
Home | The Socialist 15 March 2012 | Join the Socialist Party