The Socialist 15 March 2012
Resist Cameron's cold cruelty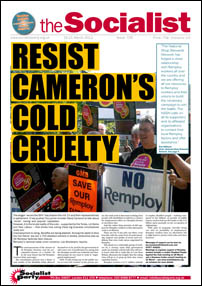 ---
Fight the cuts - for a workers' alternative
Fight back against attacks on pensions
---
---
Widespread fraud alleged as Putin wins presidential poll
Kazakhstan: Oilworkers' lawyer freed from prison
---
National demo needed to save our NHS
Liberals' 'democratic' conference
Fighting Con-Dem attacks on education
14 March - Socialist Students get a response
Library cash goes to supermarket bosses
Coventry: Fight for a socialist alternative
---
Socialist Party Congress 10-12 March 2012
World developments show - capitalism is crisis
Britain: working class begins to 'rise like lions'
Building the Socialist Party: 'year of the branch'
Young, socialist and proud to be!
---
'Westenders' - omnibus edition
The best of 'literary fiction'
PO Box 24697, London, E11 1YD
020 8988 8777
editors@socialistparty.org.uk

Link to this page: http://www.socialistparty.org.uk/issue/709/14150
Home | The Socialist 15 March 2012 | Join the Socialist Party
A Socialist Party 2012 congress report
Britain: working class begins to 'rise like lions'
Dave Carr
A vitally important discussion among delegates focussed on the deep and protracted crisis in capitalism, and the impact of the government's austerity measures on Britain. The session was introduced by Hannah Sell, Socialist Party deputy general secretary, and summed up by executive member Clive Heemskerk. After a thorough debate, delegates agreed a British Perspectives document proposed by the executive committee.
Hannah began by saying that the last year was characterised by the entry of the working class movement onto the stage of history - shown in the strikes, demonstrations and other forms of protest. The Socialist Party has played an important role in initiating, organising and assisting in many of these events.
The session was preceded by a fraternal speech by PCS assistant general secretary Chris Baugh, who referred to the fantastic fightback by trade unionists in 2011 against the Con-Dems' attacks on living standards and working conditions - in particular, the TUC demo on 26 March and the two one-day strikes on 30 June and 30 November. PCS and other unions are balloting for renewed strike action on 28 March. Chris added: "To defeat this rotten government will take consistent generalised strike action."
But, as Hannah pointed out, because of the betrayal of the right-wing trade union leaders, it is not yet clear to all workers what is required to beat the government.
Increasing numbers are, however, drawing the conclusion that a fightback is necessary. Despite the attempt by the right-wing trade union leaders to betray the pensions struggle, the strategy put forward by socialists and the left will mean that many workers are better prepared to fight the relentless attacks they face.
British capitalism continues to languish in the doldrums, with little economic growth and a reluctance to invest. The government is so wedded to austerity and neoliberalism that it will resist taking any serious measures to address this.
In dealing with the effects of the crisis Hannah referred to the "cold cruelty of the ruling class", exemplified by its decision to close Remploy factories, throwing 1,700 disabled workers onto the dole and the welfare reform bill among other vicious attacks.
Them and Us society
The outrageous bankers' bonuses, while savage cuts are being made to jobs, benefits and services, the widening inequality and 'slave labour' workfare schemes, are leading to widespread anger among people. However, the right-wing trade union leaders are holding back developing an opposition movement, falsely believing that taking action will damage Labour's election prospects.
For their part the Labour leaders believe that they can only get back into office by emulating the policies of the coalition government - hence Ed Miliband and Ed Balls saying that they won't reverse the spending cuts nor end pay freezes.
Building a left political alternative to Labour is vital and underlines the importance of standing anti-cuts candidates under the banner of the Trade Unionist and Socialist Coalition in the forthcoming elections.
In intervening in elections and in the struggles of the working class the Socialist party will unapologetically put forward its socialist programme. As Chris Baugh pointed out: "Socialist internationalism is the antidote to the tyranny of the markets and capitalism".
Subjects covered in the discussion on 'perspectives for Britain' included Scottish independence and the referendum - with a speech by Philip Stott the general secretary of the Socialist Party's counterpart in Scotland. Dave Reid, Socialist Party Wales secretary spoke on political perspectives for Wales.
Other issues included unemployment and workfare, the crisis in the NHS, pensions and government attacks on public services, political representation of the working class, racism, immigration and the far right, the Greens, the attacks on women's rights, housing cuts and homelessness, widening inequality, pay freezes, can the coalition last?, transport, and more besides. Further material on these issues will be carried in future issues of the Socialist.
---
In this issue
---
Socialist Party news and analysis

Resist Cameron's cold cruelty

Fight the cuts - for a workers' alternative

Fight back against attacks on pensions

Those fracking Tories

Them & Us
---
Socialist Party workplace news

Construction workers fight on

Workplace news in brief
---
International socialist news and analysis

Widespread fraud alleged as Putin wins presidential poll

Kazakhstan: Oilworkers' lawyer freed from prison
---
Socialist Party reports and campaigns

National demo needed to save our NHS

Liberals' 'democratic' conference

Fighting Con-Dem attacks on education

14 March - Socialist Students get a response

Housing crisis in London

Library cash goes to supermarket bosses

Coventry: Fight for a socialist alternative

May Day greetings
---
Socialist Party congress

Socialist Party Congress 10-12 March 2012

World developments show - capitalism is crisis

Trade unions and workplaces

Britain: working class begins to 'rise like lions'

Building the Socialist Party: 'year of the branch'

Young, socialist and proud to be!
---
Reviews & readers' comments

'Westenders' - omnibus edition

The best of 'literary fiction'
---
Home | The Socialist 15 March 2012 | Join the Socialist Party
Related links:

Iraq: Only united action can stop sectarian war

Socialism 2014: Ideas to change the world

WW1 - 100 years since the great slaughter

Con-Dems and Labour fast-track 'snoopers charter'

Britain's non-investing, cheap wage bosses

Protests, strikes and equality: Women in World War One

Capitalist crisis continues

Southampton: Channel 4's Immigration Street condemned

Super-rich flash cash at Tory bash

Government's economic mirage as election approaches

We can't live on poverty pay!

Socialism and national rights

Mansfield Socialist Party: Save our NHS

South London Socialist Party: Ferguson erupts over police killings

Welsh councils have a choice

BT pay cuts: we need less surveys, more action!