The Socialist 2 May 2012
Kick out the ConDems!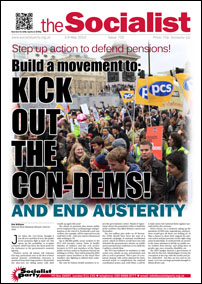 ---
Kick out the Con-Dems and end austerity
A strategy to stop austerity and bring down the government of the super-rich
Fight privatisation: Save our libraries
National Shop Stewards Network 6th annual conference
---
Rich list: The good times roll for the 0.00001%
Leveson exposes links between Tories and Murdoch
---
NUS conference Support for left and for action
---
Social dumping won't solve the housing crisis
---
Don't accept the misery of austerity
---
Unison leadership 'woefully inadequate' in face of cuts
Rotherham teachers stand up to bullying
Bilborough College Nottingham strike Action over five-term years
UCU joins 10 May strike - student solidarity needed
---
TUSC: the electoral alternative to the parties of the rich
---
Thug attack won't stop anti-racist work
Socialist MEP discusses way forward for Tamils struggle
Sheffield marches against sexism and cuts
---
Capitalist crisis: 'Up to half of all Icelandic families are bankrupt'
Kazakhstan: Socialists jailed by regime
---
The government's fractured energy policy
PO Box 24697, London, E11 1YD
020 8988 8777
editors@socialistparty.org.uk

Link to this page: http://www.socialistparty.org.uk/issue/716/14445
Home | The Socialist 2 May 2012 | Join the Socialist Party
Thug attack won't stop anti-racist work
On Saturday 28 April trade union activists were attacked by racists claiming to have allegiance to 'March for England', closely linked to the English Defence League (EDL). The Retired Members' Secretary of Lewisham NUT teachers' union was hospitalised as a result.
Lewisham NUT has stated: "that it is no coincidence that this attack should take place just a few days before elections to the Greater London Assembly. Candidates supported by racist and fascist parties are seeking to benefit from the public anger against the effects of the austerity measures.
"Racism and fascism provide no answers to the problems facing young people, nor to any part of our community. Instead of bringing people together to defend their jobs, homes, pensions and public services, racists and fascists make it harder to defend our livelihoods by dividing communities instead."
Martin Powell-Davies, secretary of Lewisham NUT and a member of the NUT executive, is standing as a candidate for the Trade Unionist and Socialist Coalition (TUSC) challenge for the London-wide list part of the GLA elections.
"Saturday's outrage shows that, far from standing up for people's rights, the racists instead attack trade unionists and socialists out campaigning to defend our local communities from cuts.
"As trade unionists, we pledge to defend our union members and our local community from racist attacks and to continue to campaign for the united trade union action which is needed to defeat cuts and austerity." On this basis, the NUT is linking up trade unionists and others in Lewisham.
Martin adds that: "This includes offering a political alternative to racism - but fundamentally to the cuts that are destroying working people's lives. The racists play on this - claiming they offer an alternative when in reality their policies would maintain the status quo. Voting TUSC on 3 May is a vote for a united campaign for jobs, homes and public services for all."
---
In this issue
---
Fighting the government attacks

Kick out the Con-Dems and end austerity

A strategy to stop austerity and bring down the government of the super-rich

Fight privatisation: Save our libraries

National Shop Stewards Network 6th annual conference
---
Socialist Party news and analysis

Rich list: The good times roll for the 0.00001%

Leveson exposes links between Tories and Murdoch

Them & Us
---
Socialist Students

NUS conference Support for left and for action
---
Housing crisis

Social dumping won't solve the housing crisis
---
Socialist Party feature

Don't accept the misery of austerity
---
Socialist Party workplace news

Unison leadership 'woefully inadequate' in face of cuts

Rotherham teachers stand up to bullying

Bilborough College Nottingham strike Action over five-term years

UCU joins 10 May strike - student solidarity needed

Workplace news in brief
---
Trade Unionist and Socialist Coalition feature

TUSC: the electoral alternative to the parties of the rich
---
Socialist Party campaigns

Thug attack won't stop anti-racist work

Socialist MEP discusses way forward for Tamils struggle

Sheffield marches against sexism and cuts
---
International socialist news and analysis

Capitalist crisis: 'Up to half of all Icelandic families are bankrupt'

Kazakhstan: Socialists jailed by regime
---
Environment and socialism

The government's fractured energy policy

Planning for the Planet
---
Home | The Socialist 2 May 2012 | Join the Socialist Party