The Socialist 13 June 2012
Turn anger into action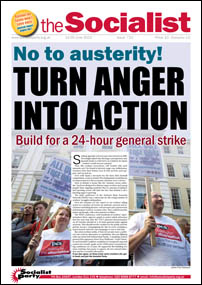 ---
No to austerity! - Turn anger into action
NSSN conference agrees call for one-day general strike against austerity
Leveson: contradictions and a crisis of credibility
No to local government pensions deal
The class divide in elderly care
---
Youth Fight for Jobs national meeting
From pillar to post: reassessment for ESA
Super-rich Beecroft targets workers' rights
---
Spain: bank bailout can't stop Euro death-spiral
Wisconsin Recall: Democrats paved the way for Walker's victory
Kazakhstan: Oil workers jailed by rotten regime
International day of support for political prisoners in Iran
Threat from far-right in Greece: Time to build defence committees
---
Tamil protest scores victory as Rajapaksa cancels speaking engagement
Bolton Uni: Reinstate Shana Begum!
Olympic's sponsor exploits workers
---
Sheffield recycling centre strikers supported by 90% of public
Council admin workers in Kirklees strike against cuts
Olympics - a fair deal for transport workers
Coryton refinery closure protests
PO Box 24697, London, E11 1YD
020 8988 8777
editors@socialistparty.org.uk

Link to this page: http://www.socialistparty.org.uk/issue/722/14687
Home | The Socialist 13 June 2012 | Join the Socialist Party
The class divide in elderly care
Sue Powell
Tory communities minister, Eric Pickles, has called for an "end to the blame game", announcing his new tough approach towards problem families: apparently, its time for people to stop blaming others and accept responsibility for any difficulties they face.
However, the Con-Dems are not averse to playing this game themselves. They claimed the UK's ageing population was responsible for their Health and Social Care reforms. We are simply all 'living too long'.
Lib Dem Paul Burstow, minister for care, is also keen to blame others for care shortfalls - he accuses local councils, who unanimously cry: 'not our fault, we have no alternative.'
This year there will be a further £1 billion cut from councils' adult social services budgets. As a result, most care homes are considering increasing fees to paying residents to subsidise council beds. With less cash to pay for places, 60% of providers are thinking about reducing the proportion of beds available for council-funded residents.
The number of older people in England receiving council-funded care has fallen by 11% in the last two years, despite an ageing population. An estimated 800,000 older people are being left without basic care - lonely, isolated and at risk. Many others lose their homes and savings due to soaring care bills.
Every year, thousands of people are forced to give up work to care for older or disabled relatives. Even if money can be scraped together, you'd think twice before committing a loved one to the care of a private provider. Privatisation has been disastrous and the examples of systemic neglect and abuse are too numerous to list.
System failure
Nine out of ten care providers claim government cuts force them into favouring wealthy pensioners. With health among the most affluent pensioners better than ever, their numbers account for an increasing number of people buying places in residential care. Meanwhile the poorest face savage cuts to council-funded beds and a lottery for decent, affordable care.
The system fails those in need of care and countless family carers, who are often pushed to breaking point for a state allowance that leaves many impoverished. These people then become the next generation of elderly poor.
According to the rules of the blame game they should have 'made proper provision for the future'. Care provision is a lottery in which luck plays only a small part - money and class determine everything.
---
In this issue
---
Socialist Party news and analysis

No to austerity! - Turn anger into action

NSSN conference agrees call for one-day general strike against austerity

Leveson: contradictions and a crisis of credibility

No to local government pensions deal

The class divide in elderly care

Fast news

Them & Us
---
Socialist Party youth and students

Youth Fight for Jobs national meeting

My workfare nightmare

From pillar to post: reassessment for ESA

Super-rich Beecroft targets workers' rights
---
International socialist news and analysis

Spain: bank bailout can't stop Euro death-spiral

Wisconsin Recall: Democrats paved the way for Walker's victory

Kazakhstan: Oil workers jailed by rotten regime

International day of support for political prisoners in Iran

Threat from far-right in Greece: Time to build defence committees
---
Socialist Party reports and campaigns

Tamil protest scores victory as Rajapaksa cancels speaking engagement

Bolton Uni: Reinstate Shana Begum!

Greece comes to Southampton

Olympic's sponsor exploits workers

West Lancs Against Cuts
---
Socialist Party workplace news

Sheffield recycling centre strikers supported by 90% of public

Council admin workers in Kirklees strike against cuts

Olympics - a fair deal for transport workers

Coryton refinery closure protests

Striking against academies

Workplace news in brief
---
Home | The Socialist 13 June 2012 | Join the Socialist Party