Home | The Socialist 12 September 2012 | Join the Socialist Party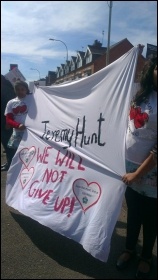 Opposing the closure of the children's heart unit at Glenfield hospital, photo Steve Score (Click to enlarge)
Demo against heart unit closure in Leicester
About 150 people gathered at short notice on Saturday 8 September to show their opposition to the proposed closure of the children's heart unit at Glenfield hospital in Leicester.
In a very noisy protest, cars hooted their support as the chanting protesters marched up and down Belgrave Road in Leicester.
The march was organised by 14 year old Ria Pahwa, the second one she has initiated, to add to the pressure on the government to review the decision.
If the closure goes ahead the nearest unit would be in Birmingham. Ria is herself a heart patient and points out that she could have died soon after birth if the heart unit hadn't been at Glenfield.
Campaigners and doctors point out that the closure of this unit would undoubtedly mean greater numbers of deaths.
An online petition (http://epetitions.direct.gov.uk/petitions/35788) has been signed by around 65,000 people so far with the aim of getting over 100,000 signatures and the decision reviewed.
The original consultation pitted different heart units against each other. The Socialist Party is opposed to the closure of any of the heart units, and believe it is part of the wider process of cutbacks the government is making.
There is more information in the previous article: http://www.socialistparty.org.uk/issue/728/14946
Steve Score
---
This version of this article was first posted on the Socialist Party website on 10 September 2012 and may vary slightly from the version subsequently printed in The Socialist.
---
In this issue
---
Fight against austerity

Build a 24-hour general strike

TUC passes general strike motion

NSSN lobby demands a 24-hour general strike

Teachers must unite against Tories
---
Socialist Party news and analysis

Nationalise the banks

Cabinet reshuffle

Con-Dem housing measures - in 'the thick of it'?

After the Paralympics... Stop the Con-Dems' assault on disabled

Cable attacks health and safety

'Red tape' bonfire puts workers at more risk

More bad news from media mogul Murdoch
---
International socialist news and analysis

Quebec Solidaire's electoral gains show potential for left

Honduras: Privatised cities in the global economy
---
Socialist Party feature: TUSC

We need a political voice to fight austerity
---
Socialist Party youth and students

Socialist students: Fighting for education

Bristol YFJ: "We're not lazy - we're fighting back"

Global youth unemployment rises

Youth Fight for Jobs in action! Coming events
---
Socialist Party workplace news

Workers' unity against brutal bosses at Cranswick Foods

East Coast train cleaners on strike

RMT assistant secretary arrested on picket line
---
Fighting NHS cuts

NHS under attack - Stop the closures, stop the cuts

Bromsgrove meeting opposes A&E closure

Demo against heart unit closure in Leicester
---
Socialist Party reports and campaigns

Sheffield Socialist Party pickets strike-breaking facility

Brent Labour: Making families homeless

Young tenants to lobby Leeds council over housing crisis
---
Reviews and comments

The Reunion rewrites history: the Poll Tax

The shame of sexism in sport

How we stopped the racist EDL
---
Home | The Socialist 12 September 2012 | Join the Socialist Party