The Socialist 14 November 2012
Make the corporate tax dodgers pay up!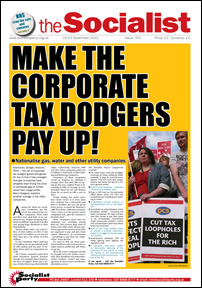 ---
Make the corporate tax dodgers pay up!
North Wales child abuse scandal
Attacks on BBC reach fever pitch
---
USA elections: Voters reject right-wing agenda
Greece: Another 48-hour general strike paralyses society
For a European-wide 24-hour general strike
Greedy capitalists threaten ship
---
Student demonstration: Escalate the struggle to fight fees, cuts and privatisation
Join the NUS demo on 21 November
---
Che Guevara - Symbol of fashion or symbol of struggle?
---
Workers and councillors must make a stand against 300 job cuts in Southampton
Rotherham byelection - No more 'MacShames'!
Why I'm standing for TUSC in Middlesbrough
Commemorating the Clay Cross struggle
---
Doncaster drivers go to war with Tesco
Academy teachers strike against pay cuts
PO Box 1398, Enfield EN1 9GT
020 8988 8777
editors@socialistparty.org.uk

Link to this page: http://www.socialistparty.org.uk/issue/742/15682
Home | The Socialist 14 November 2012 | Join the Socialist Party
Join the NUS demo on 21 November
Free education, bring back EMA, make the 1% pay!
Ben Golightly, Swansea Socialist Students
Up to £9,000 tuition fees, with loan interest charged at 3% above inflation from the day you start. EMA student payments scrapped or facing cuts across the whole of Britain. Soaring youth unemployment and plummeting graduate job prospects. The haemorrhaging of Welsh university funding. Students have every reason to be furious.
It doesn't have to be this way. The richest in our society are not only richer now than they were before the start of the recession, they are richer now than they have ever been. A staggering $21 trillion is stashed offshore. The Tories dish out tax cuts for millionaires, but say that EMA is unaffordable. They won't listen to moral arguments - we have to fight for our future!
Two years ago 50,000 students flooded the streets of London in an attempt to defeat these attacks on education. It was a heroic fight, but the mood of students was not matched by the National Union of Students (NUS) leadership at the time. Ultimately the protests were unsuccessful outside of winning temporary concessions in Wales.
However, society is in a very different place today. Every section of the working class, and large sections of the middle class, is now under attack in the name of austerity. Millions of workers have marched and taken strike action. By uniting with them, students can escalate our fight against cuts.
When lecturers took part in coordinated strike action against attacks on public sector pensions last year, students stood shoulder to shoulder with them on picket lines. In March, 200 protesting electricians were kettled by police as they attempted to link up with a student demo. On 21 November, we want students, lecturers and workers to march together again on the NUS organised demonstration in London.
We need a democratic and fighting NUS that will confidently argue against cuts, give a lead, and prepare a strategy to win. The inspiring example of 500,000 students and workers marching together in Quebec demonstrates how a strong anti-cuts student movement, united with workers, can achieve victory.
Socialist Students supports the hugely significant demand for the TUC to call a 24-hour general strike against austerity. We argue that students should also take up this demand and strike alongside workers on the day.
Let's make sure that the demonstration on November 21 is only the next step of a powerful student and anti-austerity movement that can stop the cuts and bring down this government of millionaires.
See socialiststudents.org.uk for reports from the demo and meetings in your area