The Socialist 2 October 2013
Nationalise them now!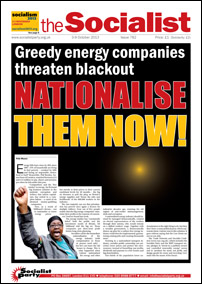 ---
Tax dodging corporations profit from casualisation
Big business puts profits before environment
Tory millionaire tells Britain: 'Back to the workhouse!'
---
---
TV review: Locked up for being ill?
Theatre review: A man of humble beginnings
---
Capitalist parties offer nothing to the 99%
---
Socialism 2013 - a weekend of discussion and debate hosted by the Socialist Party
---
Solid support for teachers' strike
Firefighters' four-hour strike - determined and clear that coordinated action needed
---
28 percent for TUSC in Fleetwood
Lincoln: 400 march against Library cuts
The fight against academies in Leicester
---
Greek government forced to take action against neo-fascists
Activists demand full public inquiry into undercover police operations
Sudan: 'Down with the regime!'
Qatar: End this modern-day slave labour
PO Box 1398, Enfield EN1 9GT
020 8988 8777
editors@socialistparty.org.uk

Link to this page: http://www.socialistparty.org.uk/issue/782/17493
Home | The Socialist 2 October 2013 | Join the Socialist Party
Subscribe | Donate | PDF | ebook
Firefighters' four-hour strike - determined and clear that coordinated action needed
Surrey Fire Service locks out its firefighters
The mood at County Hall in Kingston on 25 September was angry and determined. Around 200 Surrey firefighters gathered for a strike rally as part of the national dispute over their pensions.
Surrey County Council had effectively 'locked out' their entire firefighter workforce for the full day, despite the strike lasting four hours.
Members of Surrey County Council Trade Union group (SCCTU) joined the protest in solidarity and I addressed the rally with a message of support calling for joint national trade union action, like that of two years ago, to stop this government's austerity agenda.
Paul Couchman, SCCTU Secretary and Surrey Socialist Party
Richard Jones, Surrey FBU Brigade Secretary, told the Socialist:
"Today, FBU members across England and Wales have embarked upon a four-hour strike in our continuing dispute against the governments unworkable, unaffordable and unrealistic pension reforms.
"The government's position has been intransigent for some considerable time - despite a report commissioned by them from an independent medical expert stating that their proposals would lead to at least two-thirds of fire fighters being unable to maintain operational fitness levels after age 55 leading to mass capability sackings.
"The FBU have continually argued that an occupational pensions scheme must reflect the occupation of the members it serves and must include a normal pension age.
"The FBU have also argued that the 2015 scheme proposes a level of monthly contribution for a fire fighter of 13.2% (just shy of £350 per month) and will be widely unaffordable to members.
"This action has been a great success in allowing the FBU to get its side of the story in front of the public who seem to be largely supportive and who understand the importance of having fit and capable fire fighters.
We are obviously hopeful that the government will now return to the negotiating table with a view to resolving this dispute with a common sense approach which has been sadly lacking so far. The FBU will not shy away from further action if this is not the case.
"Surrey stood alone as the only Fire Authority in England and Wales that removed their fire fighters from duty for the entire nine-hour day shift.
"To exclude professionally trained and experienced fire fighters in favour of a handful of people that have never attended a live fire or road traffic collision is appalling.
In my opinion, Surrey Fire Authority have been relishing an opportunity to show off to government the private workforce they have entered into contract with, using taxpayers' money. This cannot go unchallenged."
---
>
London
Firefighters at Whitechapel in East London saw today (25 September) as a first step, a warning shot to the government. "We don't like going on strike but what choice do we have?" They thought it would be good, should further action be necessary, if it was coordinated with other public sector unions. "Hopefully the leaders of our union will sit down with the teachers and the CWU and work out a plan to strike altogether."
We also talked about the Labour Party. Some strikers already know about the Trade Unionist and Socialist Coalition (TUSC) because of discussions they have had with the local TUSC group.
Others were interested to learn there are already ten people considering standing for TUSC in the borough, including RMT and PCS members and a student at Queen Mary's university. They're not sure they'll stand themselves yet - but they're thinking about it.
Paula Mitchell, London Socialist Party secretary
---
>
It is clear that the public in Ealing certainly support their local firefighters with queues of people lining up to sign the FBU petition at Ealing fire station picket line.
At one point a traffic accident happened near the fire station and the pickets were the first people on the scene.
The firefighters were all clear that this attack on the pension age will be used to sack firefighters on the basis of being unfit for work.
As one of the firefighters said, he wouldn't want to be rescued by someone aged 60! But he made the point that at 54, while he is still very fit, he is not as fit as he was ten years ago.
The pickets were also frustrated that in order to prepare for the strike the fire authority removed one of the two fire tenders six weeks ago, leaving the area with half their fire cover for all of this time.
The strike at Ealing was solid. The firefighters we spoke to were in favour of a one-day general strike but were questioning how it could be achieved.
Socialist Party and TUSC leaflets went down well. One of the reps is actively promoting TUSC at the fire station. One picket bought a copy of the Socialist.
Chris Newby
---
>
There was no chance of missing the FBU picket line at Leytonstone, east London. Flag-waving pickets did not get a break from responding to the constant toots of support from passing traffic.
The mood seemed to be one of determination. I visited with the Unison branch secretary from the local hospital and there was no need to explain the need - and the obvious potential - for coordinating the action and for a 24-hour general strike.
Sarah Sachs-Eldridge
---
>
"You can close our stations, but you'll never take our pensions!" shouted one of the pickets at Silvertown station in Newham, east London, due to close in January as part of Boris's fire cuts.
Everywhere it was said that this strike was a warning shot before more action is taken, and that generalised action on the same day with other unions was the best way forward.
Bob Severn
---
>
Coventry
There was a very determined mood amongst FBU members today. They're been told to pay even higher pension contributions and to work longer.
The Tories have told younger firefighters I met on the picket line that they have to work 40 years now for a full pension compared to existing staff's 30 years.
Firefighters will now have to work to 60 (would you want a 60 year old having to climb up a burning building to rescue you?).
Oh, and the head of the West Midlands Fire Service retires (from a desk job!) in November. He's 53 years old!
Dave Nellist
---
>
Swansea
"We should all be out. That's the only way we'll beat them." This was a sentiment that was repeated again and again to Swansea Socialist Party members and delegates to the Trades Council as we visited local FBU picket lines today.
Other strikers said that they thought that longer, sustained strike action would be needed.
Before visiting the picket lines, the Trades Council had put out a press release containing a statement of support for FBU strikers and pointing out that public safety and the quality of the fire and rescue services are at risk along with firefighters' pensions.
Fire chiefs had upset a number of retired former firefighters by trying to recruit them to a scab force to break strike action.
Some of these had denounced this practice in the local paper. Strikers told us that they knew people who had applied to join the brigade and been accepted but told that there weren't any current vacancies; they had then received written invitations to provide cover for today's strike.
FBU members also believe that firefighters willing to work today, had been brought to Swansea from as far away as Aberystwyth.
Mid and West Wales service bosses had created scab HQ in a training centre at Earlswood, on the approaches to Swansea.
FBU members picketing the site were delighted by a CWU member refusing to deliver post to the site and pledged to support the CWU in turn when they take strike action against privatisation of Royal Mail.
At the most visible station, there was a constant honking of car horns by passers-by to show support.
Some of the picket lines were small but more than one firefighter told us that they didn't want to picket at their station because they didn't want to be asked to go out on a shout.
There was a determination to fight but many strikers thought that the FBU's best chance of defeating the government is as part of wider action, involving other unions.
They all agreed with the idea of a 24-hour general strike on the NSSN leaflets we distributed. We also sold several copies of the Socialist.
Alec Thraves, Swansea Trades Council
---
>
Solidarity
Hundreds of London Underground Tube drivers refused to work due to health and safety concerns during the FBU strike.
Assistant general secretary Steve Hedley led members in solidarity with firefighters, who walked out of stations across London at noon as part of a national strike over pensions.
Steve said: "We're here to show solidarity with the firefighters and to try to highlight the extremely dangerous policy the government has of trying to make firefighters work until they are 60 years of age. We believe this is ludicrous."
---
>
Warrington
Firefighters in Warrington were out in force for the four-hour strike on 25 September, with all three stations solidly on strike.
I asked strikers at the main Warrington station what they thought of Tory Minister Brandon Lewis' claim that the offer on pensions was a good one.
"No it's not," was the response. "It's ludicrous to expect firefighters to carry on into their late 50s, up to 60."
The minister had just said that firefighters, even older ones, had a duty to 'keep themselves fit'.
"We agree with fitness tests, but how can someone who's 59 reach the same level of fitness as a 20 year old? It's not being unfit, it's just being older! What will happen is that people will be dismissed for capability, then you won't see your state pension till you're 68.
"If you fail fitness you're supposed to be redeployed to non-operational work, but that amount of redeployment is not achievable. Most of the estimates are that 70-90% will fail those fitness tests in their 50s."
The FBU members I spoke to were completely in agreement with co-ordination of action between trade unions.
We spoke about the unexpectedly huge protest turnout in Warrington for the 30 November 2011 public sector pensions strike - although the FBU weren't on strike that day - when, from 300 expected, the numbers were more like 1,200.
"We went down to that, for the teachers and civil servants march in town in 2011, and outside the Town Hall.
"We want to support the health march in Manchester on Saturday. Ideally the union would coordinate with the others, but they had to get this date in to make sure we could get it in."
Also, at the smaller Birchwood station, all the FBU members were outside, peacefully sitting beside the entrance, but the feeling was just as determined.
"We've not recruited to the service in about eight years, they have to understand and make allowance for age. We signed up for this pension, not another one, and we've paid for it," was one comment.
The FBU members proved themselves united, resolute and well aware of the issues. The cars honking support as they went by on the A49 showed that the public are behind these public sector workers.
Andy Ford, Warrington Trades Council
---
>
Nottingham
Around 45 firefighters impressively marched out of Nottinghamshire Central firestation in formation as part of a national strike on Wednesday.
Members of the public were coming up to the picket line to sign their 'visitors book' and bus drivers were honking their horns in support as they drove past.
One striker summed up the mood on the picket line when he said: "The government is trying to pick us off one by one, we need to all be out together."
Many firefighters knew teachers who are preparing for strike action next week in the East Midlands, and referred to other possible strikes and could see the need for coordinating that action.
Becci Heagney
---
>
Leeds
Around 100 firefighters and their supporters rallied in Millennium Square, Leeds, on Wednesday 25 September against plans to increase the retirement age of firefighters to 60.
This was part of a national four-hour 'warning' strike by the FBU against proposals that would also see firefighters paying increased pension contributions whilst receiving amount in retirement.
Many firefighters were also angry about the cuts and closures programme which the Labour dominated fire authority forced through last year.
Several of the firefighters on strike were from stations due to be merged with accompanying reductions in staffing, while other stations have had fire appliances removed from site.
Firefighters from stations that aren't due for closure explained to me how they were increasingly being asked to cover more incidents.
Despite the protest being called at short notice, there was a large delegation from the PCS civil servants union and other local trade unionists and activists attending the rally to show their support.
As teachers are due to strike in Yorkshire and several other regions next week, and postal workers are due to ballot for strike action, the need for coordinated action by unions, and ultimately a general strike, against austerity has never been clearer.
Iain Dalton
---
>
North east
Picket lines at firestations across the north east were well attended. It was also clear their strike action was well supported as, alongside trade unionists and socialists visiting the picket lines, passing car drivers tooted to show their support.
At Gateshead's Lowfell station Andy Noble, FBU northern region executive council member, said striking was: "Probably the most difficult decision these people will have to make.
"For firefighters it shows the level of anger and frustration at the government, who won't engage in any meaningful negotiations."
Andy went on to say that: "Ultimately it's firefighters alongside other public sector workers being made to pay the price of a problem they didn't create."
At Byker's Fossway station vehicles were being sent out in an effort to fool the public that the strike wasn't solid. However, it was strike-breakers who had been brought in for this exercise.
One of the striking firefighters from Byker commented that although he was angry that these people had been brought in, he was also worried about the poor level of training they had been given.
In the event of them being used in any emergency there was concern about their safety.
Elaine Brunskill
---
>
Liverpool
The firefighters on the picket lines in Liverpool displayed firm determination to see the battle with the Con-Dem vandals through to the end.
The bitterness towards the government and proposals to mangle the pension rights of firefighters was palpable.
It was noticeable that there were equal measures of hostility displayed towards both Cameron and John Prescott, Labour deputy prime minister in the Blair government who, it was recalled with bitterness, displayed total disrespect towards the firefighters in their campaign for a decent wage.
Prescott had substituted serious negotiations with abuse and name-calling, to the extent that he instructed the local fire authorities not to settle when the FBU were poised to accept an offer.
Belle Vale fire fighter Mark Omar spoke of not only the attack on pension rights, but of the decimation of staff and machines.
Over seven years, spanning New Labour and the Con-Dem governments, machines had been reduced from 48 to 28.
The shift system meant they stayed 72 hours on the station, working 12 hours on and 12 hours off, during which they would be on call.
A similar mood of dogged determination gripped the pickets on the Queens Drive station. Union rep Tony Richardson and Brian Sargent, 28 years a firefighter, expressed the same mood of conviction to continue the battle.
The city centre station firefighters' mood replicated the determination of the other stations. Here the FBU rep explained that since 2002, firefighter numbers had been reduced on Merseyside from 1,500 to 750.
Every picket was informed of the Trade Unionist and Socialist Coalition and given a TUSC leaflet. They were urged to support TUSC and to submit their names as candidates.
Without exception every picket agreed with the need for a new mass party of the working class.
Workers displaying these qualities of determination in Liverpool cleansing, Hovis, the electricians, Whipps Cross, and many other areas throughout the UK reveal deep bitterness and hostility to the government.
If the TUC displayed a fraction of their courage and were prepared to harness this anger into a cohesive movement organised into a massive programme of industrial action, starting with a 24-hour general strike, the hated, loathed, despised, money-grubbing Con-Dems could be swept out of power long before 2015.
This is the clear message from the firefighters' action.
Tony Mulhearn
---
>
Mansfield
On a visit to the firefighters' picket line in Mansfield, Nottinghamshire, on 25 September, the support for this vital service was shown by the number of vehicles tooting their horns in support of the 17 or so pickets.
Firefighters were very receptive to the idea of co-ordinated action and a 24-hour general strike. I believe this is what must now happen, to send a warning shot to any party that governs us that the working class will fight back if provoked enough.
The 50,000 people who were on the superb NHS demo in Manchester on 29 September showed what could be achieved.
Karen Seymour
---
>
---
This version of this article was first posted on the Socialist Party website on 25 September 2013 and may vary slightly from the version subsequently printed in The Socialist.
---
In this issue
---
Socialist Party news and analysis

Nationalise them now!

Tax dodging corporations profit from casualisation

Big business puts profits before environment

Tory millionaire tells Britain: 'Back to the workhouse!'

Them & Us
---
Socialist Party NHS campaign

Fighting to defend our NHS
---
Socialist Party reviews

TV review: Locked up for being ill?

TV review: Peaky Blinders

Theatre review: A man of humble beginnings
---
Socialist Party editorial

Capitalist parties offer nothing to the 99%
---
Socialism 2013

Socialism 2013 - a weekend of discussion and debate hosted by the Socialist Party
---
Socialist Party workplace news

Solid support for teachers' strike

Firefighters' four-hour strike - determined and clear that coordinated action needed

Rochdale care workers dig in

Liverpool pay victory

Leeds zero-hour protest

In brief
---
Socialist Party reports and campaigns

28 percent for TUSC in Fleetwood

Lincoln: 400 march against Library cuts

The fight against academies in Leicester

Building Socialist Students
---
International socialist news and analysis

Greek government forced to take action against neo-fascists

Activists demand full public inquiry into undercover police operations

Sudan: 'Down with the regime!'

Qatar: End this modern-day slave labour
---
Home | The Socialist 2 October 2013 | Join the Socialist Party