The Socialist 2 October 2013
Nationalise them now!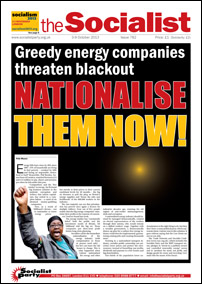 ---
Tax dodging corporations profit from casualisation
Big business puts profits before environment
Tory millionaire tells Britain: 'Back to the workhouse!'
---
---
TV review: Locked up for being ill?
Theatre review: A man of humble beginnings
---
Capitalist parties offer nothing to the 99%
---
Socialism 2013 - a weekend of discussion and debate hosted by the Socialist Party
---
Solid support for teachers' strike
Firefighters' four-hour strike - determined and clear that coordinated action needed
---
28 percent for TUSC in Fleetwood
Lincoln: 400 march against Library cuts
The fight against academies in Leicester
---
Greek government forced to take action against neo-fascists
Activists demand full public inquiry into undercover police operations
Sudan: 'Down with the regime!'
Qatar: End this modern-day slave labour
PO Box 1398, Enfield EN1 9GT
020 8988 8777
editors@socialistparty.org.uk

Link to this page: http://www.socialistparty.org.uk/issue/782/17502
Home | The Socialist 2 October 2013 | Join the Socialist Party
Subscribe | Donate | PDF | ebook
Them & Us
Dirty donor
A money broker run by big Tory party donor and former party treasurer Michael Spencer has been fined £55 million for Libor interest rate rigging.
Spencer, who owns 16% of the City dealer Icap, has donated £4.8 million to the Conservatives.
Libor affects £300 trillion of financial dealings internationally. Icap email records have shown rewards including increased bonuses, champagne and a Ferrari on offer for rate rigging.
Spencer, who has enjoyed private dinners with David Cameron after donating, was Tory treasurer while some of the rigging took place. The Tories claim calls for the party to give up Spencer's donations to charity are "nonsense".
---
>
Dodgy dealers
But maybe Mr Spencer can seek solidarity from his JP Morgan brothers in the US. The country's biggest bank is facing a $11 billion settlement to stop investigations into the bank selling bad mortgage bonds. You know, the sort of thing that resulted in the banking crisis.
This is after the bank was fined $920 million in September for the "unsafe and unsound practices" that enabled the dodgy dealings of traders like the London Whale, who lost £6.2 billion.
Meanwhile, back in Britain, the Financial Conduct Authority has slated small and medium lending firms for mishandling two-thirds of Payment Protection Insurance claims.
---
>
Capitalism's Dysfunction: Budget Reckoning Approaches
By Bryan Koulouris and Pete Ikeler, Socialist Alternative, Sep 29, 2013
This upcoming Tuesday, October 1, is the deadline for a budget deal and raising the government's borrowing limit.
The raising of the debt ceiling used to be a routine practice in U.S. capitalist governments for decades.
However, with the onset of the economic crisis and increased political polarization, nothing is routine in the halls of power anymore as each party tries to blame the other for a crisis inherent in the system itself.
More ... www.socialistalternative.org/news/article12.php?id=2216
US budget crisis: follow our sisiter organisation's coverage on www.socialistalternative.org
---
>
Helping your own
'Stop the banker bashing,' Tory chancellor George Osborne would say. He's bringing the European Union to court over limits on banker's bonuses.
From January, EU laws will limit bankers' bonuses to just 100% of salary (or 200% with shareholder agreement). Can't you just feel the bankers' pain?
But don't worry. George is taking legal action as he believes it will make the financial sector 'riskier'. Unlike that virtually risk-free bonus-filled banking sector that's described above.
---
>
Tax fat cats - not bedrooms
David Cameron has said that reversing the Con-Dems' cuts in corporation tax would be "nuts".
However, a Sunday People survey has shown that there's one tax cut that a majority of people would support.
60% said the bedroom tax - which steals money from 660,000 poor households - should be abolished.
This has increased from 45% in February. Even a third of Tory voters now think it should be scrapped.
Bedroom tax arrears continue to escalate - as tenants can't pay. In just 12 Merseyside housing associations, arrears have increased by £2.2 million in a year.
---
>
Entrepreneur's instinct
Never miss the opportunity to make money out of death, or so might say the stall holders at the Tory party conference. Margaret Thatcher memorial goods include babygrows displaying the slogan "iron baby".
Also on offer is an (adult) T-shirt with "you turn if you want to" scribed on the front. Maybe the back points out that she was forced to turn - and resign - after a mass non-payment campaign of 18 million people, led by Militant (forerunner of the Socialist Party) forced the Tories to get rid of the poll tax.
Or maybe not.
---
>
Blair Force One takes off
When in office, Tony Blair considered having a personal prime ministerial jet. Alas, the idea was grounded due to cost.
But now, free of the poverty that being PM entails, and helped by charging €400,000 an hour for giving speeches along with the income of dictator advisory firm Tony Blair Associates, he has been able to fly in style.
The £30 million Bombardier Global Express BD-700 costs £7,000 an hour to hire. For that, you get your own 2,100 cubic feet cabin, which can include a luxury state room with a double bed and bathroom.
However, it's not been reported whether the millionaire war-monger has asked for missiles to be included in his plane rental package.
---
In this issue
---
Socialist Party news and analysis

Nationalise them now!

Tax dodging corporations profit from casualisation

Big business puts profits before environment

Tory millionaire tells Britain: 'Back to the workhouse!'

Them & Us
---
Socialist Party NHS campaign

Fighting to defend our NHS
---
Socialist Party reviews

TV review: Locked up for being ill?

TV review: Peaky Blinders

Theatre review: A man of humble beginnings
---
Socialist Party editorial

Capitalist parties offer nothing to the 99%
---
Socialism 2013

Socialism 2013 - a weekend of discussion and debate hosted by the Socialist Party
---
Socialist Party workplace news

Solid support for teachers' strike

Firefighters' four-hour strike - determined and clear that coordinated action needed

Rochdale care workers dig in

Liverpool pay victory

Leeds zero-hour protest

In brief
---
Socialist Party reports and campaigns

28 percent for TUSC in Fleetwood

Lincoln: 400 march against Library cuts

The fight against academies in Leicester

Building Socialist Students
---
International socialist news and analysis

Greek government forced to take action against neo-fascists

Activists demand full public inquiry into undercover police operations

Sudan: 'Down with the regime!'

Qatar: End this modern-day slave labour
---
Home | The Socialist 2 October 2013 | Join the Socialist Party