The Socialist 2 October 2013
Nationalise them now!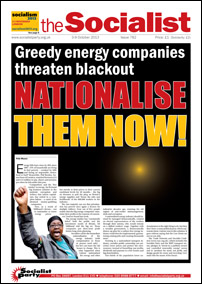 ---
Tax dodging corporations profit from casualisation
Big business puts profits before environment
Tory millionaire tells Britain: 'Back to the workhouse!'
---
---
TV review: Locked up for being ill?
Theatre review: A man of humble beginnings
---
Capitalist parties offer nothing to the 99%
---
Socialism 2013 - a weekend of discussion and debate hosted by the Socialist Party
---
Solid support for teachers' strike
Firefighters' four-hour strike - determined and clear that coordinated action needed
---
28 percent for TUSC in Fleetwood
Lincoln: 400 march against Library cuts
The fight against academies in Leicester
---
Greek government forced to take action against neo-fascists
Activists demand full public inquiry into undercover police operations
Sudan: 'Down with the regime!'
Qatar: End this modern-day slave labour
PO Box 1398, Enfield EN1 9GT
020 8988 8777
editors@socialistparty.org.uk

Link to this page: http://www.socialistparty.org.uk/issue/782/17506
Home | The Socialist 2 October 2013 | Join the Socialist Party
Subscribe | Donate | PDF | ebook
Building Socialist Students
---
>
---
>
Portsmouth
"Yes! Socialists! My people!" This was just one of many positive comments Socialist Students received at the Portsmouth University freshers fair.
There was a noticeable international flavour - we spoke to students from as far afield as Italy, Romania, China and Nigeria.
This year we will be campaigning against zero-hour contracts on campus, using our links with the local trade union movement to widen the campaign to Portsmouth as a whole. Many people we spoke to said that zero-hour contracts can be the only jobs on offer when studying, and wanted to fight for decent working conditions.
Fifty students signed up, with eleven coming to our first meeting on what Socialist Students stands for. The second meeting will discuss a regional demo against zero-hour contracts before Christmas.
Andy Waterman
---
>
Swansea
Socialist Students had a fantastic two days at Swansea University, signing up 65 members. We spoke to students interested in fighting against a broken fees system and zero-hour contracts, students angry against war, as well as students who knew straight away they were socialists and immediately reached for a copy of the Socialist!
Ben Golightly
---
>
Leeds
Over the last few weeks, Socialist Students members have run stalls fairs at Leeds Uni, Leeds Met and Leeds Trinity, as well as Leeds City College.
Most people came to speak to us because of the socialist alternative to crisis-ridden capitalism that we're putting forward.
200 students signed up to find out more about Socialist Students at Leeds University, with 90 at Leeds Met.
Over 20 people attended their first Socialist Students meeting at Leeds Uni on 'What is Socialism?' The meeting was introduced by Ian Pattison, Socialist Students national chair. Students were also inspired by Weizmann Hamilton of the Democratic Socialist Movement in South Africa, who spoke about the explosive events taking place in that country over Skype.
A successful meeting was also held at Leeds Trinity.
Iain Dalton
---
>
Birmingham
At Birmingham City University, Socialist Students members collected over 160 signatures on our petition against tuition fees and course cuts, with 30 interested in getting involved with the society.
At the University of Birmingham several students stopped to discuss the socialist alternative to capitalism, with 20 copies of Megaphone magazine sold.
Adam Freeman has reported on a successful start of term for Socialist Students at Winchester University. Charlotte Wall reported a good response at Bradford University, where Socialist Students campaigned against war in Syria and zero-hour contracts.
---
>
Megaphone: Magazine of Socialist Students
2013 edition includes articles on NUS, fighting the EDL and zero-hour contracts.
£1 To order phone 020 8558 7947
---
In this issue
---
Socialist Party news and analysis

Nationalise them now!

Tax dodging corporations profit from casualisation

Big business puts profits before environment

Tory millionaire tells Britain: 'Back to the workhouse!'

Them & Us
---
Socialist Party NHS campaign

Fighting to defend our NHS
---
Socialist Party reviews

TV review: Locked up for being ill?

TV review: Peaky Blinders

Theatre review: A man of humble beginnings
---
Socialist Party editorial

Capitalist parties offer nothing to the 99%
---
Socialism 2013

Socialism 2013 - a weekend of discussion and debate hosted by the Socialist Party
---
Socialist Party workplace news

Solid support for teachers' strike

Firefighters' four-hour strike - determined and clear that coordinated action needed

Rochdale care workers dig in

Liverpool pay victory

Leeds zero-hour protest

In brief
---
Socialist Party reports and campaigns

28 percent for TUSC in Fleetwood

Lincoln: 400 march against Library cuts

The fight against academies in Leicester

Building Socialist Students
---
International socialist news and analysis

Greek government forced to take action against neo-fascists

Activists demand full public inquiry into undercover police operations

Sudan: 'Down with the regime!'

Qatar: End this modern-day slave labour
---
Home | The Socialist 2 October 2013 | Join the Socialist Party