The Socialist 2 October 2013
Nationalise them now!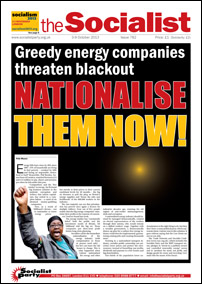 ---
Tax dodging corporations profit from casualisation
Big business puts profits before environment
Tory millionaire tells Britain: 'Back to the workhouse!'
---
---
TV review: Locked up for being ill?
Theatre review: A man of humble beginnings
---
Capitalist parties offer nothing to the 99%
---
Socialism 2013 - a weekend of discussion and debate hosted by the Socialist Party
---
Solid support for teachers' strike
Firefighters' four-hour strike - determined and clear that coordinated action needed
---
28 percent for TUSC in Fleetwood
Lincoln: 400 march against Library cuts
The fight against academies in Leicester
---
Greek government forced to take action against neo-fascists
Activists demand full public inquiry into undercover police operations
Sudan: 'Down with the regime!'
Qatar: End this modern-day slave labour
PO Box 1398, Enfield EN1 9GT
020 8988 8777
editors@socialistparty.org.uk

Link to this page: http://www.socialistparty.org.uk/issue/782/17513
Home | The Socialist 2 October 2013 | Join the Socialist Party
Subscribe | Donate | PDF | ebook
In brief
Grangemouth
Unite members at the Grangemouth oil refinery in Scotland have voted overwhelmingly to strike over the unfair treatment of union convenor Stevie Deans. Stevie is also chair of Falkirk Labour Party. He was suspended from the party after the Labour leadership falsely accused Unite of interfering in the selection of a new parliamentary candidate.
The Grangemouth management then used this as an excuse to suspend him. He was reinstated after a walkout by the workforce but has been under 'investigation' since.
Now 81.4% of the Unite membership has voted to strike in his defence, on a 86% turnout.
Unite is calling on refinery owners Ineos and Petrochina to "step back from the brink" and has also contacted BP who own the Forties pipeline, which Grangemouth powers and which provides 30% of the UK's North Sea oil.
Royal Mail
Communication Workers Union (CWU) members are balloting for strike action over pay, pensions and privatisation. The result is due on 16 October. But the government is attempting to push ahead with privatisation by publishing a prospectus and likely share prices. Trading is due to begin on 11 October. The earliest strike date is 23 October.
Crown Post Offices
CWU members working in the 372 Crown Post Offices were on strike on 30 September and 1 October over closures, jobs and pay. 1,500 jobs are under threat and the workforce has not had a pay rise since April 2011. Senior managers have enjoyed a bonus pot of £15.4 million and the Post Office posted profits of £94 million in August this year.
UCU ballot
Members of the University and College Union working in Higher Education are balloting for industrial action over pay. The ballot closes on 10 October. After four years of effective pay cuts, their pay has dropped by 13% since 2009. Unison and Unite members are also voting over the same issue.
Uplands school
Three suspended NUT members at Uplands Junior School, Leicester have been reinstated following a heroic struggle including strike action. The headteacher has been suspended.
NUT members had taken strike action opposing plans to axe several teaching assistants' jobs before the summer holidays. There were also concerns about the behavior of the headteacher and governing body at the school.
It has emerged that the now suspended and discredited head Tim Luckcock (yes I have spelt his name correctly) and the governing body spent over £48,000 on legal fees in the last year - a phenomenal amount for a school. This would have paid for the classroom teachers they sacked in the school reorganisation.
Unfortunately three teaching assistants have been made redundant. Unison and GMB members have vowed to continue the struggle with a new appeal.
Heather Rawling
---
In this issue
---
Socialist Party news and analysis

Nationalise them now!

Tax dodging corporations profit from casualisation

Big business puts profits before environment

Tory millionaire tells Britain: 'Back to the workhouse!'

Them & Us
---
Socialist Party NHS campaign

Fighting to defend our NHS
---
Socialist Party reviews

TV review: Locked up for being ill?

TV review: Peaky Blinders

Theatre review: A man of humble beginnings
---
Socialist Party editorial

Capitalist parties offer nothing to the 99%
---
Socialism 2013

Socialism 2013 - a weekend of discussion and debate hosted by the Socialist Party
---
Socialist Party workplace news

Solid support for teachers' strike

Firefighters' four-hour strike - determined and clear that coordinated action needed

Rochdale care workers dig in

Liverpool pay victory

Leeds zero-hour protest

In brief
---
Socialist Party reports and campaigns

28 percent for TUSC in Fleetwood

Lincoln: 400 march against Library cuts

The fight against academies in Leicester

Building Socialist Students
---
International socialist news and analysis

Greek government forced to take action against neo-fascists

Activists demand full public inquiry into undercover police operations

Sudan: 'Down with the regime!'

Qatar: End this modern-day slave labour
---
Home | The Socialist 2 October 2013 | Join the Socialist Party
Related links:

A fighting programme for Unite

Them & Us

Workplace news in brief

Industrial struggle

Workplace news in brief

UCU: election victory for combative rank and file

Reject the university employers' offer on pay, workload and casualisation

Socialist Students speaking tour

Nottingham uni occupation ends

Posties walk out in Peterborough after manager tests positive

Postal workers' action results in double victory for union

Postal workers force Royal Mail back

A socialist programme for schools

TV: The school that tried to end racism

Oppose BT site closures - national strike ballot needed

Campaign stalls on jobs, pay, NHS and racism

Unite union branch pledges to support socialist candidates who oppose cuts

100 years since the foundation of the Communist Party of Great Britain

Battle with BT management needed to win real pay rise