The Socialist 2 October 2013
Nationalise them now!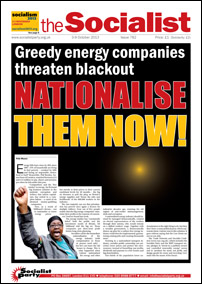 ---
Tax dodging corporations profit from casualisation
Big business puts profits before environment
Tory millionaire tells Britain: 'Back to the workhouse!'
---
---
TV review: Locked up for being ill?
Theatre review: A man of humble beginnings
---
Capitalist parties offer nothing to the 99%
---
Socialism 2013 - a weekend of discussion and debate hosted by the Socialist Party
---
Solid support for teachers' strike
Firefighters' four-hour strike - determined and clear that coordinated action needed
---
28 percent for TUSC in Fleetwood
Lincoln: 400 march against Library cuts
The fight against academies in Leicester
---
Greek government forced to take action against neo-fascists
Activists demand full public inquiry into undercover police operations
Sudan: 'Down with the regime!'
Qatar: End this modern-day slave labour
PO Box 1398, Enfield EN1 9GT
020 8988 8777
editors@socialistparty.org.uk

Link to this page: http://www.socialistparty.org.uk/issue/782/17514
Home | The Socialist 2 October 2013 | Join the Socialist Party
Subscribe | Donate | PDF | ebook
What we say
Capitalist parties offer nothing to the 99%
Tory conference has not yet heard from Prime Minister David Cameron but already it's apparent that the crucial words "Even more misery" have been omitted from the conference centre's billboard. Currently it only reads: "for hardworking people". Chancellor George Osborne's vision of even more savage cuts until 2020 gave the lie to that.
Osborne's Orwellian new idea, 'help to work', is more like help to the workhouse for the 212,000 people who have been out of work for two years or more. Long-term unemployment has soared by 390% under the Con-Dems. The government's own Office for Budget Responsibility estimates that one million jobs in the public sector will be lost by 2015.
Following the Labour Party conference the week before, representatives of the 'big six' energy companies have been threatening a blackout in response to Ed Miliband's timid plan to freeze energy prices for 20 months. Mark Steel quotes Neil Woodford, the largest shareholder in the energy company Centrica, in the Independent: "If Centrica can't make money supplying electricity then they won't supply it. The lights will go off, the economy will shut down."
But Con-Dem cuts are forcing 'hardworking people', and would-be 'hardworking people' who cannot find work or enough work, to turn the lights off on themselves. Real Life Reform researchers found that low-income families in the north of England are typically spending £3.30 a person a day on food.
Energy bills eat up over 10% of their income and that's during the summer months, estimated to double once the cold weather hits, so many have to choose between eating and heating. Food banks have reported they're under pressure to provide food which doesn't need to be cooked as people can't afford to turn their cookers on! Separate research found that half of people going to the parasitic £2 billion-pay day loan sector sought help with bills.
So it isn't surprising that Ed Miliband's speech, with its talk of action on sky-rocketing fuel bills, childcare, apprenticeships and votes at 16, appears as a welcome relief from the onslaught of Con-Dem cuts: bedroom tax, universal credit, benefit caps, job cuts and so on. An Ipsos Mori poll for Mumsnet found Labour 13 points ahead of the Tories.
But a price freeze is akin to attempting to empty the ocean with an egg-cup when it comes to addressing the problems faced by working class people in Breadline Britain. Bills are already too high. Almost seven out of ten people are in favour of renationalising the energy companies. The energy companies' response to the mild threat from Miliband to stop the profits free-for-all will only increase the demand for renationalisation.
Renationalisation
Socialists call for the immediate renationalisation of the energy companies, and the entire industry, under democratic workers' control and management. This should form part of a democratic socialist plan for the economy. Given that 'big six' shareholders received £7 billion in dividends last year most people will agree that compensation should only be paid on the basis of proven need.
Miliband and Labour have, however, made it crystal clear that they will not take this step, or any that seriously threatens big business. In interviews with the increasingly more right-wing BBC following the speech, Miliband insisted that he was in favour of 'responsible capitalism'. There is nothing 'responsible' about the energy companies' threat to switch off the lights following Miliband's modest proposal to slightly trim their profits.
Capitalism is a system built on exploitation for profit for the 1%. It is necessarily 'irresponsible' to the needs of 99% of the world's population. That's why a socialist transformation that puts the wealth of society into the hands of the working class under a democratic plan is needed.
Labour, however, does not stand for socialism - despite Osborne comparing Miliband to Marx. But many looking for a lead from Labour would support socialist policies. They will be disappointed. Labour Party conference voted overwhelmingly for renationalisation of the railways - but the Guardian reported that senior Labour sources signalled that the leadership was prepared to ignore the motions in its election manifesto.
CWU general secretary Billy Hayes argued that Labour could scotch Royal Mail privatisation by promising to renationalise the service if elected in 2015. Postal workers will be angered to read Labour so-called rising star Chuka Umunna's comments in the Huffington Post: "Our immediate priority on entering office ... would be to safeguard the services consumers and businesses get from a privatised Royal Mail."
While the few policies coming out of Labour conference will be welcome they will not compensate for Labour's anti-working class record: introducing health privatisation and tuition fees, maintaining the anti-trade union laws and prosecuting wars in Iraq and Afghanistan in government. Labour councils are still passing on Con-Dem cuts and putting council employees on zero-hour contracts. The Labour-led government in Wales is slashing the NHS, closing A&E services across south Wales.
A warning for Labour comes from France. President Francois Hollande made pre-election promises to tax anyone earning over a million euros at a rate of 75%. He has failed spectacularly to deliver, attacking pensions and promising greater spending cuts. Now Hollande, with an approval rating of 23%, is a strong contender for least popular French president of all time. This could be the future for a Labour government that is committed to maintaining Con-Dem spending cuts.
It is also a warning to the trade union leaders who argue that fighting for a Labour victory in 2015 is the best way to fight the cuts. And to those who seek to reclaim Labour for the working class. The Labour leadership displayed utter contempt for the votes of delegates at the party's conference.
New voice
It is also attempting to kill off any remnants of the collective voice of the working class in the party. Unions must debate how to build a new mass political voice for the working class. The Trade Unionist and Socialist Coalition (www.tusc.org.uk) represents steps in this direction. A new party must be part and parcel of the struggle against austerity.
There is a mood to fight - the marvellous demo in Manchester made that abundantly clear, as have the reports from the picket lines of the teachers and firefighters' strikes. No doubt members of the FBU, NUT and NASUWT unions will be disappointed that the firefighters march on 16 October could not have been coordinated with the next round of regional teachers' strikes, including in London, on the day after. Such coordination is urgently needed - and it is demanded. The demand for the TUC to name the date for a 24-hour general strike remains key and must be central.
---
In this issue
---
Socialist Party news and analysis

Nationalise them now!

Tax dodging corporations profit from casualisation

Big business puts profits before environment

Tory millionaire tells Britain: 'Back to the workhouse!'

Them & Us
---
Socialist Party NHS campaign

Fighting to defend our NHS
---
Socialist Party reviews

TV review: Locked up for being ill?

TV review: Peaky Blinders

Theatre review: A man of humble beginnings
---
Socialist Party editorial

Capitalist parties offer nothing to the 99%
---
Socialism 2013

Socialism 2013 - a weekend of discussion and debate hosted by the Socialist Party
---
Socialist Party workplace news

Solid support for teachers' strike

Firefighters' four-hour strike - determined and clear that coordinated action needed

Rochdale care workers dig in

Liverpool pay victory

Leeds zero-hour protest

In brief
---
Socialist Party reports and campaigns

28 percent for TUSC in Fleetwood

Lincoln: 400 march against Library cuts

The fight against academies in Leicester

Building Socialist Students
---
International socialist news and analysis

Greek government forced to take action against neo-fascists

Activists demand full public inquiry into undercover police operations

Sudan: 'Down with the regime!'

Qatar: End this modern-day slave labour
---
Home | The Socialist 2 October 2013 | Join the Socialist Party