The Socialist 2 October 2013
Nationalise them now!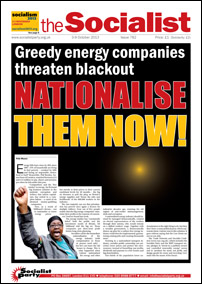 ---
Tax dodging corporations profit from casualisation
Big business puts profits before environment
Tory millionaire tells Britain: 'Back to the workhouse!'
---
---
TV review: Locked up for being ill?
Theatre review: A man of humble beginnings
---
Capitalist parties offer nothing to the 99%
---
Socialism 2013 - a weekend of discussion and debate hosted by the Socialist Party
---
Solid support for teachers' strike
Firefighters' four-hour strike - determined and clear that coordinated action needed
---
28 percent for TUSC in Fleetwood
Lincoln: 400 march against Library cuts
The fight against academies in Leicester
---
Greek government forced to take action against neo-fascists
Activists demand full public inquiry into undercover police operations
Sudan: 'Down with the regime!'
Qatar: End this modern-day slave labour
PO Box 1398, Enfield EN1 9GT
020 8988 8777
editors@socialistparty.org.uk

Link to this page: http://www.socialistparty.org.uk/issue/782/17517
Home | The Socialist 2 October 2013 | Join the Socialist Party
Subscribe | Donate | PDF | ebook
Rochdale care workers dig in
Paul Gerrard
"I'm on less money than I was 15 years ago. It's very difficult... you worry about whether you're going to lose your home." Striking care worker Karen Shatwell, explained on TV why she was on strike against cuts in wages and conditions imposed by Future Directions in Rochdale. Her wages have been slashed by nearly £500 a month.
Faced with up to 30% wage cuts Future Directions staff have already had 20 strike days since the dispute started in May. Now Unison has authorised a further ten days of action.
This is unprecedented backing for the 110 workers involved, and shows how important it is that they win. As well as the strike action Unison is pursuing employment tribunals for all the staff. If successful they will probably bankrupt the company.
The workers have had several lively and popular rallies in the town, but the real enemy is the Calderstones NHS Trust 20 miles away because - believe it or not - it owns Future Directions. So on the first day of their latest bout of strike action Unison members took the battle to Calderstones and held a noisy protest outside the annual members' meeting of the Trust. Sheepish men in suits winced as they had to walk past the demo on the way from their, no doubt, copious lunch to the AGM.
Paula Braynion is Calderstones Director of Operations and Nursing as well as being Managing Director of Future Directions. She recently received an 'undisclosed' pay rise 'in view of her extra duties'!
All the directors are still on their NHS salaries, all the while trying to pick up social care contracts across the North West in a strategy which John Morrison, Unison steward, describes as "expansion through exploitation".
He added: "We're still striking, still fighting. 98% of us have elected to carry on the dispute, and we will continue till they negotiate - or we'll see them in court".
Donations to Helen Harrison of Rochdale Unison, 46 Richard Street, Rochdale, OL11 1DU
---
>
These workers are suffering massive attacks on their living standards because a quasi private company, Future Directions - which is actually owned by an NHS trust - has won a bid to provide social care for people with disabilities. This service was once provided by Rochdale council. The company previously operating the contract pulled out, declaring it could not provide the service without making cuts.
Being at the mercy of a network of increasingly cost-cutting organisations is the future for health and other public service workers unless these public sector vandals are stopped in their tracks.
---
In this issue
---
Socialist Party news and analysis

Nationalise them now!

Tax dodging corporations profit from casualisation

Big business puts profits before environment

Tory millionaire tells Britain: 'Back to the workhouse!'

Them & Us
---
Socialist Party NHS campaign

Fighting to defend our NHS
---
Socialist Party reviews

TV review: Locked up for being ill?

TV review: Peaky Blinders

Theatre review: A man of humble beginnings
---
Socialist Party editorial

Capitalist parties offer nothing to the 99%
---
Socialism 2013

Socialism 2013 - a weekend of discussion and debate hosted by the Socialist Party
---
Socialist Party workplace news

Solid support for teachers' strike

Firefighters' four-hour strike - determined and clear that coordinated action needed

Rochdale care workers dig in

Liverpool pay victory

Leeds zero-hour protest

In brief
---
Socialist Party reports and campaigns

28 percent for TUSC in Fleetwood

Lincoln: 400 march against Library cuts

The fight against academies in Leicester

Building Socialist Students
---
International socialist news and analysis

Greek government forced to take action against neo-fascists

Activists demand full public inquiry into undercover police operations

Sudan: 'Down with the regime!'

Qatar: End this modern-day slave labour
---
Home | The Socialist 2 October 2013 | Join the Socialist Party