The Socialist 2 October 2013
Nationalise them now!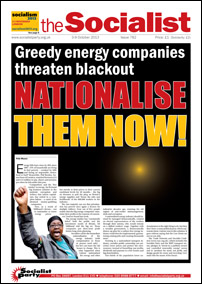 ---
Tax dodging corporations profit from casualisation
Big business puts profits before environment
Tory millionaire tells Britain: 'Back to the workhouse!'
---
---
TV review: Locked up for being ill?
Theatre review: A man of humble beginnings
---
Capitalist parties offer nothing to the 99%
---
Socialism 2013 - a weekend of discussion and debate hosted by the Socialist Party
---
Solid support for teachers' strike
Firefighters' four-hour strike - determined and clear that coordinated action needed
---
28 percent for TUSC in Fleetwood
Lincoln: 400 march against Library cuts
The fight against academies in Leicester
---
Greek government forced to take action against neo-fascists
Activists demand full public inquiry into undercover police operations
Sudan: 'Down with the regime!'
Qatar: End this modern-day slave labour
PO Box 1398, Enfield EN1 9GT
020 8988 8777
editors@socialistparty.org.uk

Link to this page: http://www.socialistparty.org.uk/issue/782/17524
Home | The Socialist 2 October 2013 | Join the Socialist Party
Subscribe | Donate | PDF | ebook
Fighting to defend our NHS
---
>
Video: 50,000 strong TUC demo which marched past Tory Party Conference in Manchester demanded 'SAVE OUR NHS. Defend Jobs and Services. No to Austerity'
---
>
Mood for action on march against Tories
Matt Kilsby, Salford Socialist Party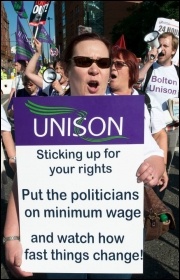 TUC demonstration in Manchester against Tory Party conference 29/09/13 demands Save our NHS, photo Paul Mattsson (Click to enlarge)
On 29 September well over 50,000 protesters descended on Manchester to tell the Tories that they and their policies are not welcome in the city.
Earlier in the day, Socialist Party members from across Greater Manchester had taken part in a 400-strong feeder march from Salford.
Three coach loads of protesters came from Bolton, largely thanks to an inspiring anti-bedroom tax campaign that has united trade unionists and housing association tenants.
Joan Pritchard-Jones, Unison steward and care worker in Bolton, told the Socialist: "It is great to see so many like-minded people here to defend our NHS and to show our disgust at the unprecedented Tory attacks on our public services".
Another protester from Salford told us that: "the Con-Dems are only interested in profit and don't care for the working class; that's why we must stop them."
In the run-up to the conference people from Manchester and neighbouring towns and cities were disgusted to hear reports that delegates to the Tory conference were to enjoy free transport around the city.
Meanwhile, a huge area of public space around the conference venue and the swanky Midland Hotel where most delegates are staying had been fenced off, staffed by a massive police presence.
All this in a city where a shocking number of people are living in poverty and feeling the sharp end of the cuts.
Reportedly the biggest demonstration in Manchester since Peterloo in 1819, there was a defiant and angry mood against the Tories' plans for the NHS, privatisation, the bedroom tax and massive spending cuts that are causing misery to millions.
As protesters gathered at the start of the march in central Manchester, it became clear that the number of marchers far exceeded the 25,000 that the TUC had estimated in the preceding days.
It took more than two hours for all the protesters to reach the start of the march. At its biggest the demo stretched for a mile through Manchester.
As it set off, speakers from the NSSN spurred on the marchers from an alternative platform at the side of the road.
There were massive cheers for every call for mass co-ordinated strike action and the need for a 24-hour general strike to not only defend the NHS but defeat austerity itself.
Link up the struggles
As the NSSN leaflet given out on the demo said: "We lobbied the TUC Congress earlier this month to call on the unions to organise a 24-hour general strike.
"But a strike this autumn that coordinated all those unions and workers currently in dispute - the teachers, firefighters, Royal Mail workers, civil servants and lecturers, alongside the many others taking action every day like the One Housing workers in London and the victorious Wigan Hovis strikers - would be a massive step in this direction."
Marching through the city centre, we received warm applause from Sunday shoppers and passers-by. As we reached the conference venue, the march slowed down as protesters delivered a hail of boos to passing Tory delegates.
It was noted that a number of Labour Party members and local councillors joined the protests. While we are pleased that the Labour Party finally appears to be providing a modicum of opposition to the government, turning up on a march against the Tories simply does not go far enough.
If Labour councillors really were prepared to fight alongside us, they would vote against and refuse to implement Tory cuts that are having a devastating impact on our public services and jobs.
Socialist Party on the march
Throughout the protest, Socialist Party members were chanting slogans and raising the demand for a 24-hour general strike to defend the NHS, fight austerity and sweep away this rotten coalition government, backed up by the huge party banner along the assembly point and many stalls, gazebos, posters and flags throughout the route.
This demand certainly chimed with huge numbers of protesters who were eager to sign our petitions, buy the Socialist and discuss with us how we can make a general strike a reality.
Hundreds of copies of the Socialist paper were sold with dozens of people wanting to join the Socialist Party.
Paddy Dillon, PCS rep from Manchester who attended the march with members from his union branch, told us: "Me and my fellow members have been out on strike a number of times over the last 12 months.
"But it is only by the unions getting together and coordinating strike action that we can kick out this government".
There was a clear recognition from the protesters on Sunday that demonstrations on their own will not bring down the Tory government.
Marches are excellent for raising consciousness among the working class, but it's only by hitting the government where it hurts, through industrial action, that we can start to make meaningful gains.
Everyone on the march, every trade unionist, community campaigner and activist together can make a general strike a reality.
So get your union branch to adopt the National Shop Stewards Network model motion, which calls for a general strike (below). Organise a local debate and get coverage in your local paper.
We must do whatever we can do to add force to the idea that marching is one thing (and we did that again in huge numbers in Manchester), but that it is mass industrial action that can kick out this government of millionaires.
---
>
Save Chase Farm hospital services!
It has just been officially announced that both the A&E and maternity service at Chase Farm Hospital in Enfield, north London will close and be re-located to two other north London hospitals by December 2013.
The threat to these services at Chase Farm began under the last Labour government, and there has been a long running and well-supported local campaign in support of keeping existing services at Chase Farm. This has included large demonstrations, a massive local petition and the election of two councillors to Enfield Council on the 'Save Chase Farm' party ticket from 2006-2010. Enfield North Tory MP Nick de Bois has publicly come out in opposition to the decision and supports the legal action now being taken by Enfield's Labour council to delay these decisions.
Clinical reasoning?
The Clinical Commissioning Group (CCG) claims these changes will bring an improvement in service provision, based on clinical reasoning.
But Save Chase Farm ex-councillor Kieran McGregor has said that 158 women in labour were turned away from Chase Farm and Barnet hospitals in 2012 because there were not enough beds.
The CCG's true reasons, however, were hinted at when two medical directors speaking about keeping the services at Chase Farm said: "There are serious concerns about the sustainability of services going into another winter" and "What we are doing now is no longer sustainable".
A wider national concern for the whole of the NHS is that Mike Farrar, chief executive of the NHS Confederation, said at an earlier stage of the Chase Farm downgrading in 2011: "It is absolutely right that the secretary of state has taken what we know has been a difficult decision. Chase Farm has been a major test case for the whole NHS... There are a number of places where we need to make similar decisions for service changes of varying sizes up and down the country. In some cases, this will involve taking out posts and beds where it is in the interests of patients."
The local campaigns to save services at Chase Farm Hospital continue, including appealing to the workers there. We also need to continue to demand that the TUC name the day for a 24-hour general strike to stop this and all cuts nationally.
John Dolan, Haringey and Enfield Socialist Party
---
>
Cut queue jumping
The latest Bupa advert uses charming children to promote a benevolent cuddly image.
If someone were to use children to, shall we say, oppose NHS privatisation, you can just imagine the Daily Mail choking on the carpet fulminating about indoctrination and propaganda.
The role of Bupa is to help people with money to jump the queue for healthcare. Queue jumping is the only crime which carries the death penalty in Britain. In this case it is those at the back of the queue who suffer and die waiting for care while Bupa pushes the ones with money to the front.
Medical care should be based on health not wealth. If I want to see a cardiologist I have to wait months and then sit in an unprepossessing waiting room for three hours. They then take my blood pressure and say it is a bit high!
If a private patient wants to see the same cardiologist on the same NHS hospital they pick the date and time.
Every Tory cut (or Labour cut come to that) makes more people see bribing their way into healthcare as an unfortunate necessity and increases Bupa profits. We need a health service which would make Bupa irrelevant. The political elite are not interested but the 99% are. We need a party to represent us.
Derek McMillan
---
>
National Shop Stewards Network model motion
This [union / anti-cuts organisation] welcomes the 60,000 strong TUC demonstration outside Tory Party conference on September 29th.
This mobilisation reflects the growing anger and frustration at the continuing Con-Dem austerity offensive which has been a disaster for working class people, the poor and an increasing number of middle class people.
The scale of this crisis is shown by the numbers of people forced to use food banks and payday loan companies because of the savage cut in living standards due to real cuts in pay, welfare cuts and employment practices such as zero-hour contracts. George Osborne's speech at the Tory Party conference was a clear signal that the Coalition intends to intensify its assault on working people.
Massive local demonstrations against NHS cuts this year in Lewisham and Stafford as well as the huge numbers not paying the hated bedroom tax - 50% in Scotland - show that people aren't prepared to accept these brutal cuts.
The trade unions with over six million members are still the most powerful force in society.
We call on the TUC and the trade unions to organise a 24-hour general strike against austerity, which would unite behind the union movement all those suffering from the cuts.
As a vital step towards this, we call on all those unions, such as PCS, NUT, NASUWT, FBU, CWU, NAPO, UNITE, UNISON, RMT, BFAWU and others currently in dispute or planning action to coordinate strike action, including on the most appropriate date this autumn.
Local strike rallies in towns and cities should then be organised open to all trade unionists and everyone else under attack.
---
>
All main parties culpable for cuts in Wales...
News on the Monday of Labour Party conference was dominated by the NHS in Wales. The Con-Dems attempted to use the crisis in NHS care in Wales - deep cuts, rising waiting lists, queues of ambulances outside of hospitals, emergency care wait times - as a stick with which to beat Miliband and Labour. Wales, the Con-Dems point out, is the one area of the UK with a Labour government and the NHS is collapsing.
Working class people in Wales aren't going to take lectures about the NHS from the Con-Dems. We're fully aware that in England, the Health and Social Care Act, with its rampant privatisation, is leading to the destruction of services. We consider ourselves fortunate not to have the worry about the same level of privatisation or of the NHS in Wales being subject to new PFI schemes.
Crisis
This doesn't mean that we agree with Ed Miliband's glowing assessment of the Welsh Government's stewardship of the NHS in Wales. Deep cuts are damaging NHS services. A report in Wales Online last week asks whether the NHS in Wales will be able to cope over the coming winter. The answer is far from positive.
Health unions warn that morale is at rock bottom. Welsh Labour had promised that there would not be redundancies in the Welsh NHS. Staff at Cardiff and Vale Health Board, facing 384 redundancies, know how hollow this promise is.
Health workers report the drive to meet financial targets - incorporating cuts that will mean in the next financial year that spending in Wales on the NHS will be the lowest in the UK - threatens the quality of services provided.
A letter from A&E consultants to health minister, Mark Drakeford, makes this clear: "Emergency departments across Wales are on their knees. Local health boards are being pressurised into meeting their financial targets, so acute hospital beds have been closed to save money.
"The result? Our emergency departments are at the point of meltdown. Most days, they are seriously overcrowded. This jeopardises safety and puts patients at risk - there is clear evidence that death rates go up if patients requiring admission remain in emergency departments for hours while they wait for ward beds to become available. This is happening right here, right now, across Wales."
Alternative needed
At Labour conference, under questioning from the press, Miliband was forced to admit that there are problems with NHS services in Wales but then blamed the Con-Dems and said that Labour was doing a good job of spreading the cuts 'fairly' in Wales. Is this the best that a Labour Welsh Government can do - decide how best to make Con-Dem cuts?
Working class communities of Wales deserve more. We need political representatives that will stand up to the Con-Dems, not make their cuts - representatives that will fight all cuts to give us the NHS we need. The Trade Unionist and Socialist Coalition in Wales is working now towards giving working class voters the opportunity to vote for such representatives in 2015.
Ronnie Job
---
>
...and the wacky ideas keep coming
Recently Labour's Assembly Member for Cardiff Central, Jenny Rathbone, spoke to the Wales Retired Members Branch of UCU on the All Wales Government health policy.
This policy has been developed into 'reconfiguration', where under the guise of reorganisation many Welsh communities will lose facilities in their areas. Quite wrongly the supporters of this mistaken policy argue that it is not financially driven and would be necessary even if the Tories were not making cuts.
All these arguments were trotted out by Jenny Rathbone who astounded the meeting by suggesting that those being treated in A&E departments resulting from their own behaviour should be charged for services provided. When asked for clarification Jenny lamely referred to drunks ending up in A&E!
So, not only will the people of Wales suffer as a result of cuts being demanded by a party in London that few, if any, of us ever vote for, but the entirely gutless attitude of Welsh Labour politicians in carrying out Tory cuts is compounded by their threatening us with policies any Tory would be proud of.
These policies will be resisted by working class men and women across Wales who can rely on the total support of the Socialist Party in their fight.
Andrew Price
---
>
145 Lords and 75 MPs have recent or current links to private healthcare
Almost 700 GPs are paid at least £200,000 a year when their income from private medicine is taken into account
A recent survey by the Royal College of Nursing showed that more than half of nurses have been ill from stress in the last year and that four fifths have gone to work despite being unwell
One in five GP board members of Care Commissioning Groups has a financial stake in private health companies that their CCG has contracts with
23% of nurses report being bullied by managers
---
In this issue
---
Socialist Party news and analysis

Nationalise them now!

Tax dodging corporations profit from casualisation

Big business puts profits before environment

Tory millionaire tells Britain: 'Back to the workhouse!'

Them & Us
---
Socialist Party NHS campaign

Fighting to defend our NHS
---
Socialist Party reviews

TV review: Locked up for being ill?

TV review: Peaky Blinders

Theatre review: A man of humble beginnings
---
Socialist Party editorial

Capitalist parties offer nothing to the 99%
---
Socialism 2013

Socialism 2013 - a weekend of discussion and debate hosted by the Socialist Party
---
Socialist Party workplace news

Solid support for teachers' strike

Firefighters' four-hour strike - determined and clear that coordinated action needed

Rochdale care workers dig in

Liverpool pay victory

Leeds zero-hour protest

In brief
---
Socialist Party reports and campaigns

28 percent for TUSC in Fleetwood

Lincoln: 400 march against Library cuts

The fight against academies in Leicester

Building Socialist Students
---
International socialist news and analysis

Greek government forced to take action against neo-fascists

Activists demand full public inquiry into undercover police operations

Sudan: 'Down with the regime!'

Qatar: End this modern-day slave labour
---
Home | The Socialist 2 October 2013 | Join the Socialist Party