The Socialist 29 October 2014
Millions robbed by greedy bosses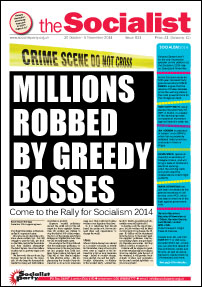 ---
Millions robbed by greedy bosses
Capitalism - 'the new mediocre'
Record numbers of workers suffering poverty pay
---
Lessons from history: 1917 Revolution in Russia
Australia: The sacking of a government
---
Building a political alternative in Seattle
---
Support FBU pension strikes: Save our fire service
St Mungo's Broadway workers discuss next action
Sheffield recycling workers to start indefinite action
Ritzy workers threatened with redundancy
Fighting for better pay for workers
Wales colleges: Vote 'yes' in pay strike consultation
NASUWT members strike at Swinton High School
---
Leicester holds historic People's Budget talks
Southwark Labour demolishes homes
---
Film review: On the streets of Belfast in 1971
---
PO Box 1398, Enfield EN1 9GT
020 8988 8777
editors@socialistparty.org.uk

Link to this page: http://www.socialistparty.org.uk/issue/831/19559
Home | The Socialist 29 October 2014 | Join the Socialist Party
Subscribe | Donate | Audio | PDF | ebook
Salford: NASUWT strike against unreasonable treatment
Teachers at Swinton High School in Salford, Greater Manchester, were on strike on 21-22 October. Members of the NASUWT teachers' union are deeply frustrated at policies imposed by the headteacher leading to massively increased workload and deeply intrusive monitoring.

The union has sought to find a negotiated solution but each time any apparent progress in talks seems to be circumvented and undermined by the headteacher. As a result, 34 NASUWT members, an overwhelming majority of teachers at Swinton High, voted unanimously to strike for two days' in October and a further three in November.
A teacher at the school told me:
These are 34 members who've been at the school on average at least eight years, some as long as 16.

They're the same teachers who got the school good Oftsteds with outstanding features, the same teachers who got record results in 2012, and the things that have been happening and the reasons the results have been dipping are not because these teachers have suddenly turned to inadequate overnight and need checking more.

They're all open to a solution, they just want to be listened to and treated as the experienced professionals that they are who care about our kids.
Once the strikes began, the headteacher offered further talks, due to take place on Wednesday 22 October. If progress isn't made, further strike action will take place on 4-6 November.
Messages of support have flooded in, send your message of support c/o rachelknight.nasuwt@outlook.com
Hugh Caffrey
---
This version of this article was first posted on the Socialist Party website on 23 October 2014 and may vary slightly from the version subsequently printed in The Socialist.
---
In this issue
---
Socialist Party news and analysis

Millions robbed by greedy bosses

Capitalism - 'the new mediocre'

Record numbers of workers suffering poverty pay

NHS: More cuts planned

Our health is not a game!

Scottish Labour in crisis

Them & Us
---
Socialist history

Lessons from history: 1917 Revolution in Russia

Australia: The sacking of a government
---
International socialist news and analysis

Building a political alternative in Seattle
---
Socialist Party workplace news

Support FBU pension strikes: Save our fire service

St Mungo's Broadway workers discuss next action

Sheffield recycling workers to start indefinite action

Ritzy workers threatened with redundancy

Fighting for better pay for workers

Wales colleges: Vote 'yes' in pay strike consultation

NASUWT members strike at Swinton High School

Workplace news in brief
---
Socialist Party reports and campaigns

Leicester holds historic People's Budget talks

Southwark Labour demolishes homes

Donate for socialism!
---
Readers' comments and reviews

Film review: On the streets of Belfast in 1971

Red Dylan Thomas
---
Obituary

Bill Webster 1941-2014

Ronnie Sookhdeo 1946-2014
---
Home | The Socialist 29 October 2014 | Join the Socialist Party