The Socialist 29 October 2014
Millions robbed by greedy bosses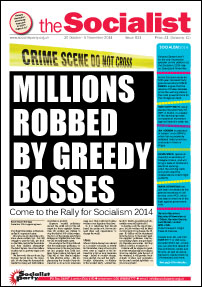 ---
Millions robbed by greedy bosses
Capitalism - 'the new mediocre'
Record numbers of workers suffering poverty pay
---
Lessons from history: 1917 Revolution in Russia
Australia: The sacking of a government
---
Building a political alternative in Seattle
---
Support FBU pension strikes: Save our fire service
St Mungo's Broadway workers discuss next action
Sheffield recycling workers to start indefinite action
Ritzy workers threatened with redundancy
Fighting for better pay for workers
Wales colleges: Vote 'yes' in pay strike consultation
NASUWT members strike at Swinton High School
---
Leicester holds historic People's Budget talks
Southwark Labour demolishes homes
---
Film review: On the streets of Belfast in 1971
---
PO Box 1398, Enfield EN1 9GT
020 8988 8777
editors@socialistparty.org.uk

Link to this page: http://www.socialistparty.org.uk/issue/831/19575
Home | The Socialist 29 October 2014 | Join the Socialist Party
Subscribe | Donate | Audio | PDF | ebook
Leicester holds historic People's Budget talks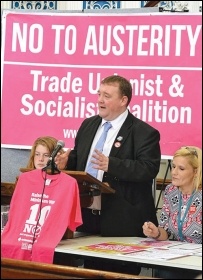 Anti-cuts councillor Wayne Naylor speaking at the Leicester People's Budget conference, October 2014, with fellow councillor Barbara Potter (right), photo by Ambrose Musiyiwa (Click to enlarge)
Caroline Vincent, Leicester TUSC
"Leaving the Labour Party was a big thing. All my family have always voted Labour. They're no longer the party who stick up for ordinary people. We all need to stick together - the People's Budget marks an opportunity to create something new."
On 25 October around 60 people gathered to participate in Leicester's first ever People's Budget conference.
The event was organised by Leicester Independent Councillors Against Cuts - Barbara Potter (quoted above) and Wayne Naylor, alongside TUSC. The two councillors left Labour this year to join TUSC's alliance of trade union and anti-cuts groups.
A series of public workshops formed the basis of an alternative budget based on residents' needs. In contrast, Leicester's cynical Labour council is 'consulting' on escalating austerity.
Wayne voiced frustration over Labour's pressure to accept vicious cuts. In his ward 800 rely on food banks. He is now adamant that "the city needs councillors who will fight and make a difference. People's needs must go before anything else."
We encourage everyone who contributed with such enthusiasm to the People's Budget to stand for election with TUSC next year.
Southampton's re-elected TUSC councillor Keith Morrell said "it's difficult to stand against the establishment, and can be isolating." Along with his local community, it was TUSC's support that gave Keith much needed confidence.
Support
Also attending was Dave Nellist, former Labour MP and supporter of Militant, forerunner of the Socialist. He subsequently served 14 years as a Socialist Party councillor in Coventry. Dave said "it doesn't matter if the cuts are carried out enthusiastically by the Tories, or with a heavy heart by Labour. When services go, people suffer. TUSC refuses to accept that there is no choice."
For Leicester this is just the beginning. Now work begins on writing the People's Budget - and building the forces that can fight for it!
The Leicester People's Budget work in progress will be publicly discussed on 1 December at the Brite Centre, Braunstone Avenue. For more information, email Caroline Vincent on carol.v@live.co.uk.
Hackney and Islington TUSC met with Diane Abbott MP on 20 October. A letter signed by over 40 local trade unionists had called on her to explain her position on a number of anti-cuts and pro-union issues. Abbott would not put her name to the document - but did at least agree to the meeting, unlike fellow local Labour MP Meg Hillier. TUSC groups up and down the country are challenging Labour candidates to attend similar meetings to explain themselves to the local trade union movement.
---
>
The Trade Unionist and Socialist Coalition (TUSC) is an electoral alliance that stands candidates against all cuts and privatisation. It involves the RMT transport workers' union, leading members of other trade unions including the PCS, NUT and POA, the Socialist Party and other socialist and anti-cuts groups.
---
In this issue
---
Socialist Party news and analysis

Millions robbed by greedy bosses

Capitalism - 'the new mediocre'

Record numbers of workers suffering poverty pay

NHS: More cuts planned

Our health is not a game!

Scottish Labour in crisis

Them & Us
---
Socialist history

Lessons from history: 1917 Revolution in Russia

Australia: The sacking of a government
---
International socialist news and analysis

Building a political alternative in Seattle
---
Socialist Party workplace news

Support FBU pension strikes: Save our fire service

St Mungo's Broadway workers discuss next action

Sheffield recycling workers to start indefinite action

Ritzy workers threatened with redundancy

Fighting for better pay for workers

Wales colleges: Vote 'yes' in pay strike consultation

NASUWT members strike at Swinton High School

Workplace news in brief
---
Socialist Party reports and campaigns

Leicester holds historic People's Budget talks

Southwark Labour demolishes homes

Donate for socialism!
---
Readers' comments and reviews

Film review: On the streets of Belfast in 1971

Red Dylan Thomas
---
Obituary

Bill Webster 1941-2014

Ronnie Sookhdeo 1946-2014
---
Home | The Socialist 29 October 2014 | Join the Socialist Party