The Socialist 29 October 2014
Millions robbed by greedy bosses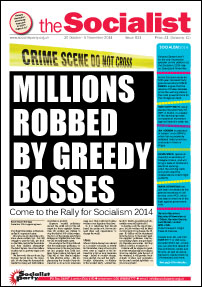 ---
Millions robbed by greedy bosses
Capitalism - 'the new mediocre'
Record numbers of workers suffering poverty pay
---
Lessons from history: 1917 Revolution in Russia
Australia: The sacking of a government
---
Building a political alternative in Seattle
---
Support FBU pension strikes: Save our fire service
St Mungo's Broadway workers discuss next action
Sheffield recycling workers to start indefinite action
Ritzy workers threatened with redundancy
Fighting for better pay for workers
Wales colleges: Vote 'yes' in pay strike consultation
NASUWT members strike at Swinton High School
---
Leicester holds historic People's Budget talks
Southwark Labour demolishes homes
---
Film review: On the streets of Belfast in 1971
---
PO Box 1398, Enfield EN1 9GT
020 8988 8777
editors@socialistparty.org.uk

Link to this page: http://www.socialistparty.org.uk/issue/831/19577
Home | The Socialist 29 October 2014 | Join the Socialist Party
Subscribe | Donate | Audio | PDF | ebook
Donate for socialism!
Ken Douglas, Socialist Party national treasurer
The Socialist Party is asking all members and supporters: can you make a donation to the Socialism 2014 finance appeal at the 8 November Rally for Socialism?
We aim to raise over £20,000 - funds vital for us to maintain our campaigning. This money ensures our calls for a general strike against austerity and building an electoral alternative to Labour continue to be raised prominently in the workers' movement.
A record number of workers in Britain are low paid - over five million earn less than £7.69 per hour. In London alone the number of low paid jobs has risen by 45,000 to 640,000 in less than two years.
This will come as no surprise to the tens of thousands of workers on the TUC march against low pay on 18 October. Both public and private sectors have seen pay frozen or cut for at least five years.
The Socialist Party was the most prominent political party on that demonstration - aided by our red flags, gazebos, banners, sound systems, leaflets and newspaper. Our demand for a £10 an hour minimum wage, which would begin to lift millions of workers out of poverty, received an enthusiastic response.
Millionaires
This millionaires' government is overseeing an unprecedented shift of wealth from the bottom of society to the top. A record number of billionaires now live in Britain - 104 of them, with a combined wealth of £301 billion.
The rich and their capitalist politicians have vast resources, including newspapers, television and other media. But we have a mightier force even than that - the resources and sacrifice of ordinary working class people.
Socialist ideas have the potential when taken up by workers to sweep the bosses and their capitalist politicians aside. This was shown by the victory of the $15 an hour minimum wage campaign in Seattle following the election of socialist councillor Kshama Sawant. Also by the election victories of Ruth Coppinger and Paul Murphy in Dublin.
A proportion of the money raised will go towards the Committee for a Workers' International special appeal to assist in the pioneering work CWI members are engaged in around the world, including the victories above.
Can you give £5, £50 or even £500? Can you ask other members and supporters who won't be attending the rally to donate? Every donation, no matter how small, will make a difference - and all of it will go to building support for socialist ideas.
You can pay through our website at www.socialistparty.org.uk/donate, over the phone on 020 8988 8777, or send a cheque or postal order (payable to "Socialist Party") to PO Box 24697, London E11 1YD.
---
In this issue
---
Socialist Party news and analysis

Millions robbed by greedy bosses

Capitalism - 'the new mediocre'

Record numbers of workers suffering poverty pay

NHS: More cuts planned

Our health is not a game!

Scottish Labour in crisis

Them & Us
---
Socialist history

Lessons from history: 1917 Revolution in Russia

Australia: The sacking of a government
---
International socialist news and analysis

Building a political alternative in Seattle
---
Socialist Party workplace news

Support FBU pension strikes: Save our fire service

St Mungo's Broadway workers discuss next action

Sheffield recycling workers to start indefinite action

Ritzy workers threatened with redundancy

Fighting for better pay for workers

Wales colleges: Vote 'yes' in pay strike consultation

NASUWT members strike at Swinton High School

Workplace news in brief
---
Socialist Party reports and campaigns

Leicester holds historic People's Budget talks

Southwark Labour demolishes homes

Donate for socialism!
---
Readers' comments and reviews

Film review: On the streets of Belfast in 1971

Red Dylan Thomas
---
Obituary

Bill Webster 1941-2014

Ronnie Sookhdeo 1946-2014
---
Home | The Socialist 29 October 2014 | Join the Socialist Party