The Socialist 29 October 2014
Millions robbed by greedy bosses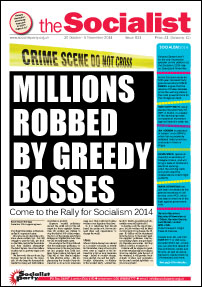 ---
Millions robbed by greedy bosses
Capitalism - 'the new mediocre'
Record numbers of workers suffering poverty pay
---
Lessons from history: 1917 Revolution in Russia
Australia: The sacking of a government
---
Building a political alternative in Seattle
---
Support FBU pension strikes: Save our fire service
St Mungo's Broadway workers discuss next action
Sheffield recycling workers to start indefinite action
Ritzy workers threatened with redundancy
Fighting for better pay for workers
Wales colleges: Vote 'yes' in pay strike consultation
NASUWT members strike at Swinton High School
---
Leicester holds historic People's Budget talks
Southwark Labour demolishes homes
---
Film review: On the streets of Belfast in 1971
---
PO Box 1398, Enfield EN1 9GT
020 8988 8777
editors@socialistparty.org.uk

Link to this page: http://www.socialistparty.org.uk/issue/831/19578
Home | The Socialist 29 October 2014 | Join the Socialist Party
Subscribe | Donate | Audio | PDF | ebook
Sheffield recycling workers to start indefinite action
Thirty Sheffield recycling workers at The Green Company continued their dispute for premium pay, welfare facilities and against bullying management with strike action on 25 and 26 October, and have given notice of an indefinite strike from Wednesday 29 November.
GMB union shop steward Jim Rodgers spoke at a Sheffield Socialist Party meeting.
"After our last strike (against jobs and pay cuts two years ago), we forced them to get rid of the bad managers. A new better senior management team (SMT) was brought in.
We got the living wage in April. We had more work so could open the sites an extra hour a day. The future was looking good.
Then about ten weeks ago, I rang to speak to one of the SMT only to be told one was on leave (really suspended), one had resigned, and the other on sick!
'Who am I speaking to then?'
'I'm Martine Laffan-Butler, the boss of the charity'! That was the first I'd heard of her.
Since then, we've found out that over the last four months it's alleged that she has skimmed £60,000 off the contract (to run Sheffield recycling sites, subcontracted from Veolia the private company that run the council's waste management services).
The former finance director who blew the whistle has been suspended and the other two SMT left.
So all this has been going on while we've been told that there's not enough money for premium rates for weekends and overtime or for welfare facilities on two of the five sites.
That's why we are on strike and I'd like to thank you all for your support on the picket lines, blocking lorries.
We want to be taken back in-house or for us workers to run it as a cooperative. If things aren't sorted then we are going all-out from Wednesday."
---
In this issue
---
Socialist Party news and analysis

Millions robbed by greedy bosses

Capitalism - 'the new mediocre'

Record numbers of workers suffering poverty pay

NHS: More cuts planned

Our health is not a game!

Scottish Labour in crisis

Them & Us
---
Socialist history

Lessons from history: 1917 Revolution in Russia

Australia: The sacking of a government
---
International socialist news and analysis

Building a political alternative in Seattle
---
Socialist Party workplace news

Support FBU pension strikes: Save our fire service

St Mungo's Broadway workers discuss next action

Sheffield recycling workers to start indefinite action

Ritzy workers threatened with redundancy

Fighting for better pay for workers

Wales colleges: Vote 'yes' in pay strike consultation

NASUWT members strike at Swinton High School

Workplace news in brief
---
Socialist Party reports and campaigns

Leicester holds historic People's Budget talks

Southwark Labour demolishes homes

Donate for socialism!
---
Readers' comments and reviews

Film review: On the streets of Belfast in 1971

Red Dylan Thomas
---
Obituary

Bill Webster 1941-2014

Ronnie Sookhdeo 1946-2014
---
Home | The Socialist 29 October 2014 | Join the Socialist Party