The Socialist 29 October 2014
Millions robbed by greedy bosses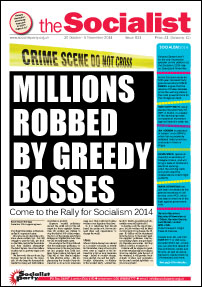 ---
Millions robbed by greedy bosses
Capitalism - 'the new mediocre'
Record numbers of workers suffering poverty pay
---
Lessons from history: 1917 Revolution in Russia
Australia: The sacking of a government
---
Building a political alternative in Seattle
---
Support FBU pension strikes: Save our fire service
St Mungo's Broadway workers discuss next action
Sheffield recycling workers to start indefinite action
Ritzy workers threatened with redundancy
Fighting for better pay for workers
Wales colleges: Vote 'yes' in pay strike consultation
NASUWT members strike at Swinton High School
---
Leicester holds historic People's Budget talks
Southwark Labour demolishes homes
---
Film review: On the streets of Belfast in 1971
---
PO Box 1398, Enfield EN1 9GT
020 8988 8777
editors@socialistparty.org.uk

Link to this page: http://www.socialistparty.org.uk/issue/831/19580
Home | The Socialist 29 October 2014 | Join the Socialist Party
Subscribe | Donate | Audio | PDF | ebook
Unison: Vote 'yes' in Wales college pay strike consultation
Ronnie Job, FE Unison steward (personal capacity)
A postal consultative ballot of Unison and other campus union members has begun in Welsh further education (FE) colleges, on whether we are prepared to take industrial action over Collegau Cymru (representing the colleges in Wales) paying no cost of living increase this year.
Pay freezes and below inflation awards mean that the incomes of many FE workers have fallen by around 18% in real terms in recent years. Unison is recommending that all members vote in support of industrial action to win a pay award.
Wage restraint hasn't prevented hundreds, if not thousands, of jobs from being lost across the sector. With the Welsh Government and Collegau Cymru predicting years more of austerity being translated into further cuts, regardless of who wins the general election next year, we need to take a stand.
Linked
Any campaign over pay has to be linked to stopping the cuts in further education. And instead of deciding which part of the public sector in Wales should be hit the hardest by Con-Dem cuts, we demand the Welsh government stop wielding the Con-Dems' axe and start fighting back.
Unison members have also voted for strike action on pay in NHS Wales. There is a growing demand from Unison members in councils that the suspension of strike action over pay in local authorities is overturned and the pay campaign resumed. We stand a much better chance of winning if we all strike together.
---
In this issue
---
Socialist Party news and analysis

Millions robbed by greedy bosses

Capitalism - 'the new mediocre'

Record numbers of workers suffering poverty pay

NHS: More cuts planned

Our health is not a game!

Scottish Labour in crisis

Them & Us
---
Socialist history

Lessons from history: 1917 Revolution in Russia

Australia: The sacking of a government
---
International socialist news and analysis

Building a political alternative in Seattle
---
Socialist Party workplace news

Support FBU pension strikes: Save our fire service

St Mungo's Broadway workers discuss next action

Sheffield recycling workers to start indefinite action

Ritzy workers threatened with redundancy

Fighting for better pay for workers

Wales colleges: Vote 'yes' in pay strike consultation

NASUWT members strike at Swinton High School

Workplace news in brief
---
Socialist Party reports and campaigns

Leicester holds historic People's Budget talks

Southwark Labour demolishes homes

Donate for socialism!
---
Readers' comments and reviews

Film review: On the streets of Belfast in 1971

Red Dylan Thomas
---
Obituary

Bill Webster 1941-2014

Ronnie Sookhdeo 1946-2014
---
Home | The Socialist 29 October 2014 | Join the Socialist Party