The Socialist 29 October 2014
Millions robbed by greedy bosses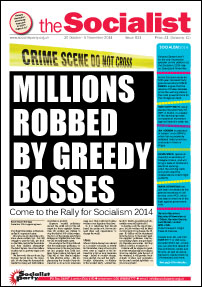 ---
Millions robbed by greedy bosses
Capitalism - 'the new mediocre'
Record numbers of workers suffering poverty pay
---
Lessons from history: 1917 Revolution in Russia
Australia: The sacking of a government
---
Building a political alternative in Seattle
---
Support FBU pension strikes: Save our fire service
St Mungo's Broadway workers discuss next action
Sheffield recycling workers to start indefinite action
Ritzy workers threatened with redundancy
Fighting for better pay for workers
Wales colleges: Vote 'yes' in pay strike consultation
NASUWT members strike at Swinton High School
---
Leicester holds historic People's Budget talks
Southwark Labour demolishes homes
---
Film review: On the streets of Belfast in 1971
---
PO Box 1398, Enfield EN1 9GT
020 8988 8777
editors@socialistparty.org.uk

Link to this page: http://www.socialistparty.org.uk/issue/831/19587
Home | The Socialist 29 October 2014 | Join the Socialist Party
Subscribe | Donate | Audio | PDF | ebook
Record numbers of workers suffering poverty pay under the Con-Dems
Simon Carter
The continuing scandal of low pay again hit the headlines last week when the Resolution Foundation think tank published figures showing a record number of workers in the UK on poverty wages.
Over five million workers earn less than less than two-thirds of the median hourly pay - equivalent to £7.69 an hour - a rise of 250,000 over the last year. And almost a quarter of minimum wage workers (now earning £6.50 an hour) have remained on it for the past five years.
Clearly, the government's continuing pay freeze, as part of its austerity measures to bail out capitalism, and employers using the recession to lower wage rates, have led to a huge drop in workers living standards.
According to the Trades Union Congress (TUC) which, on paper, is committed to a £10 an hour minimum wage, workers have experienced an 8% slump in real earnings since 2007 - the steepest fall in living standards since Victorian times.
Self-employed
Moreover, the five million plus figure doesn't take in account the many workers who have joined the ranks of the self-employed because they had no other option.
Earlier this year the Resolution Foundation pointed out that self-employment had risen from 650,000 five years ago to a staggering 4.5 million, or 15% of the active workforce. But far from becoming millionaire entrepreneurs the average weekly income of a self-employed person is 20% lower than in 2008 and 40% less than a typical full-time worker.
Recently, many public sector workers in the health service and in government departments walked out in disgust at another effective pay cut - and against a backdrop of Tory chancellor George Osborne hinting that such freezes would continue beyond the span of the next parliament.
The trade unions must protect their members' living standards by coordinating widespread strike action to counter the government and bosses' attacks on pay. This action should prepare the ground for a one-day nationwide stoppage to implement the £10 an hour minimum wage as a step toward a living wage.
---
In this issue
---
Socialist Party news and analysis

Millions robbed by greedy bosses

Capitalism - 'the new mediocre'

Record numbers of workers suffering poverty pay

NHS: More cuts planned

Our health is not a game!

Scottish Labour in crisis

Them & Us
---
Socialist history

Lessons from history: 1917 Revolution in Russia

Australia: The sacking of a government
---
International socialist news and analysis

Building a political alternative in Seattle
---
Socialist Party workplace news

Support FBU pension strikes: Save our fire service

St Mungo's Broadway workers discuss next action

Sheffield recycling workers to start indefinite action

Ritzy workers threatened with redundancy

Fighting for better pay for workers

Wales colleges: Vote 'yes' in pay strike consultation

NASUWT members strike at Swinton High School

Workplace news in brief
---
Socialist Party reports and campaigns

Leicester holds historic People's Budget talks

Southwark Labour demolishes homes

Donate for socialism!
---
Readers' comments and reviews

Film review: On the streets of Belfast in 1971

Red Dylan Thomas
---
Obituary

Bill Webster 1941-2014

Ronnie Sookhdeo 1946-2014
---
Home | The Socialist 29 October 2014 | Join the Socialist Party