The Socialist 29 October 2014
Millions robbed by greedy bosses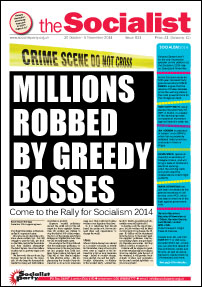 ---
Millions robbed by greedy bosses
Capitalism - 'the new mediocre'
Record numbers of workers suffering poverty pay
---
Lessons from history: 1917 Revolution in Russia
Australia: The sacking of a government
---
Building a political alternative in Seattle
---
Support FBU pension strikes: Save our fire service
St Mungo's Broadway workers discuss next action
Sheffield recycling workers to start indefinite action
Ritzy workers threatened with redundancy
Fighting for better pay for workers
Wales colleges: Vote 'yes' in pay strike consultation
NASUWT members strike at Swinton High School
---
Leicester holds historic People's Budget talks
Southwark Labour demolishes homes
---
Film review: On the streets of Belfast in 1971
---
PO Box 1398, Enfield EN1 9GT
020 8988 8777
editors@socialistparty.org.uk

Link to this page: http://www.socialistparty.org.uk/issue/831/19589
Home | The Socialist 29 October 2014 | Join the Socialist Party
Subscribe | Donate | Audio | PDF | ebook
Our health is not a game!
Claire Job, Welsh NHS Nurse
The right-wing Daily Mail has continued its tradition of irresponsible journalism recently, with an unprecedented number of articles attacking Labour-managed NHS Wales. It kicks-off an offensive Tory electioneering campaign which basically consists of saying: 'our NHS isn't as bad as your NHS' and 'this is what you get if you vote Labour into office'.
Indeed, the Mail online gratuitously emphasises Prime Minister David Cameron's comment that the OECD (Organisation for Economic Co-operation and Development) "was welcome to visit the health service in England to compare it to scandal-hit Wales".
The Con-Dem austerity package has made significant fissures in the health of ordinary people both sides of the border.
In Wales, although the NHS is coordinated and organised centrally (escaping the horrors of privatisation in NHS England) the cuts to spending on healthcare have been considerable.
The Welsh government, instead of fighting the Tory-led government cuts, has overseen a real terms cut of 2.5% in health spending per head of the population since 2009, a bigger reduction than any other part of the UK.
This is because the Welsh government decided not to ring-fence NHS funding in the early days of Con-Dem austerity.
While the Tories in Westminster kick the NHS in Wales, and the Labour Welsh government kicks the English NHS in return, real people's lives are held in the balance.
The NHS on both sides of the border requires major investment, and the privatisation of health services in England must be urgently reversed, if we are to meet the health needs of the population.
This isn't a game! It is ridiculous to imagine that Cameron cares about the health of people in Wales, especially as he seems not to care about the health of people in England. He only cares about rich people, which makes his comments all the more repulsive.
---
In this issue
---
Socialist Party news and analysis

Millions robbed by greedy bosses

Capitalism - 'the new mediocre'

Record numbers of workers suffering poverty pay

NHS: More cuts planned

Our health is not a game!

Scottish Labour in crisis

Them & Us
---
Socialist history

Lessons from history: 1917 Revolution in Russia

Australia: The sacking of a government
---
International socialist news and analysis

Building a political alternative in Seattle
---
Socialist Party workplace news

Support FBU pension strikes: Save our fire service

St Mungo's Broadway workers discuss next action

Sheffield recycling workers to start indefinite action

Ritzy workers threatened with redundancy

Fighting for better pay for workers

Wales colleges: Vote 'yes' in pay strike consultation

NASUWT members strike at Swinton High School

Workplace news in brief
---
Socialist Party reports and campaigns

Leicester holds historic People's Budget talks

Southwark Labour demolishes homes

Donate for socialism!
---
Readers' comments and reviews

Film review: On the streets of Belfast in 1971

Red Dylan Thomas
---
Obituary

Bill Webster 1941-2014

Ronnie Sookhdeo 1946-2014
---
Home | The Socialist 29 October 2014 | Join the Socialist Party