The Socialist 29 October 2014
Millions robbed by greedy bosses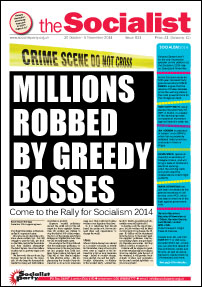 ---
Millions robbed by greedy bosses
Capitalism - 'the new mediocre'
Record numbers of workers suffering poverty pay
---
Lessons from history: 1917 Revolution in Russia
Australia: The sacking of a government
---
Building a political alternative in Seattle
---
Support FBU pension strikes: Save our fire service
St Mungo's Broadway workers discuss next action
Sheffield recycling workers to start indefinite action
Ritzy workers threatened with redundancy
Fighting for better pay for workers
Wales colleges: Vote 'yes' in pay strike consultation
NASUWT members strike at Swinton High School
---
Leicester holds historic People's Budget talks
Southwark Labour demolishes homes
---
Film review: On the streets of Belfast in 1971
---
PO Box 1398, Enfield EN1 9GT
020 8988 8777
editors@socialistparty.org.uk

Link to this page: http://www.socialistparty.org.uk/issue/831/19592
Home | The Socialist 29 October 2014 | Join the Socialist Party
Subscribe | Donate | Audio | PDF | ebook
Scottish Labour in crisis: build a working class anti-cuts alternative
Philip Stott, Socialist Party Scotland
The Labour Party in Scotland has been thrown into a deep crisis following the resignation of its Scottish leader, Johann Lamont.
In her resignation statement she called for more autonomy for Scotland and accused Ed Miliband, and other leading figures in UK Labour, of treating Scotland like a "branch office". Other unnamed Westminster MPs were described as "dinosaurs", unable to face up to the changed situation in Scotland following the referendum.
The growing tensions inside the Labour Party and many of its affiliated trade unions have now exploded into the open. Since 18 September thousands of trade unionists have demanded that any money paid from their union subscriptions to the Labour Party is stopped.
Labour's empty "victory" in the independence referendum, rather than strengthen its position, has accelerated its disintegration. Ex-Labour working class strongholds like Glasgow, North Lanarkshire, West Dunbartonshire and Dundee voted Yes.
SNP
Membership of the Scottish National Party (SNP) has rocketed to over 80,000 as tens of thousands of mainly working class people have flooded in, seeking a vehicle to use to hit back at the political establishment and continue the struggle for independence. Although the SNP are in fact passing on government cuts. Meanwhile Labour's support and membership is in free fall, a consequence of its pro-big business and pro-austerity policies.
The Westminster elections in 2015 will likely see a number of Labour seats fall to the SNP. However, a complete wipeout of Labour MPs - an idea raised by some on the left to justify a so-called alliance of independence supporting parties - is extremely unlikely. Even some Yes voters, despite their hatred of the Labour leadership, could still vote Labour to try to ensure a defeat of the Tories.
Lamont's resignation and statement is also a big blow for Labour's UK leader Ed Miliband. Her open attacks on him and the increasingly likely loss of a number of Labour MPs from Scotland will undermine the chances of the election of a majority Labour government.
And yet things could get worse. Uber-Blairite MP Jim Murphy, a former shadow defence minister and supporter of the Iraq war, is emerging as a leading candidate to replace Lamont. Labour MSP Malcolm Chisholm warned that choosing a Scottish leader based at Westminster would "turn a crisis into a catastrophe".
Any left Labour candidate would be very unlikely to win. As Socialist Party Scotland has consistently explained there is little possibility of moving the Labour party to the left. The party is largely empty of active workers, young people and trade unionists.
Trade unions
The events in Falkirk, and the witch hunt of Unite which followed, underline that reality. The affiliated unions should urgently discuss breaking from Labour and helping to launch a new mass workers party.
Despite the huge working class Yes vote, the SNP has introduced a £500 million cuts budget into the Scottish parliament for next year. Labour leaders Miliband and Balls are proposing to continue with Tory austerity if elected next year. The need to stand principled anti-cuts candidates in the Westminster elections is growing by the day.
We would appeal to all those looking for a fighting alternative to come to the Trade Unionist and Socialist Coalition conference on 1 November in Glasgow (Blythswood Hall, Renfield-St Stephens Centre, Bath Street, starting at 12.30).
---
In this issue
---
Socialist Party news and analysis

Millions robbed by greedy bosses

Capitalism - 'the new mediocre'

Record numbers of workers suffering poverty pay

NHS: More cuts planned

Our health is not a game!

Scottish Labour in crisis

Them & Us
---
Socialist history

Lessons from history: 1917 Revolution in Russia

Australia: The sacking of a government
---
International socialist news and analysis

Building a political alternative in Seattle
---
Socialist Party workplace news

Support FBU pension strikes: Save our fire service

St Mungo's Broadway workers discuss next action

Sheffield recycling workers to start indefinite action

Ritzy workers threatened with redundancy

Fighting for better pay for workers

Wales colleges: Vote 'yes' in pay strike consultation

NASUWT members strike at Swinton High School

Workplace news in brief
---
Socialist Party reports and campaigns

Leicester holds historic People's Budget talks

Southwark Labour demolishes homes

Donate for socialism!
---
Readers' comments and reviews

Film review: On the streets of Belfast in 1971

Red Dylan Thomas
---
Obituary

Bill Webster 1941-2014

Ronnie Sookhdeo 1946-2014
---
Home | The Socialist 29 October 2014 | Join the Socialist Party