The Socialist 29 October 2014
Millions robbed by greedy bosses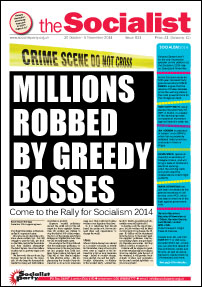 ---
Millions robbed by greedy bosses
Capitalism - 'the new mediocre'
Record numbers of workers suffering poverty pay
---
Lessons from history: 1917 Revolution in Russia
Australia: The sacking of a government
---
Building a political alternative in Seattle
---
Support FBU pension strikes: Save our fire service
St Mungo's Broadway workers discuss next action
Sheffield recycling workers to start indefinite action
Ritzy workers threatened with redundancy
Fighting for better pay for workers
Wales colleges: Vote 'yes' in pay strike consultation
NASUWT members strike at Swinton High School
---
Leicester holds historic People's Budget talks
Southwark Labour demolishes homes
---
Film review: On the streets of Belfast in 1971
---
PO Box 1398, Enfield EN1 9GT
020 8988 8777
editors@socialistparty.org.uk

Link to this page: http://www.socialistparty.org.uk/issue/831/19595
Home | The Socialist 29 October 2014 | Join the Socialist Party
Subscribe | Donate | Audio | PDF | ebook
Fighting for better pay for workers
Ian Hodson, President, Bakers Food and Allied Workers Union
Tory chancellor George Osborne has evil plans for those on low incomes. Most benefit claimants are actually in work. Osborne's austerity measures are just a programme of wealth protection for the rich. Trusting George Osborne is fatal if you're on a low to middle income.
So why is his rhetoric not challenged? The answer is simple: we aren't being presented with a credible alternative, particularly from the Labour Party.
Just when Labour appears on the verge of some vote-worthy policies - it blows it by announcing a fiscal policy that just continues Tory austerity. Labour believes it can win the election by saying Labour arsenic is less poisonous than Tory cyanide. Good luck with that in May.
Austerity doesn't reach bankers, spivs and speculators. Bonuses skyrocket. The distribution of wealth and earnings gulf between those at the top and those at the bottom is a disgrace, and the time has come to take steps to address this.
£10 an hour
I'm proud to be national president of a trade union that not only fought and beat the use of zero-hour contracts, but is calling for a £10 an hour minimum wage. The taxpayer tops up the incomes of those whose profitable employers are too greedy and selfish to pay properly. That money could sustain the public services that people rely on.
If hugely profitable companies cannot take social responsibility, it should be forced on them. No ifs, no buts. Nobody should be priced out of sending their children to university, freeze through winter in an unheated home, or rely on a food bank or payday loan because of poor wages.
Push harder
Paying people a wage they can live on would cut the welfare bill, improve people's wellbeing and ease pressure on the NHS in one fell swoop.
You won't hear this from the establishment, as it would mean redistributing wealth, and working people enjoying confidence and high self-esteem. That in itself should encourage people to push harder than ever for better pay and equalisation of income, as well as making different political choices.
---
In this issue
---
Socialist Party news and analysis

Millions robbed by greedy bosses

Capitalism - 'the new mediocre'

Record numbers of workers suffering poverty pay

NHS: More cuts planned

Our health is not a game!

Scottish Labour in crisis

Them & Us
---
Socialist history

Lessons from history: 1917 Revolution in Russia

Australia: The sacking of a government
---
International socialist news and analysis

Building a political alternative in Seattle
---
Socialist Party workplace news

Support FBU pension strikes: Save our fire service

St Mungo's Broadway workers discuss next action

Sheffield recycling workers to start indefinite action

Ritzy workers threatened with redundancy

Fighting for better pay for workers

Wales colleges: Vote 'yes' in pay strike consultation

NASUWT members strike at Swinton High School

Workplace news in brief
---
Socialist Party reports and campaigns

Leicester holds historic People's Budget talks

Southwark Labour demolishes homes

Donate for socialism!
---
Readers' comments and reviews

Film review: On the streets of Belfast in 1971

Red Dylan Thomas
---
Obituary

Bill Webster 1941-2014

Ronnie Sookhdeo 1946-2014
---
Home | The Socialist 29 October 2014 | Join the Socialist Party