The Socialist 29 October 2014
Millions robbed by greedy bosses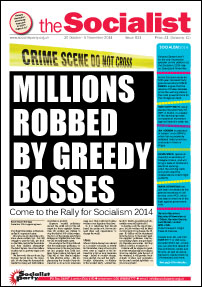 ---
Millions robbed by greedy bosses
Capitalism - 'the new mediocre'
Record numbers of workers suffering poverty pay
---
Lessons from history: 1917 Revolution in Russia
Australia: The sacking of a government
---
Building a political alternative in Seattle
---
Support FBU pension strikes: Save our fire service
St Mungo's Broadway workers discuss next action
Sheffield recycling workers to start indefinite action
Ritzy workers threatened with redundancy
Fighting for better pay for workers
Wales colleges: Vote 'yes' in pay strike consultation
NASUWT members strike at Swinton High School
---
Leicester holds historic People's Budget talks
Southwark Labour demolishes homes
---
Film review: On the streets of Belfast in 1971
---
PO Box 1398, Enfield EN1 9GT
020 8988 8777
editors@socialistparty.org.uk

Link to this page: http://www.socialistparty.org.uk/issue/831/19597
Home | The Socialist 29 October 2014 | Join the Socialist Party
Subscribe | Donate | Audio | PDF | ebook
Obituary: Ronnie Sookhdeo 1946-2014
For almost 40 years, Ronnie Sookhdeo was a comrade in Militant and then the Socialist Party. Unfortunately, ill health in recent years prevented him from being active. However, he always gave generously to the Socialist Party and kept abreast of developments through our paper.
He emigrated from what became Guyana with his family as a young boy and lived in Islington. Later, he married Viv and they moved to the same street as us. Our families became good friends, starting with our children playing together. We soon realised we had common political ideas. His father had been a trade union organiser involved with Cheddi Jagan and the People's Progressive Party (PPP).
Anti-racist
After a few discussions he quickly joined Militant. He was particularly eager to participate in our anti-racist and anti-fascist work. He played a leading role in the formation of the PNP Youth in Britain alongside others and later of Panther UK. This group organised the biggest indoor meeting of black and Asian youth in Britain, addressed by Bobby Seale, the well-known US Black Panther leader.
He was also a talented scientist, having been a chemistry lecturer at Kingsway College for many years, where he was also an active trade unionist. He read widely and avidly on politics, science and history, particularly black and Asian history; he also delved into the history of Ancient Greece and the Far East and was always keen to discuss what he had read. He also taught himself Russian.
He had a very sunny disposition and his infectious good humour touched many people. However, this did not prevent him from leaving the Labour Party in disgust when socialists were expelled. He could not tolerate the right-wing deserters of socialist principles.
He will be sadly missed, and our heartfelt sympathy goes to Viv, his wife, his five children, many grandchildren and all his family.
Linda and Peter Taaffe
---
In this issue
---
Socialist Party news and analysis

Millions robbed by greedy bosses

Capitalism - 'the new mediocre'

Record numbers of workers suffering poverty pay

NHS: More cuts planned

Our health is not a game!

Scottish Labour in crisis

Them & Us
---
Socialist history

Lessons from history: 1917 Revolution in Russia

Australia: The sacking of a government
---
International socialist news and analysis

Building a political alternative in Seattle
---
Socialist Party workplace news

Support FBU pension strikes: Save our fire service

St Mungo's Broadway workers discuss next action

Sheffield recycling workers to start indefinite action

Ritzy workers threatened with redundancy

Fighting for better pay for workers

Wales colleges: Vote 'yes' in pay strike consultation

NASUWT members strike at Swinton High School

Workplace news in brief
---
Socialist Party reports and campaigns

Leicester holds historic People's Budget talks

Southwark Labour demolishes homes

Donate for socialism!
---
Readers' comments and reviews

Film review: On the streets of Belfast in 1971

Red Dylan Thomas
---
Obituary

Bill Webster 1941-2014

Ronnie Sookhdeo 1946-2014
---
Home | The Socialist 29 October 2014 | Join the Socialist Party