The Socialist 29 October 2014
Millions robbed by greedy bosses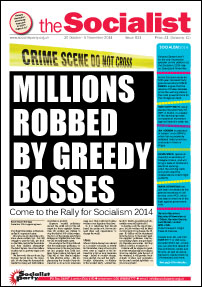 ---
Millions robbed by greedy bosses
Capitalism - 'the new mediocre'
Record numbers of workers suffering poverty pay
---
Lessons from history: 1917 Revolution in Russia
Australia: The sacking of a government
---
Building a political alternative in Seattle
---
Support FBU pension strikes: Save our fire service
St Mungo's Broadway workers discuss next action
Sheffield recycling workers to start indefinite action
Ritzy workers threatened with redundancy
Fighting for better pay for workers
Wales colleges: Vote 'yes' in pay strike consultation
NASUWT members strike at Swinton High School
---
Leicester holds historic People's Budget talks
Southwark Labour demolishes homes
---
Film review: On the streets of Belfast in 1971
---
PO Box 1398, Enfield EN1 9GT
020 8988 8777
editors@socialistparty.org.uk

Link to this page: http://www.socialistparty.org.uk/issue/831/19598
Home | The Socialist 29 October 2014 | Join the Socialist Party
Subscribe | Donate | Audio | PDF | ebook
Workplace news in brief
Secure hospitals strike
Prison Officers' Association members working in the NHS took four hours of strike action on Friday 24 October in their struggle for a decent pay rise.
The strike was very well supported with a big picket line outside Rampton Hospital in Nottinghamshire. These nurses and support staff work with mentally ill prisoners in a highly secure psychiatric hospital. As well as the 1% pay freeze, they also face under-staffing and attacks on trade union facility time, mainly for the health and safety rep.
At the picket line Steve Gillan, POA general secretary, gave reports from the walkouts at Broadmoor and Ashworth hospitals and read out messages of support from various union branches.
Becci Heagney
---
>
London buses
Following September's inspiring demonstration, Unite members in London bus garages are holding consultative ballots on 31 October. If successful, these will soon be followed by a full postal ballot for industrial action. This emerged after the failure of the operating companies to respond to the union's demand, repeated in September, for talks on sector-wide negotiation.
As many bus drivers say, we all do the same job - so why are we on different pay rates?
A London bus driver
---
>
Serwotka re-elected
Mark Serwotka has been re-elected unopposed as the general secretary of the socialist-led PCS civil servants' union. See socialistparty.org.uk/issue/829/19512 for an interview with Mark.
---
>
Reclaim Unison
Following the calling-off of the 14 October strike, local government activists in Unison have called a national meeting to discuss the direction of the pay dispute and its implication for the union.
Saturday 8 November, 2-4pm. Room B04, Birkbeck University, 43 Gordon Square, London WC1H 0PD
---
>
RMT lobby
Join RMT Northern and Transpennine Express members in protesting over attacks on rail services, safety and jobs.
On Friday 4 November a demonstration will start outside parliament in Old Palace Yard from 12.30pm, followed by a rally in committee room eleven at 2pm, and a lobby of MPs from 3.30pm.
---
In this issue
---
Socialist Party news and analysis

Millions robbed by greedy bosses

Capitalism - 'the new mediocre'

Record numbers of workers suffering poverty pay

NHS: More cuts planned

Our health is not a game!

Scottish Labour in crisis

Them & Us
---
Socialist history

Lessons from history: 1917 Revolution in Russia

Australia: The sacking of a government
---
International socialist news and analysis

Building a political alternative in Seattle
---
Socialist Party workplace news

Support FBU pension strikes: Save our fire service

St Mungo's Broadway workers discuss next action

Sheffield recycling workers to start indefinite action

Ritzy workers threatened with redundancy

Fighting for better pay for workers

Wales colleges: Vote 'yes' in pay strike consultation

NASUWT members strike at Swinton High School

Workplace news in brief
---
Socialist Party reports and campaigns

Leicester holds historic People's Budget talks

Southwark Labour demolishes homes

Donate for socialism!
---
Readers' comments and reviews

Film review: On the streets of Belfast in 1971

Red Dylan Thomas
---
Obituary

Bill Webster 1941-2014

Ronnie Sookhdeo 1946-2014
---
Home | The Socialist 29 October 2014 | Join the Socialist Party