The Socialist 25 March 2015
A voice for the 99%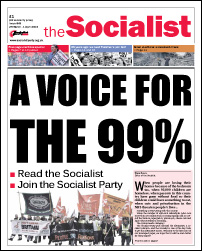 ---
Tory candidate attempted to divide community
---
Israel-Palestine: Likud election victory
Ireland: Mass protest against austerity charges
---
Inspired by Bob Crow to stand for TUSC
Fighting against the cuts for the most vulnerable
Attempt to exclude TUSC from Leicester hustings
Socialist Party election appeal 2015
---
Anti-blacklisting leader arrested at Hilton protest
Lewisham: Marching against academies
Refuse workers strike against wages theft
Unite conference hears how zero-hours were beaten
---
Fighting racism, austerity and capitalism
Saving libraries: it's a page-turner!
---
TV review: Suffragettes Forever!
---
How we defeated Thatcher's poll tax
PO Box 24697, London, E11 1YD
020 8988 8777
editors@socialistparty.org.uk

Link to this page: http://www.socialistparty.org.uk/issue/849/20384
Home | The Socialist 25 March 2015 | Join the Socialist Party
Subscribe | Donate | PDF | ebook
Lewisham: Marching against academies
Beth Sutcliffe, Lewisham Socialist Party
Amid loud chants of "No ifs! No buts! Academy status sucks!" and "Parents, teachers, students say: Academies in Lewisham? No way!" around 300 protesters demonstrated through Lewisham in South London on Saturday 21 March.
The threatened change to academy status at the three Prendergast schools would take them out of the control of the elected local authority. The schools would be able to change their curriculum and cut employees pay, terms and conditions.
"Hands off our school"
Some students had made their own placards, with messages like "We are not for sale" and "Hands off our school".
Trade Unionist and Socialist Coalition parliamentary candidate and National Union of Teachers (NUT) executive member Martin Powell-Davies, leading the rally at Hilly Fields, said Prendergast governors had not expected such a high level of opposition to their plans.
A parent praised the action taken by students, which has included taking strike action of their own and supporting striking teachers on picket lines.
---
>
Socialist Students held a lunch time ballot of pupils at Hilly Fields campus over whether the school should become an academy. 303 of the 800 students at the school voted. 294 people voted 'no', with only eight saying 'yes' and one undecided.
During the stall, students asked questions about academies, but also told us what they had found out and why they didn't want the school to change.
Parents also demand a ballot, something currently being denied to them by the school governors.
On top of the strikes, protests and student action, a parents' ballot would be further evidence of how the school's community feels about academy status.
Helen Pattison
On 24 March, NUT, NASUWT and GMB union members started their latest two-day strike action against academisation at the three Prendergast schools, with well supported picket lines of over 30.
---
In this issue
---
Socialist Party news and analysis

A voice for the 99%

Defend the NHS

Osborne's total eclipse

Tory candidate attempted to divide community

Them & Us
---
International socialist news and analysis

Israel-Palestine: Likud election victory

Ireland: Mass protest against austerity charges
---
Elections 2015

Reject the austerity lies

Inspired by Bob Crow to stand for TUSC

Fighting against the cuts for the most vulnerable

Attempt to exclude TUSC from Leicester hustings

Socialist Party election appeal 2015
---
Socialist Party workplace news

Anti-blacklisting leader arrested at Hilton protest

Lewisham: Marching against academies

Refuse workers strike against wages theft

Unite conference hears how zero-hours were beaten
---
Socialist Party reports and campaigns

Fighting racism, austerity and capitalism

Saving libraries: it's a page-turner!
---
Socialist Party review

TV review: Suffragettes Forever!
---
Socialist history

How we defeated Thatcher's poll tax
---
Home | The Socialist 25 March 2015 | Join the Socialist Party