The Socialist 21 September 2016
#KeepCorbyn: Kick out the Tories and the Blairites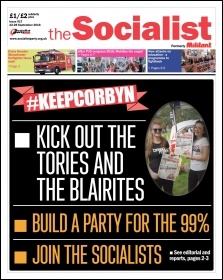 ---
Battle lines drawn: build a real mass party of the 99%
---
All Greater Manchester firefighters face sack
Hinkley Point C: wasteful, dangerous and polluting
NHS care rationing already rife
Bosses' bonus billions bonanza
Provocateur accusation against Met police spy
Zero-hour zealots: Guardian and Center Parcs
---
New Tory attacks on Higher Education - a programme to fight back
Socialist Students: setting out our stall...
---
After TUC congress 2016: Mobilise the anger!
---
Thousands of Post Office workers strike
Tube strike over management bullying
---
Libya: imperialist intervention helped wreck country and revolution
#JobstownNotGuilty trials begin
---
Uncovering the class struggle behind the Rebecca Riots
Iconic nightclub Fabric closes doors - another victim of austerity?
---
"I've had enough - it's time to fight back"
Fightback is on to save NHS heart services
Tamil Solidarity demands refugee rights
Sheffield mental health services to lose council funding
Disgraceful decision to close vital Bradford day centre
PO Box 24697, London, E11 1YD
020 8988 8777
editors@socialistparty.org.uk
Socialist readers' comments and reviews