The Socialist 5 October 2016
Tories out!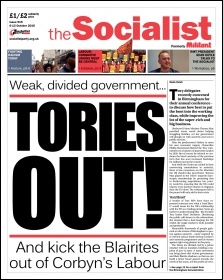 ---
Combative, vibrant unions should be central to the Corbyn movement
---
Sam Allardyce corruption shame: reclaim the game!
Asos workers fear taking toilet breaks, sacked for panic attacks
UK workers born in early 1980s half as wealthy as those born in 1970s
Millions have less than £100 savings
---
---
RMT president Sean Hoyle speaks to the Socialist
Durham teaching assistants ballot for strike
Napo conference 2016: new mood of determination
London Met strike against job cuts and victimisation
---
Corbyn's praise for Cardiff Labour is mistaken
Review: where you live can kill you
Review: international jazz protest storytelling
---
Socialist ideas - winning a new generation of students
---
Thousands march against Tory conference
Protests against children's centre closures in Bolton
Why I joined the Socialist Party
Fighting fund record smashed again!
Leeds: Solidarity demo with Irish abortion fight
London: Socialism Today milestone celebration
Worcester: Public meeting discusses Corbyn
---
Poland: Fighting back against anti-abortion law
Ireland: repeal the 8th Amendment!
Joint declaration by Izquierda Revolucionaria and the CWI
PO Box 1398, Enfield EN1 9GT
020 8988 8777
editors@socialistparty.org.uk
Socialist readers' comments and reviews