The Socialist 18 January 2017
Resist Trump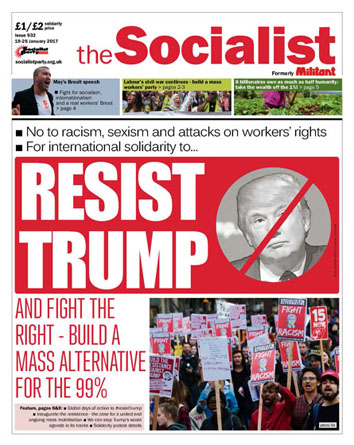 ---
Labour's civil war continues - build a mass workers' party
Tories torn in two on single market
---
We can stop Trump's sexist agenda in its tracks
---
Mexico: Mass movement against "gasolinazo"
USA: Seattle activists win housebuilding programme
1917revolution.org website to launch
---
'Black alert' NHS: Demonstrate 4 March
Eight billionaires own as much as half humanity!
Pollution kills 600: fight for clean air!
Northern Ireland calls snap election: back Labour Alternative
Millwall FC move threat: Defend the Den - 'wall not Renewal
---
Billions in profit for Tesco, cuts and job losses for workers
Liverpool dockers and drivers protest "appalling lack of facilities"
Manchester: BA cabin crew pay strike
London: Taxi drivers gridlock City of London
Southern Rail strike continues
PCS union national executive elections
---
The Socialist: read it, write it, sell it
Protesters surround Sheffield's cutting council
Fracking protest in Sherwood Forest
Residents protest at plans to close nine community centres
Anger at south east Kent Momentum meeting
Socialist Party national committee agrees document for congress
---
Why I joined the Socialist Party
Theatre review: high art and savage poverty in Bootle
John Berger: remarkable art of a contradictory socialist
Socialist artists invite others to exhibit work
PO Box 24697, London, E11 1YD
020 8988 8777
editors@socialistparty.org.uk
Socialist readers' comments and reviews