The Socialist 1 February 2017
No ban, no wall: Socialism or Trumpism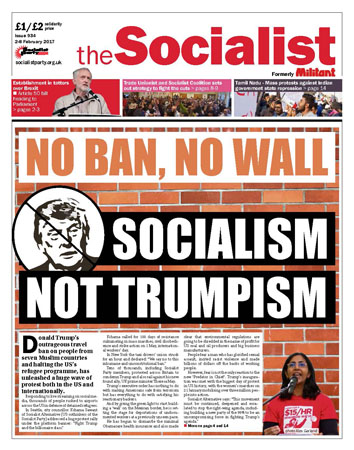 ---
No Ban, No Wall: Socialism not Trumpism
Tide of opposition to Trump surges
Super-rich shareholders cause of pension deficits
Babies in poverty are twice as likely to die
Energy bill hikes con: nationalise them now!
Blairite stitch-up in Stoke Central byelection
Manchester metro mayor: How will you fight cuts?
---
Establishment papers over Brexit chasms
---
Government attack on DWP job centres and offices
Vote for Left Unity in the PCS elections
Trade Union Act: Strategy needed to defeat anti-union laws and lead the fightback
Victory: removed Royal Mail workers reinstated
---
TUSC: To stand or not to stand?
---
Support your newspaper - help us get May Day greetings!
Why I joined: "Things have to change"
Newham council challenged over £1.8 million cut workers' pay
Leicester: libraries fightback
Bristol: Angry meeting discusses tasering of race relations man
Cumbria care home beds under threat
Wallasey Labour 'dispute' escalates
Socialist Students: conference Saturday and Sunday, 11-12 February 2017
---
End poverty pay now... Get organised!
UK textile workers on £3 an hour!
---
Build 100 days of resistance to Trump's agenda!
Tamil Nadu mass protests against state repression
Bangladesh: 'Hartal' protest against destructive power plant
PO Box 24697, London, E11 1YD
020 8988 8777
editors@socialistparty.org.uk