The Socialist 15 February 2017
March to save our NHS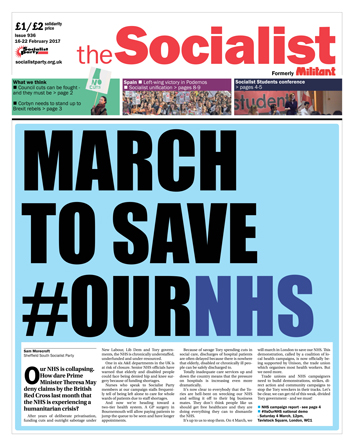 ---
Council cuts can be fought - and they must be
Corbyn needs to stand up to Brexit rebels
---
Resist Trump and his rotten policies: why I'm walking out on 'Day X'
Socialist Students: growing, brimming with confidence
Thousands march to defend Glenfield heart centre
Save child refugees, fight the cuts
Prison deaths scandal: invest in better inmate and staff conditions
---
Spain: clear win for left at Podemos conference! Now build class struggle
Committee for a Workers' International and Izquierda Revolucionaria - towards unification
Report: Izquierda Revolucionaria central committee meeting
French presidential election: crisis in the establishment parties
France: police attack triggers protests
---
United fightback needed as entire grade of rail worker is at stake
"Disgraceful" treatment of sacked EHRC workers
Vibrant Picturehouse pickets in continued living wage strike
Ultimatum as Deliveroo drivers down tools in Brighton
Solidarity with Tesco Ireland Valentine's Day strike
PCS union pledges to fight Jobcentre job losses at public meetings
---
Anti-trade union laws used against 'Trees Action' protesters
Support floods in for the Cardiff no-cuts three
The Socialist: 20 years old and more important than ever
Toxic fracking could start in England in 2017
May Day greetings in the Socialist
---
No, Trumpism is nothing like Leninism
Foreign aid's not the problem - it's capitalist thieves
Vivid visual account of the Paris Commune
PO Box 24697, London, E11 1YD
020 8988 8777
editors@socialistparty.org.uk

In this issue:
The Socialist 15 February 2017, March to save our NHS

Council cuts can be fought - and they must be
Editorial of the Socialist, issue 936: During February many council budget-setting meetings are taking place across the country, slashing millions more pounds off vital services.

Corbyn needs to stand up to Brexit rebels

March to save #OurNHS
Our NHS is collapsing. On 4 March, we will march in London to save it.

Resist Trump and his rotten policies: why I'm walking out on 'Day X'

Socialist Students: growing, brimming with confidence

Thousands march to defend Glenfield heart centre

Save child refugees, fight the cuts

Prison deaths scandal: invest in better inmate and staff conditions

Super-rich subsidised

Spain: clear win for left at Podemos conference! Now build class struggle
The attempt to remove left winger Pablo Iglesias from the leadership of Podemos, the left party formed out of Spain's 2011 'Indignados' movement, has been a terrible failure

Committee for a Workers' International and Izquierda Revolucionaria - towards unification

Report: Izquierda Revolucionaria central committee meeting

French presidential election: crisis in the establishment parties

France: police attack triggers protests

Yemen solidarity

United fightback needed as entire grade of rail worker is at stake
The Southern Rail dispute has been a high-profile battle in which the future of an entire grade of rail worker is at stake

"Disgraceful" treatment of sacked EHRC workers

Vibrant Picturehouse pickets in continued living wage strike

Ultimatum as Deliveroo drivers down tools in Brighton

Solidarity with Tesco Ireland Valentine's Day strike

PCS union pledges to fight Jobcentre job losses at public meetings

Workplace news in brief

Anti-trade union laws used against 'Trees Action' protesters
It's cheaper for Amey to cut trees down than it is to maintain them

Support floods in for the Cardiff no-cuts three

The Socialist: 20 years old and more important than ever

Toxic fracking could start in England in 2017

May Day greetings in the Socialist

New Socialist Party press
Socialist readers' comments and reviews

No, Trumpism is nothing like Leninism
Steve Bannon, investment banker and chief strategist to US president Donald Trump, once called himself "a Leninist"!

Foreign aid's not the problem - it's capitalist thieves

Vivid visual account of the Paris Commune

The Socialist inbox