The Socialist 15 March 2017
NHS: strikes and protests can stop cuts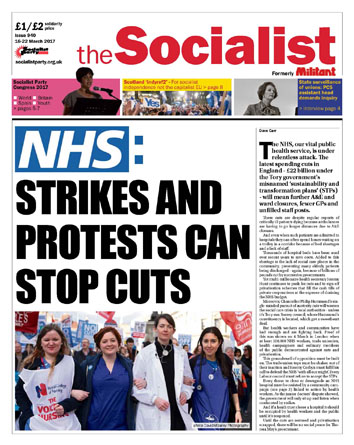 ---
Scotland 'indyref2' for socialist independence not the capitalist EU
State surveillance of unions: PCS assistant head demands inquiry
TUSC: SWP suspends participation in England/Wales
---
NHS: strikes and protests can stop cuts
Glenfield heart unit: "Children will die" angry parents tell NHS England
---
Socialist Party Congress 2017 reports
---
2,000 workers on three rail networks strike against driver-only operated trains
Derby teaching assistants' all-out strike against Labour council
Unison HE conference: Delegates give the bureaucracy a lesson in democracy
---
---
International Women's Day: taking action against capitalist oppression
---
Disabled workers deserve a living wage
'Nurses are angry and we are ready for action'
Women's struggles reduced to perfume sales and career ladder
PO Box 24697, London, E11 1YD
020 8988 8777
editors@socialistparty.org.uk

Link to this page: http://www.socialistparty.org.uk/issue/940/25020
Home | The Socialist 15 March 2017 | Join the Socialist Party
Subscribe | Donate | Audio | PDF | ebook
NHS: strikes and protests can stop cuts
Dave Carr
The NHS, our vital public health service, is under relentless attack. The latest spending cuts in England - £22 billion under the Tory government's misnamed 'sustainability and transformation plans' (STPs) - will mean further A&E and ward closures, fewer GPs and unfilled staff posts.
These cuts are despite regular reports of critically ill patients dying because ambulances are having to go longer distances due to A&E closures.
And even when such patients are admitted to hospitals they can often spend hours waiting on a trolley in a corridor because of bed shortages and a lack of staff.
Thousands of hospital beds have been axed over recent years to save costs. Added to this shortage is the lack of social care places in the community, preventing many elderly patients being discharged - again, because of billions of pounds cut by successive governments.
Yet multi-millionaire health secretary Jeremy Hunt continues to push for cuts and to sign off privatisation schemes that fill the cash tills of private corporations at the expense of draining the NHS budget.
Moreover, Chancellor Philip Hammond's single-minded pursuit of austerity cuts will worsen the social care crisis in local authorities - unless it's Tory-run Surrey council, where Hammond's constituency is located, which got a sweetheart deal.
But health workers and communities have had enough and are fighting back. Proof of this was shown on 4 March in London when at least 100,000 NHS workers, trade unionists, health campaigners and ordinary members of the public demonstrated against cuts and privatisation.
This groundswell of opposition must be built on. The trade union tops must be shaken out of their inaction and Jeremy Corbyn must fulfil his call to defend the NHS 'with all our might'. Every Labour council must refuse to accept the STPs.
Every threat to close or downgrade an NHS hospital must be resisted by a community campaign linked to action by health workers. As the junior doctors' dispute showed, the government will only sit up and listen when confronted by strikes.
And if a health trust closes a hospital it should be occupied by health workers and the public until it's reopened.
Until the cuts are restored and privatisation scrapped, there will be no social peace for Theresa May's government.
---
In this issue
---
Socialist Party news and analysis

Scotland 'indyref2' for socialist independence not the capitalist EU

State surveillance of unions: PCS assistant head demands inquiry

TUSC: SWP suspends participation in England/Wales
---
Save our NHS!

NHS: strikes and protests can stop cuts

Glenfield heart unit: "Children will die" angry parents tell NHS England
---
Socialist Party congress 2017

Socialist Party Congress 2017 reports
---
Socialist Party workplace news

2,000 workers on three rail networks strike against driver-only operated trains

Derby teaching assistants' all-out strike against Labour council

Unison HE conference: Delegates give the bureaucracy a lesson in democracy
---
Fighting racism

Fight racism and austerity
---
International Women's Day

International Women's Day: taking action against capitalist oppression
---
Socialist Party comments and reviews

Disabled workers deserve a living wage

'Nurses are angry and we are ready for action'

Women's struggles reduced to perfume sales and career ladder
---
Home | The Socialist 15 March 2017 | Join the Socialist Party
Related links:

Yorks NHS workers fight outsourcing

GMB union: NHS reps reject Tory pay offer

Save our NHS

NHS workers plan coordinated strikes across West Yorks against outsourcing

Health unions accept divisive NHS pay deal - but fightback could have won much more

Knowsley council pushed back on cuts and privatisation

Wrenford centre: Stop heartless Tory cuts

Rolls-Royce: fight all job cuts!

Them & Us

Stop the Tory NHS wreckers

Unison ballots workers at Yorkshire hospitals at risk of privatisation

Hands off Teignmouth Hospital!

Greetings from readers of the Socialist

The Socialist inbox

East London housing workers fight privatisation of pay

'When we fight, we can win' - campaign halts hospital closure

Northern health campaigns conference discusses the fightback

NHS we're ready to fight