The Socialist 15 March 2017
NHS: strikes and protests can stop cuts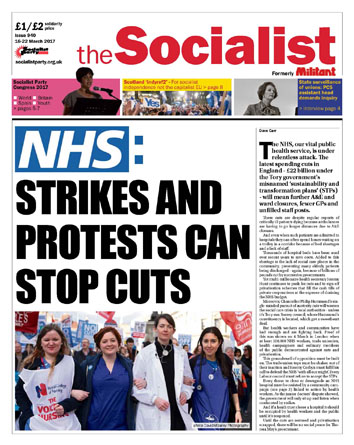 ---
Scotland 'indyref2' for socialist independence not the capitalist EU
State surveillance of unions: PCS assistant head demands inquiry
TUSC: SWP suspends participation in England/Wales
---
NHS: strikes and protests can stop cuts
Glenfield heart unit: "Children will die" angry parents tell NHS England
---
Socialist Party Congress 2017 reports
---
2,000 workers on three rail networks strike against driver-only operated trains
Derby teaching assistants' all-out strike against Labour council
Unison HE conference: Delegates give the bureaucracy a lesson in democracy
---
---
International Women's Day: taking action against capitalist oppression
---
Disabled workers deserve a living wage
'Nurses are angry and we are ready for action'
Women's struggles reduced to perfume sales and career ladder
PO Box 24697, London, E11 1YD
020 8988 8777
editors@socialistparty.org.uk

Link to this page: http://www.socialistparty.org.uk/issue/940/25021
Home | The Socialist 15 March 2017 | Join the Socialist Party
Subscribe | Donate | Audio | PDF | ebook
Glenfield heart unit: "Children will die" angry parents tell NHS England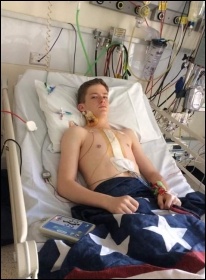 Jamie Score after his heart operation at Glenfield Hospital, Leicester, photo Steve Score (Click to enlarge)
Steve Score, Save Glenfield campaign and Leicester Socialist Party
"Can you imagine how we feel knowing that our precious daughter could have to travel for hours in an emergency situation to get to life saving surgery when she may not have hours? If you go ahead with your proposal children will die, it's a simple as that. How can that ever be an acceptable outcome?"
This was one of the moving and powerful speeches from patients, families and campaigners at the 'public consultation' meeting in Leicester on 9 March over the threatened closure of the East Midlands Congenital Heart Centre at Glenfield Hospital by NHS England (NHSE).
NHSE representatives were battered for two hours, not just by the emotions of parents, but crucially the dismantling of the logical flaws in their arguments. What was clear was that the main argument for ending surgery was an unscientific, arbitrary target of 125 operations per surgeon a year.
Cuts mean closure
But NHSE choose to call it a 'standard' below which surgeons do not get enough experience of a wide range of cases and, unbelievably, are attempting to impose this retrospectively.
One controversial point was that many in the audience believed that cuts in the NHS were behind this, which was vehemently denied by NHSE. The hospital trust chief executive, who is opposing the closure, pointed out that it would cost a lot of money to close Glenfield and then create capacity elsewhere.
However Socialist Party members think that the mindset of NHSE that 'centralisation is good' is created by the context of massive cuts in the NHS and it would probably mean cuts in the long term.
Before the meeting and during it, a protest organised by the Save Glenfield Children's Heart Centre campaign took place outside, highlighting the fact that the public consultation meeting was inadequate and many were not able to get in. We will continue to campaign through the consultation and beyond to stop this closure.
---
In this issue
---
Socialist Party news and analysis

Scotland 'indyref2' for socialist independence not the capitalist EU

State surveillance of unions: PCS assistant head demands inquiry

TUSC: SWP suspends participation in England/Wales
---
Save our NHS!

NHS: strikes and protests can stop cuts

Glenfield heart unit: "Children will die" angry parents tell NHS England
---
Socialist Party congress 2017

Socialist Party Congress 2017 reports
---
Socialist Party workplace news

2,000 workers on three rail networks strike against driver-only operated trains

Derby teaching assistants' all-out strike against Labour council

Unison HE conference: Delegates give the bureaucracy a lesson in democracy
---
Fighting racism

Fight racism and austerity
---
International Women's Day

International Women's Day: taking action against capitalist oppression
---
Socialist Party comments and reviews

Disabled workers deserve a living wage

'Nurses are angry and we are ready for action'

Women's struggles reduced to perfume sales and career ladder
---
Home | The Socialist 15 March 2017 | Join the Socialist Party
Related links:

Heart centre closure consultation 'farce'

Socialist Party regional conference reports

No cuts, no closures, save our NHS!

East Midlands Socialist Party regional conference

Massive demo against A&E closure

Education cuts forced back

Students 'skirt' school uniform issue!

Fighting Tory cuts to the schools budget

Buses and buggies: a driver speaks

The stress and hardship faced by nurses

40% of England's psychiatric wards are 'unsafe'

End poverty pay for sleep-in care workers

Victory against 'the biggest single NHS privatisation'

Homelessness and evictions soar under the Tories

Bin workers strike: Sack Suez, stop rubbish cuts!

Save Glenfield heart centre

The role of the RMT in changing Labour

Campaign fights closure of Chatsworth rehab ward

Tories win West Midlands mayor - the complete failure of the Labour right