The Socialist 15 March 2017
NHS: strikes and protests can stop cuts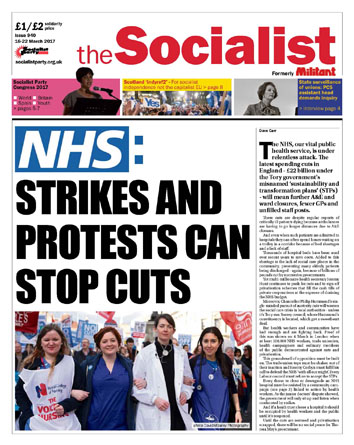 ---
Scotland 'indyref2' for socialist independence not the capitalist EU
State surveillance of unions: PCS assistant head demands inquiry
TUSC: SWP suspends participation in England/Wales
---
NHS: strikes and protests can stop cuts
Glenfield heart unit: "Children will die" angry parents tell NHS England
---
Socialist Party Congress 2017 reports
---
2,000 workers on three rail networks strike against driver-only operated trains
Derby teaching assistants' all-out strike against Labour council
Unison HE conference: Delegates give the bureaucracy a lesson in democracy
---
---
International Women's Day: taking action against capitalist oppression
---
Disabled workers deserve a living wage
'Nurses are angry and we are ready for action'
Women's struggles reduced to perfume sales and career ladder
PO Box 24697, London, E11 1YD
020 8988 8777
editors@socialistparty.org.uk

Link to this page: http://www.socialistparty.org.uk/issue/940/25026
Home | The Socialist 15 March 2017 | Join the Socialist Party
Subscribe | Donate | Audio | PDF | ebook
Derby teaching assistants' all-out strike against Labour council
Charlie Taylor, Derby Socialist Party
Teaching assistants and school support staff in Derby are now on all-out strike against massive pay cuts imposed by the Labour-led city council. In a recent survey 74% of Derby people said they supported the action by these workers.
A council by-election held on 9 March reflected the anger towards the council. In a former Labour stronghold that was lost to Ukip in a previous council election, the Tories came out victorious this time!
Despite Labour putting enormous resources into this election - bringing people in from outside areas - they came second to the Tories.
The victorious Tory candidate said, before the result was announced, that he had been told by lifelong Labour voters that they had voted Conservative because they could not "stand the way that teaching assistants had been treated".
What an indictment of Labour councils carrying out Tory cuts when they have no excuse. Fighting cuts is a choice.
We need councillors who will not only vote against all cuts to jobs, pay, conditions and services but will campaign for the resources to fully fund the needs of local communities.
---
In this issue
---
Socialist Party news and analysis

Scotland 'indyref2' for socialist independence not the capitalist EU

State surveillance of unions: PCS assistant head demands inquiry

TUSC: SWP suspends participation in England/Wales
---
Save our NHS!

NHS: strikes and protests can stop cuts

Glenfield heart unit: "Children will die" angry parents tell NHS England
---
Socialist Party congress 2017

Socialist Party Congress 2017 reports
---
Socialist Party workplace news

2,000 workers on three rail networks strike against driver-only operated trains

Derby teaching assistants' all-out strike against Labour council

Unison HE conference: Delegates give the bureaucracy a lesson in democracy
---
Fighting racism

Fight racism and austerity
---
International Women's Day

International Women's Day: taking action against capitalist oppression
---
Socialist Party comments and reviews

Disabled workers deserve a living wage

'Nurses are angry and we are ready for action'

Women's struggles reduced to perfume sales and career ladder
---
Home | The Socialist 15 March 2017 | Join the Socialist Party