The Socialist 15 March 2017
NHS: strikes and protests can stop cuts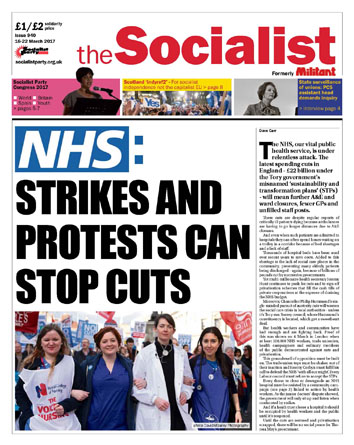 ---
Scotland 'indyref2' for socialist independence not the capitalist EU
State surveillance of unions: PCS assistant head demands inquiry
TUSC: SWP suspends participation in England/Wales
---
NHS: strikes and protests can stop cuts
Glenfield heart unit: "Children will die" angry parents tell NHS England
---
Socialist Party Congress 2017 reports
---
2,000 workers on three rail networks strike against driver-only operated trains
Derby teaching assistants' all-out strike against Labour council
Unison HE conference: Delegates give the bureaucracy a lesson in democracy
---
---
International Women's Day: taking action against capitalist oppression
---
Disabled workers deserve a living wage
'Nurses are angry and we are ready for action'
Women's struggles reduced to perfume sales and career ladder
PO Box 24697, London, E11 1YD
020 8988 8777
editors@socialistparty.org.uk

Link to this page: http://www.socialistparty.org.uk/issue/940/25029
Home | The Socialist 15 March 2017 | Join the Socialist Party
Subscribe | Donate | Audio | PDF | ebook
Disabled workers deserve a living wage
Dan Crowter, Coventry West Socialist Party
Rosa Monckton, one of the trustees of Team Domenica, a 'charity' which claims to help disabled people get into work, has said that businesses should be allowed to pay disabled people less than the minimum wage.
Writing in the Spectator about her disabled daughter, she says: "This is not about the right to a minimum wage, it is about the right to have the human dignity that comes with work and with being included."
Monckton is married to Daily Mail columnist Dominic Lawson, who is the son of former Tory chancellor Lord Nigel Lawson. She is the daughter of Gilbert Monckton, 2nd Viscount Monckton of Brenchley. She made a very nice living as chief executive of luxury goods firm 'Asprey & Garrard'.
This doesn't invalidate her points, but it gives an insight into the kind of position she is arguing from.
Monckton couches her argument in the language of equality, using nauseatingly saccharine phrases such as "therapeutic exemption from the minimum wage." But what she is arguing for is nothing less than legalising the wholesale super-exploitation of workers with disabilities, opening up a new section of labour for businesses to take advantage of.
The bleeding-heart liberal mask slips when she writes approvingly of Tory councillor David Scott. Scott said to New Labour-turned-Tory politician Baron Freud: "I have a number of mentally damaged individuals, who to be quite frank aren't worth the minimum wage."
Mentally damaged? Have we just walked out of the 1970s?
Although perhaps I have misunderstood poor Rosa, as she subsequently says she "followed these events with mounting anger." Really, Rosa? What made you angry?
An elected representative calling people like your daughter "mentally damaged"? A former government minister responding: "I know exactly what you mean, where actually as you say they're not worth the full wage"?
Oh, no - what made her angry was the "spectacular backlash" they faced.
The fact that only around 6% of people with learning difficulties are in employment is a disgrace. They should be encouraged and supported in finding work that they are capable of doing, that they enjoy, and that has suitable hours.
The solution is not to allow businesses to pay them a pittance, which would of course have to be topped up by disability benefits. This would inevitably lead to a 'race to the bottom' in wages and conditions.
A new (albeit small) workforce on lower pay makes it possible for bosses to threaten other workers: accept cuts, or lose your job to cheaper labour.
Capitalist society views work and disability in completely the wrong way. The problems faced by people with disabilities are hugely exacerbated by the way they are treated.
There is no "dignity" in an employer throwing us crumbs from the table as 'charity'.
Dignity is people with disabilities being given sufficient state benefits to live and, if they are able to work, being supported in a rewarding job, with a structure that values and encourages them, doing a fair day's work and taking home a fair day's pay.
Only socialist policies - public ownership of society's massive wealth, and democratic planning of production - can ensure the investment needed to guarantee this for all workers of all abilities.
---
In this issue
---
Socialist Party news and analysis

Scotland 'indyref2' for socialist independence not the capitalist EU

State surveillance of unions: PCS assistant head demands inquiry

TUSC: SWP suspends participation in England/Wales
---
Save our NHS!

NHS: strikes and protests can stop cuts

Glenfield heart unit: "Children will die" angry parents tell NHS England
---
Socialist Party congress 2017

Socialist Party Congress 2017 reports
---
Socialist Party workplace news

2,000 workers on three rail networks strike against driver-only operated trains

Derby teaching assistants' all-out strike against Labour council

Unison HE conference: Delegates give the bureaucracy a lesson in democracy
---
Fighting racism

Fight racism and austerity
---
International Women's Day

International Women's Day: taking action against capitalist oppression
---
Socialist Party comments and reviews

Disabled workers deserve a living wage

'Nurses are angry and we are ready for action'

Women's struggles reduced to perfume sales and career ladder
---
Home | The Socialist 15 March 2017 | Join the Socialist Party
Related links:

The Socialist Inbox

UN slams Tories for disabled rights ruin

What we saw

Benefit bullies

Bron Afon workers strike against £3,000 pay cut

Tesco's 10% pay increase accompanied by cuts and job losses

Kick out the Tories: For a Corbyn-led government

Royal Mail bosses block strike - back postal workers

Powerful picture of the Port Talbot steel workers' struggle

Can you donate to the Socialism 2017 appeal?

Chatsworth ward campaign replies to Tory MP's intervention

'Freedom riders' lobby against violent policing

Young people being strangled by debts

Arriva North West bus drivers strike over pay

Housing crisis: Corbyn's positive measures blanked by Labour's right

North London hospital workers fight cuts and job losses

No cuts - hands off King George A&E!