The Socialist 10 May 2017
Tories wrecking our NHS: kick them out!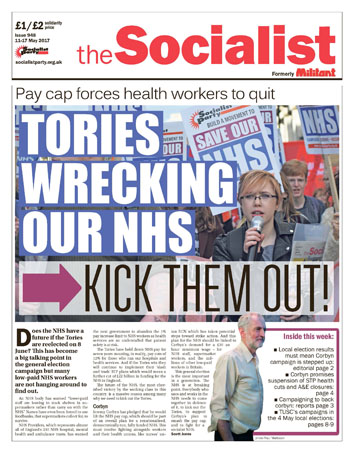 ---
Local election results must mean Corbyn campaign is stepped up
---
Tories wrecking our NHS: kick them out!
Corbyn pledges freeze on 'STP' health cuts
Corbyn pledges council powers to take over academies
Tories forced to publish useless plans on toxic air
1,000 super-rich own £658 billion!
Corbyn promises to scrap hospital parking fees
Corbyn would limit TV junk food ads
---
France: Macron won't solve economic & social crises
---
TUSC's anti-cuts message finds positive response
Liverpool city region mayor election - almost 8,000 votes for TUSC
Tories win West Midlands mayor - the complete failure of the Labour right
Labour hangs on in Wales despite cuts councillors
Doncaster TUSC's campaigning against cuts goes on
---
Tube strike at London Bridge over unfair dismissal
After the Unite elections - now turn outwards
Workers fight back against race to the bottom!
Royal Mail walkout over suspension of union reps
Good debate and response at radiographers' union conference
---
US: women ice hockey players' strike threat wins living wage
Featured letter: disabled workers want our voices heard, not charity
Foreign aid corruption: capitalism to blame
Why I joined: raising the ideas of socialism
Theatre review: Fracked! Political satire skewers frackers
---
Campaign launch: "rip-off bosses and greedy bankers - enough is enough!"
Overflowing Corbyn rally in Leicester
Hundreds rally for Corbyn in Leamington
One Housing tenants force housing association back
Jobstown Not Guilty trial round-up
Yorkshire meeting in solidarity with the #JobstownNotGuilty campaign
Socialists tell free marketeers
Packed Socialist Party meeting discusses the general election
Sutton Coldfield socialist campaign stall
PO Box 24697, London, E11 1YD
020 8988 8777
editors@socialistparty.org.uk