The Socialist 17 May 2017
Kick out the Tories! For a Corbyn-led government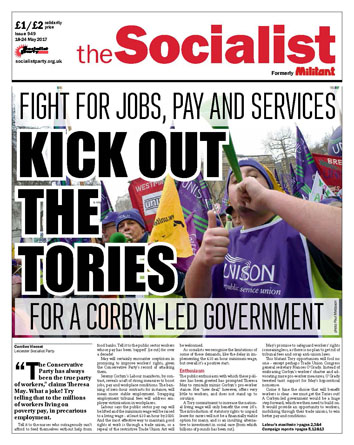 ---
Kick out the Tories: For a Corbyn-led government
Tories out! Corbyn can win with socialist policies
Corbyn's manifesto: An important step in the right direction
TUSC confirms no candidates in June
Suprise rally with Jeremy Corbyn in Morley
Corbyn's alternative for young people
Corbyn could re-win Scotland with a socialist approach to independence
---
One in three borrow for rent, Corbyn pledges housing revolution
Tories escape election fraud charges
NHS cyberattack: budget cuts and spy agency to blame
31,000 more kids at risk of abuse or neglect
---
PCS election: Increased majority for Democracy Alliance
Support Corbyn's call to renationalise Royal Mail
CWU walkout wins large concessions
Blackpool deserves better - anti-austerity rally
Unison must back Corbyn's pledge to abolish zero-hour contracts with action
---
Socialist ideas are energising young people
Fund the fight against the Tories
Packed meeting sets out socialist policies needed to defeat the Tories
---
Palestinian prisoners on mass hunger strike protest
Brazil: General strike against Temer regime
---
Barcelona May Days 1937 - a civil war within a civil war
Hull workers who fought in the Spanish Civil War
PO Box 24697, London, E11 1YD
020 8988 8777
editors@socialistparty.org.uk

Link to this page: http://www.socialistparty.org.uk/issue/949/25472
Home | The Socialist 17 May 2017 | Join the Socialist Party
Subscribe | Donate | Audio | PDF | ebook
Tories out! Corbyn can win with socialist policies
Build a new workers' party

Take the wealth off the 1%
Tory austerity has brought us...
In other words, the Tories wreak chaos and destruction on our public services and living standards
Jeremy Corbyn's manifesto includes...
A 20-point plan on workers' rights, including:
Ban zero-hour contracts
£10 an hour minimum wage by 2020
End the public sector pay cap
Reintroduce national pay bargaining
Four new bank holidays
Repeal the (anti) Trade Union Act
Part-time, temp and agency workers to have the same rights as full-time, permanent and directly employed workers from day one of employment
Clampdown on forced self-employment
Ban unpaid internships
Support for health and social care, including:
£30 billion extra funding for the NHS
Halt 'Sustainability and Transformation Plan' cuts and repeal the privatising Health and Social Care Act
End health service privatisation and bring more services into a publicly provided NHS
Reinstate student nurses' bursaries
Integrate the NHS with social care, ensuring parity for mental health services
£8 billion into social care
End 15-minute care visits
Increase carer's allowance benefits
A National Education Service, including:
30 hours' free childcare a week
Government-subsidised high-quality childcare places
End the schools cuts - an extra £7 billion for schools
Increase staffing levels, cap class sizes
Introduce free school meals for all primary-age children
Reintroduce Education Maintenance Allowance for 16 to 18-year-olds
Abolish tuition fees and reintroduce maintenance grants
Starting to tackle the housing crisis, including:
Build a million homes, half of them council and housing association homes
Introduce rent controls and longer tenancies
Reverse abolition of housing benefit for 18 to 21-year-olds
Scrap the bedroom tax
Investment in jobs and services, including:
Bring railways, energy, water and Royal Mail into public ownership
End the expansion of 'driver only operation' on trains
A ten-year national investment plan of £250 billion in the infrastructure, through a 'National Investment Bank'
Immediate energy price cap
Freeze travel fares
Stop closures of Crown Post Offices
Halt cuts to youth services and fire and rescue services
Increase corporation tax, income tax on those earning above £80,000, and implement a 'Robin Hood tax' on financial transactions
A 'fat cat tax' on excessive big business pay
Guarantee no increase in taxes for 95% of the population
And more, including:
Votes at 16
Guarantee the right of EU citizens to remain in the UK
Scrap work capability and 'personal independence payment' assessments and increase disability benefit ESA
Guarantee the pensions 'triple lock'
End support for aggressive wars of intervention and back effective action to alleviate the refugee crisis
End arms sales to Saudi Arabia
Ban fracking
---
In this issue
---
Kick out the Tories! Corbyn can win

Kick out the Tories: For a Corbyn-led government

Tories out! Corbyn can win with socialist policies

Corbyn's manifesto: An important step in the right direction

TUSC confirms no candidates in June

Suprise rally with Jeremy Corbyn in Morley

Corbyn's alternative for young people

Corbyn could re-win Scotland with a socialist approach to independence
---
Socialist Party news and analysis

One in three borrow for rent, Corbyn pledges housing revolution

Tories escape election fraud charges

NHS cyberattack: budget cuts and spy agency to blame

31,000 more kids at risk of abuse or neglect
---
Socialist Party workplace news

PCS election: Increased majority for Democracy Alliance

Support Corbyn's call to renationalise Royal Mail

CWU walkout wins large concessions

Blackpool deserves better - anti-austerity rally

Unison must back Corbyn's pledge to abolish zero-hour contracts with action

Workplace news in brief
---
Socialist Party reports and campaigns

Socialist ideas are energising young people

Fund the fight against the Tories

Packed meeting sets out socialist policies needed to defeat the Tories
---
International socialist news and analysis

Palestinian prisoners on mass hunger strike protest

Brazil: General strike against Temer regime
---
Socialist Party comments and reviews

Barcelona May Days 1937 - a civil war within a civil war

Hull workers who fought in the Spanish Civil War

The Socialist inbox
---
Home | The Socialist 17 May 2017 | Join the Socialist Party
Related links:

Right wing attempts to use single market against Corbyn

Abolish tuition fees and student debt!

Corbyn visits Southampton on marginal seat tour

Young people...fight for a future, fight for socialist policies

Birmingham bin workers stand firm

Homelessness and evictions soar under the Tories

Court victory for PCS and all trade unions

Grenfell survivors tell Tories: "Step down and resign"

Education cuts: Tories buckling under public pressure

Waltham Forest Socialist Party: Report from the CWI summer school

Cardiff East Socialist Party: What would a socialist Brexit look like?

Cardiff East Socialist Party: Building international socialism

How can Corbyn's programme be implemented?

The media, May and the general election

Russia 1917: how art helped make the revolution

The have-yachts and the have-nots

Them & Us

Building workers' struggle and the forces of international socialism

Blairite EU rebellion: no to the bosses' Single Market

BBC yawning pay gaps revealed

Huddersfield A&E closure referred to Jeremy Hunt

Barts health strike: Low pay, no way!

Bron Afon workers strike against £3,000 pay cut

Southampton councillors faced with angry anti-cuts campaigners

Plans to bring A-levels back to Knowsley abandoned

The Socialist inbox

'Jubilant' hospital workers strike against poverty pay in east London

Weakened Tories forced into Northern Ireland abortion u-turn

Support the Bart's strikers

Leeds: Nurses' union RCN says 'scrap the cap'

Workplace news in brief

Corbyn's manifesto: An important step in the right direction

Fight Tories' callous cuts pushing 200,000 more kids into poverty

Grenfell stitch-up: unions should call independent inquiry

Education cuts forced back

Why I joined: "I am a Labour Party member and I recently decided to join the Socialist Party"

Tories' tuition fees wobble: fight for free education!

Unison conference: confident delegates take control, give Corbyn 'rapturous' welcome

Fight the Tory cuts and changes that take mental health back to Bedlam

General election: what you thought about it

Low-paid cabin crew protest in middle of 16-day stoppage

Street cleaners support the Birmingham bin strike